CZ products have made a name for themselves with their great built and excellent features. Two such products are the CZ P09 vs P07, which can make very good additions to your gun collection. These are some modernized pistols, yet they feature an operating system from older models.
But what is the difference? Well, that is exactly what we intend to help you figure out. In this CZ P09 and P07 comparison article, allow us to tell you about all the ways these two pistols differ while also giving you a full review of each of them. An FAQ section has also been included to answer some questions you may still have.
CZ P09 vs P07 COMPARISON in 2023
|   |  P09 | P07 |
| --- | --- | --- |
| Firearm Type | Handgun | Handgun |
| Chambering | 9mm Luger | 9mm Luger |
| Magazine Capacity | 19 | 15 |
| Barrel Length | 4.54 in | 3.75 in |
| Weight | 31 oz | 27.7 oz |
| Overall Length | 8.1 in | 7.2 in |
| Height | 5.79 in | 5.3 in |
| Width | 1.46 in | 1.46 |
| Price | Check Price | Check Price |
CZ P09 vs P07 Review
CZ P09

Let us start off by reviewing the CZ P09 and dig deep into all the great features it has. This one was introduced sometime in the year 2009 and was the very first pistol to have the convertible Omega trigger system. For both duty and home defense, this handgun is a great choice!
This model double action/ single action pistol comes with two magazines, you can either chamber it in 9mm or 40 S&W. It flaunts a polymer frame with a black polycoat finish.
The bore axis is kept low with the slide that is positioned inside the frame rail. It features a 9mm Luger cartridge and a 19+1 round capacity, along with the interchangeable grip panels, which allow the user to size the handgun to fit their hand.
This thing comes with the decocker pre-installed, but you can change between the decker and manual thumb safety just as you get the handgun to use the one you prefer.
It allows you to carry the weapon around, locked, and safe. You can attach lights and lasers for customization, and the rail has five cross-sections, making it very easy to mount small accessories wherever you want.
The Omega trigger system is quite simple to use, and you can easily install components to customize and tune the gun. It shoots very accurately, which makes it ideal for both duty and self-defense. The overall length is around 8.1 inches, which is pretty standard for a full-sized handgun, and the barrel is about 4.54 long.
You will see that it does not take much time to reload the magazine and get it back on target since you can work the magazine release while keeping a good firing grip.
Related Guide: Top Sako Rifles Review
CZ P07


If you are one of those people who are mostly concerned with metal-framed pistols and tend to ignore the polymer-framed ones, you may want to take a look at this one. This polymer-framed handgun is truly an excellent one for the price it offers while having a lot of great features.
So you will really have great shooting experience with this, it is perfectly designed and is a perfect size. There is the frame over slide design that helps a great deal in making shooting easier and smoother.
However, one of the most important aspects of a handgun is the trigger, and this model does not lack in that area. The trigger is great and has a reset that is sharp with a breaking point that is consistent, but the best part is that it only gets better with time.
Although this thing comes configured as both a double-action/single-action pistol, you can easily configure it to be a single-action gun. In that case, the lever becomes a manual thumb safety.
Because the trigger guard features a forward accessory rail that you can use to attach lasers and lights for better use. This one is a medium-sized gun that is 7.2 inches long, the barrel being 3.8 inches, and weighs just about 1.7 pounds.
Because it has a 10 round magazine capacity and includes a cold hammer-forged barrel. The biggest disadvantage this thing has is the aftermarket support if you need to replace the parts or get holsters. However, overall this pistol is one of the best and a great steal considering all the great features you get for such a reasonable price.
Related Guide: Winchester SX4 Review
CZ P07 or P09 PISTOL?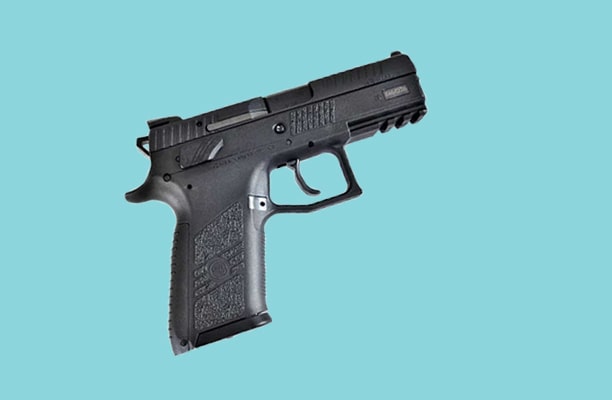 So that is all for the separate reviews, as you can see, both have a lot of similarities as they both use the same operating systems with modern design. Let us now look at what exactly are the things that make these two products different.
Size
Upon first look, you will find that the two pistols are not of the same size. The P09 is a full-sized pistol that is made for open carrying, the P07 is more compact and a bit easier to conceal. The latter is better suited for those who do not want to carry around a full-sized gun.
Weight
Just like the size, weight is another significant difference between these two. The P09 is heavier, and you would do well with a sturdy belt to keep the full-sized gun. On the other hand, the P07 is slim and lighter, making it easier to carry around.
Fit and Finish
The CZ P09 has a sturdy tenifer finish that battles corrosion, and it comes with different frame colors. For the P07, the manufactures used a nitride finish on the slide.
The fit is also great with this one; you will see that the pistol actually feels quite good in your hand. Not everyone may find the P09 a good fit, mostly due to its big size.
Frequently Asked Questions
Which one is better, P09, or P07?
Both of the handguns are great, so it basically just depends on you. The main difference between the two is the one in size. If you prefer full-sized guns, you may want to go for the P09. If not, you may want to check out the P07.
How good is the P07?
This one is an excellent handgun that is perfect for duty. It has a lot of things to offer and is a good one for the money.
Which one of the two P07 or P09 is better for concealed carry?
The P07 is definitely better for concealed carrying. It is much more compact, and you can easily conceal it as it is only medium-sized.
Is the P09 accurate?
Yes, the P09 is highly accurate. You will have a great time using the pistol as it does not take too much effort to make very accurate shots. This makes it good for duty and self-defense.
What are some similarities between P09 and P07?
So there are many similarities between the two. One of these would be that both of them can be easily customized to add lasers and lights.
Conclusion
Well, that is all about these two products and their differences. Despite the differences, both these products are of excellent quality and are very promising.
We hope you found this CZ P09 or P07 article helpful. If you are thinking about buying a handgun, make sure you check both of them out.