If you are here, you probably have decided to buy the best .40 cal pistol. In this article, we have discussed the best 40 cal pistols available in the market. Finalizing a pistol to keep at home or to carry for self-defense is, well, an important decision.
But well, note that this review is strictly based on our research and experience. The preference, choice, and comfort may vary from person to person.
Top .40 Cal Pistol For The Money Comparison
PRODUCT
DETAILS
 

Top pick

Smith & Wesson M&P Shield M2.0

Barrel Length: 3.3″
Round Capacity: 7 + 1
Finish: Black

CHECK CURRENT PRICE
 Beretta PX4 Storm Compact 

Barrel Length: 3.2″
Round Capacity: 15 + 1
Finish: Black

CHECK CURRENT PRICE
 Walther PPQ M2

Barrel Length: 4″
Round Capacity: 15 + 1
Finish: Black

CHECK CURRENT PRICE
Check out the best suppressor reviews and buying guides to buy.
Top 10 Best 40 Cal Pistol Review
Here are some of the best .40 cal tactical pistol to help you shortlist.
1. Walther PPQ Q4 TAC M2 Semi-Auto Pistol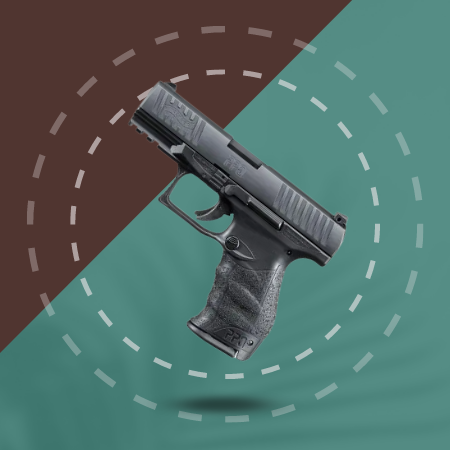 If you loved the original PPQ pistol, then you're going to love the Q4 TAC without a doubt, or maybe more than the original. It has all the features of the original in a more upgraded version. Here's why.
You're getting the same features such as interchangeable back-straps for accommodating a larger crowd. For ease of use, you have the push-button reverse magazine release system and ambidextrous slide stop.
Furthermore, in the trigger part, it has the same Picatinny rail and a ready trigger as well as the loaded mag indicator.
As for the barrel, it's a 4.6-inch threaded one for using suppressors. If you want to put on baseplates then you have the option to do that thanks to the milled slide. This new Q4 TAC feels smooth and as accurate as ever. You'll know when you try it out.
The pistol has three safety systems; first, you have the trigger safety and two safeties internally. Quick Defense Trigger, as Walther calls the trigger safety of this pistol is tested and proven in the field.
Keep in mind that this one doesn't have any magazine disconnect safety and it will fire with the magazine withdrawn. There are no sights on the stock unit even though it's named as suppressor ready.
PROS
Accurate
Ease of use
Quick Defense Trigger
Reliable
Ergonomics
CONS
No sights
No magazine disconnect safety
---
2. Smith & Wesson M&P40 Semi-Auto Pistol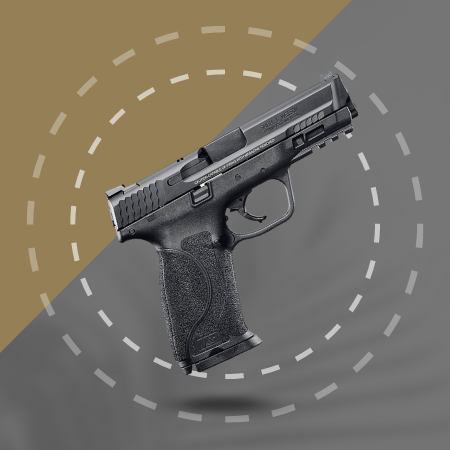 A gun that is favored by many officials is this 40 caliber Smith & Wesson pistol. They produced a whole set of sizes and calibers of this that can rival any polymer pistol available on the market. What are the rights and wrongs of this gun?
One of the first things you'll love is the accessories that come with it. You'll get two large magazines, night sights, a carrying case, and three palm-swell panels that can be interchanged to accommodate different sizes of hands. One size fits all theory doesn't cut it anymore.
The gun is very smooth, registers trigger correctly most of the time. This is best 40 s&w pistol rated the trigger pull at 6.5lbs which can stress the hand muscles a bit but you'll get used to it. It's a user-friendly gun without a doubt.
It has a side-release system on both sides that means it can be used with both hands single-handedly. And the trigger system prevents misfiring even if you drop it from a height.
One thing we didn't like is the unnecessary beaver tail on the back of the slide. It creates a handling issue that could have been avoided. Other than that it's a solid one and one of the most compact 40 caliber pistols.
PROS
3 interchangeable grip panels
Good trigger system
Side release lever on both sides
Can be transformed into a 9mm
High accuracy
CONS
The beavertail at the back
---
3. GLOCK G27 Subcompact Semi-Auto Pistol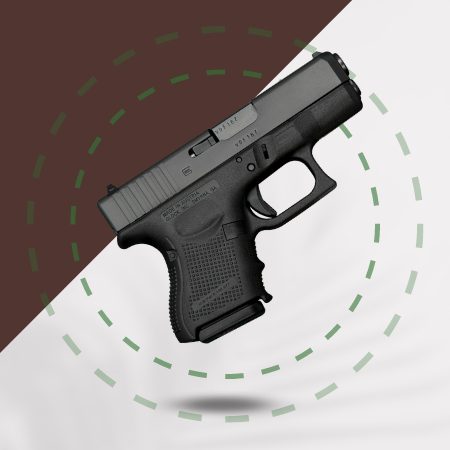 If you're an avid fan of the Subcompact pistols then don't pass up this Glock G27 pistol. It can easily be put in the top ten rated 40 caliber pistols list and anyone who used it would not oppose it. But it has its downs.
Keeping it on the waist is comfortable as it won't press on your abdomen. You won't even feel it but it's there. Hence, it's easy to recommend as a concealed carry 40 cal pistol.
Housed in a corrosion-resistant strong polymer frame, the cold-hammered steel slide and the high tech Jenifer 64HRC coated barrel give it highly durable build quality. With the rounded profiles, it's very easy to do maintenance and long-lasting precision.
It features a safe action trigger system that prevents misfiring and the firing pin lock is deactivated automatically each time you engage the trigger.
One main complaint would be that gripping the pistol without the pinky grip mag extension is hard. You can do away with it but it's not ideal. So keep it in mind. But this doesn't take away the fact it's one of the best 40 handguns.
PROS
Compact
Good build quality
Easy to conceal
The safe action trigger system
Consistent firing
CONS
Gripping is hard without a grip mag extension
A bit pricey
---
4. Smith & Wesson M&P Shield M2.0 Compact Semi-Auto Pistol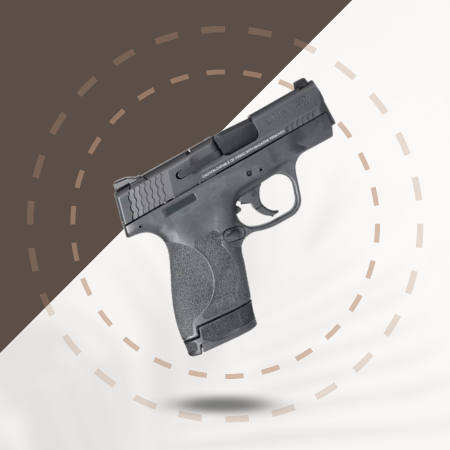 Smith & Wesson improved over the years thanks to its competition from Austria. The previous M&P series was a winner but this new one goes past it as a compact, accurate and user-friendly weapon. It could very well be the most accurate 40mm handgun, but accuracy mostly lies with the shooter.
Just like its predecessor, it comes with the 3 interchangeable palm-swells allowing the unit to be used by a wide range of users. One fits all is an old way of doing things as customization is getting the attention. You're getting two mags; one is flush and the other one is extended.
S&W added a spring-loaded detent along with the side-release lever to prevent auto-forwarding. The trigger feels lighter but has a noticeable tactile and audible feedback. How does it shoot? Well, it was one of the most stable-shooting experiences.
If you want an easily concealed weapon, this M2.0 can be a great option. The users haven't complained at all about its size as it rests quietly on your waist holster without causing a fuss around your abdomen.
It seems it doesn't have any noticeable negative points to it. And the beavertail is gone for good! Can we dub it as the best budget 40 cal pistols? You bet we can.
PROS
User-friendly
Lighter and more tactile trigger
Trigger safety
Prevents auto-forwarding
Interchangeable palm-swells
CONS
It's pricier than its predecessor
---
5. Beretta PX4 Storm Compact Semi-Auto Pistol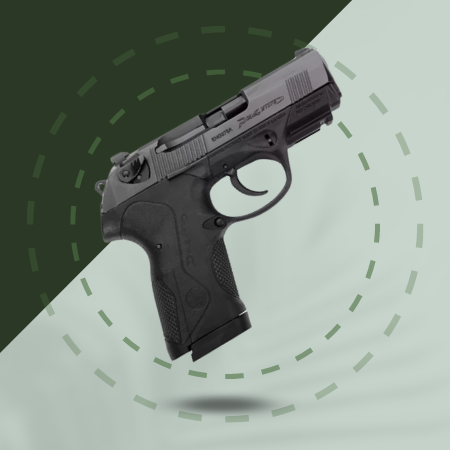 Who doesn't know Beretta? It's the oldest arms maker that's still active today, and they have infused their experience in the production of arms very well. As it happens, it's one of the best rated 40 caliber pistols on the market as of right now.
It's a hybrid like most modern handguns with a polymer frame housing many steel parts allowing the unit to be lighter while being stronger. The trapezoidal side profile makes the case for an easily concealable handgun justifying its compact name.
But the grip on this PX4 is tall enough for an average user to hold it and keep it stable during firing. The interchangeable back-straps give it more customizing ability allowing for different users to wield it. It's the modern days when customizing improves the experience.
The handle is ambidextrous meaning it's suited to both left and right-handed people with side lock and safety on both sides and a much appreciated reversible magazine release system. And it comes with 2 high capacity magazines.
What's not to like about it? Nothing. But you have to learn using the double-action trigger as the first trigger is much slower and needs stronger pressure for release than the second subsequent action.
PROS
Light but durable
Concealable
User-friendly
Good grip
Double action trigger
CONS
The double-action trigger needs much practice
---
6. KAHR ARMS CW40 3.6 IN 40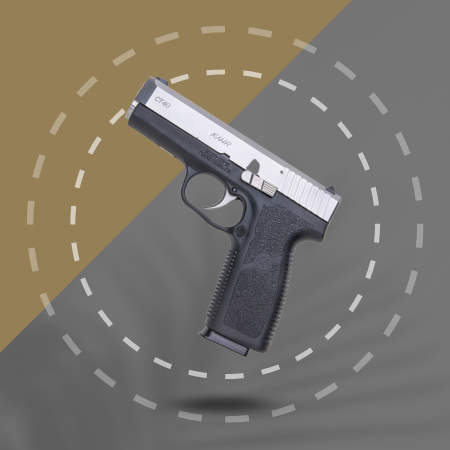 A brand is a brand, and for a reason. Kahr Arms is best at designing and producing the sleek, slim-design guns. When you decide to get a Kahr Arms Pistol, you can have a rough idea of the quality.
This one from Kahr is a small handy pistol that you'd probably end up loving. When you want a pistol that's easy and smooth to carry around, we bet this is one of the best.
Anyway, don't let its small structure fool you. This metallic Kahr Arms pistol offers a decent enough performance with a great grip and a pretty solid trigger.
Its sturdiness is another factor that steals away the heart. Plus, any average person would love the metallic look coming with that stainless steel finish! This is one of the smallest .40 cal pistols.
Key Features
Stainless Steel Mag and Slide- Kahr Arms Cw40 3.6 inches .40 pistol come in a Matte Stainless steel finish. The metallic looks would appeal to many. Moreover, the addition of steel in the polymer body only adds to the durability of this little Kahr Arms pistol.
Lightweight- The Kahr Arms 3.6" .40 cal stainless steel pistol is pretty lightweight and easy to move around, thanks to its small polymer structure. Moreover, these days, there is a relatively greater preference for concealed carry arms. If you too would like a pistol that you won't attract too much attention, Kahr Arms 3.6" pistol would be something you can consider.
Durability- despite its lightweight, small structure, this Kahr Arms pistol is highly durable. As discussed above, with the steel insertion, the frame only gets a level more durable. Of course, when you are buying a safety gun investing a couple of hundreds, you should be looking for something that can stand the test of time or, in other words, is sturdy. Use it and you will know that every penny you spent over it is just worth it.
Performance- This pistol comes with a 7lb trigger. While the lightweight factor makes it really easy to shoot with, the solid trigger, comfortable grip, and adjustable combat sights only add to the convenience of using the Kahr Arms pistol. Thus, at its price, the Kahr Arms pistol delivers a great performance. You can work it up to 6 rounds which is a good enough deal for a pistol that small and smooth.
Point and shoot feature- This Kahr Arms Pistol is designed with a useful 'point and shoot' feature. This feature is quite useful both in case of safety shooting matters or from a safety point of view, as well as when you are trying and practicing to improve your target shooting skills.
---
Related Guide: Multi-caliber suppressor buying guide
7. FN – FNX-40 4IN 40 S&W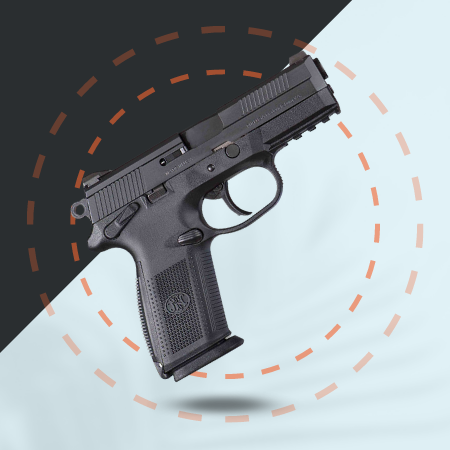 FN is more or less a gun designer and manufacturer that an average gun enthusiast would love. The brand holds a solid reputation for building weapons that stood the test of time as well as of battles.
While FNX 40 is no hard battle weapon, we can expect that reputable quality from this little pistol. FN FNX 40 .40 cal pistol is a big package of features that users tend to end up loving. The pistol is designed for a strain-free, easy and convenient use.
In addition to having a strong and durable construction, it comes with ambidextrous controls or features and safety Let's see some of the features that make FN FNX 40 the best 40 cal pistol for small hands.
Key Features
Convenience features- We mentioned earlier that any average gun user would love this gun. The feature of this gun has a huge role to play in the impact that it creates. The best thing about FN – FNX-40 4IN .40 cal gun is that its features are ambidextrous- i.e., the controls and features are set in a way that you can use it with both right and left hands. So no matter which side you are best with, you'll find it comfortable using FNX 40. Yet another convenience feature is replaceable steel rail. A bit less to worry about pistol servicing. The accessory mounting rail (MIL-STD) coming with the pistol would allow users to make some accessory additions as they prefer.
Quality makes and structure- FN FNX-40 comes in a polymer construction. Since most others that we have talked about in this review comes with the polymer structure, you might think it's no new deal. We have chosen the durable ones for the list, anyway, and most of them come in polymer body. Well, FNX uses a kind of reinforced polymer frame- something that makes the already durable polymer material even sturdier. Further, the slide is made up of stainless steel. Given that slide is the part that you will be moving the most, it is a thoughtful improvisation.
Capacity- FN FNX 40 .40 cal pistol comes with a capacity of 10 rounds. It is the basic capacity of this model. It is sufficient if and when you face a threatening situation. However, if you feel the need for greater capacity, you still have the choice of ordering the gun with extra magazines.
Related Review: 300 WIN MAG SUPPRESSOR REVIEWS
---
8. GLOCK – G22 4.49IN 40 S&W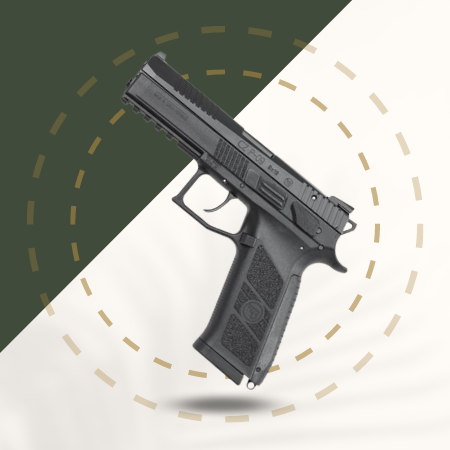 There are various factors and features that makes Glock G22 stand out from the crowd of pistols available in the market. The pistol offers some of the smoothest performance.
Lightweight and compact, Glock G22 is designed to be the best. Glock has, moreover, given particular attention to the safety factor with G22 .40 Cal pistol.
Compared to the magazine capacity of many pistols of this size and range, Glock's G22 .40 cal pistol is a winner.
The capacity, in fact, is one of the major plus points of this Glock gun, making it one of the best-rated 40 cal pistol under 600.
40 cal pistol for money! After all, who wouldn't love a tiny pistol that can fit within a palm and of this capacity?
Key Features
Lightweight and easy to use- Glock G22 4.49 inches .40 pistol weighs just about 23 ounces (without the bullets). Clearly, it is a handy, lightweight pistol- one of the most lightweight ones, in fact. You'd hardly be aware of its presence, should you ever decide to carry it around- no questions of it weighing you down.
Performance- Glock G22 4.49 inches .40 cal S&W Gas Nitride pistol delivers a great performance. Moreover, Glock offers a much higher number of firing rounds when putting against several others. It can fire as many rounds as 15, which is pretty low for a gun of this size and especially looking at its price range. This factor makes it an ideal choice for people preferring a decent safety gun with great capacity in an affordable range. As discussed before, it is a lightweight pistol, further adding to the convenience of usage. The best part is, despite its light body, Glock is amazingly durable.
Smoother and better grip: When using safety guns, it is important that you have a good, comfortable grip. A notable difference that this firearm has when compared to the previous models is the grip zone. Users, at large, review that their experience with G22's grip has been good and they find it easier to use. The grip angle in this model is steeper, which adds to the convenience and comfort of the user.
Design- Glock G22 4.49 inches .40 pistol is designed as one of the sleekest models. While its appearance might not vary too much from other arms available from Glock's G series, it still is unique in away. From distinct engraving and designs to its lightweight polymer frame, everything about Glock G22's design is cool.
Great Safety feature- Those who pay extra attention to the safety factor everywhere would end up just loving this one. This .40 cal gun comes with a great safety system- the safe action trigger system. Here is how the system works- the shooter would need to pull the trigger right from the center so as to fire the gun. This way, there would be much lower chances of accidental shooting or discharge in many cases.
---
Related guide: Best 458 socorm upper
9. CZ USA – CZ P09 DUTY 4.53IN 40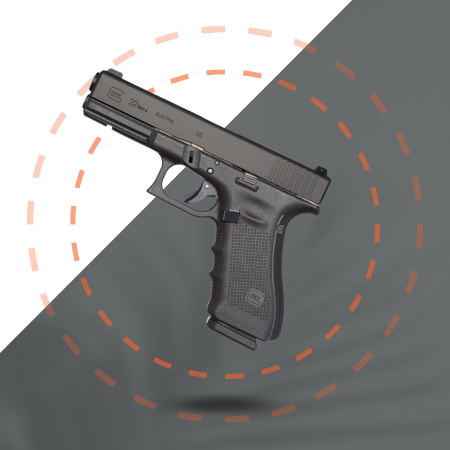 The CZ USA – CZ P09 comes with a full-size polymer frame. CZ P09 pistols featuring Omega triggers are much simpler and straightforward.
You don't need a lot of experience to handle this system and no doubt, it is easier to disassemble. The standard system will be suitable only for those who are planning to do a lot of aftermarket internal work.
The CZ USA – CZ P09 a full-size polymer frame offering, boasting an impressive 19+1 (9mm) capacity in its flush-fitting magazine.
Modern polymers are stronger than steel. Although most of the guns come with the traditional metal frames, P09 is made of modern polymer frames. They are much advantageous due to a number of reasons.
Key Features
Rust and Corrosion – One of the main advantages, when the pistol is made of polymer frames, is they are more resistant from rust and corrosion. Although some pistols are made with the most modernized and advanced steel, yet they are easily prone to rust when they are exposed to moisture and eventually corrodes. However, this is not the case with P09. It is one of the best 9mm service pistols.
Weight- When it comes to weight, CZ P09 pistols which are polymer-framed are significantly lighter than the typical metal-framed pistols. In fact, these pistols weigh just 1.85 lbs when it is unloaded. Just like featherweight so, your hands will not feel the pain though you hold it for longer. This is not the case with the other counterparts. They are pretty heavy and you can very well since the weight and pressure in your hands.
Greater Accuracy – Since CZ P09 pistols weigh way lesser, they typically have lesser muzzle rise thus resulting in greater accuracy. You have the least chances to miss the target with the P09 pistols because of the low muzzle rise. It helps you to give the strongest grip, therefore you can be a great shooter with perfect accuracy
Cost-Effective models- Since these frames are made of polymers, which are readily available and easy to use, they are not as expensive as the metal pistols. Although few models like the HKs tend to be pretty expensive yet they are obviously worth the money because of the wonderful features and the strongest grips it offers to the user.
Trigger System – They are featured with a versatile Omega trigger system which is one of the most robust variations. Although there are lots of systems to choose from these days, yet omega is rising in trend when compared to the standard systems. The standard system has its own cons like, not simple and easy to handle and similarly when it comes to disassembling, they are not user-friendly rather bit tricky.
---
Related Guide: 5.56 suppressors buying guides and reviews.
10. SPRINGFIELD ARMORY – XD MOD.2 4IN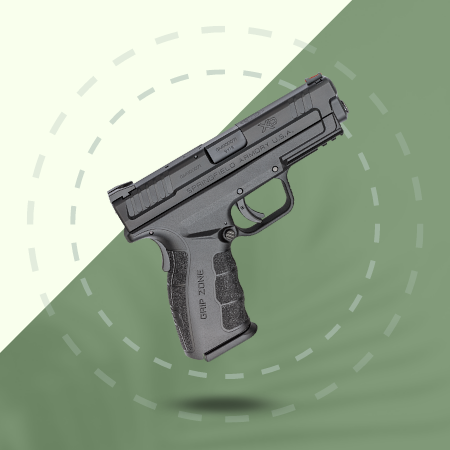 Known for the most compact firearms, SPRINGFIELD ARMORY – XD MOD.2 is one of the best and finest compact form firearms.
A pretty popular gun that is most preferred by individuals to hold it for safety and security on a daily basis. It has recently undergone loads of changes in a quite short span of time.
Key Features
SPRINGFIELD ARMORY – XD MOD.2 redesign of an existing model – Since restrictions for carrying handguns for protection has been removed, gun culture is on a steady rise and SPRINGFIELD ARMORY introduced another model to the series which is the SPRINGFIELD ARMORY – XD MOD.2 4IN 40 S&W BLACK 12+1RD. One of the beauties of this model is its compactness. Compact pistols are better than full-size for concealed carry. They have shorter barrels which are typically 4-inch sizes with really good workings.
Grip Zone – A very slim gun. One of the noticeable differences in this firearm, when compared to the previous models, is the grip zone. It has a very highly textured back strap and front strap on either side of the gun. When you put fingers on it, it falls perfectly on the grip zone giving the user the strongest grip with the firearm. After loading the magazine when you try to shoot the target, it would feel a lot more like a single stack than you imagine. But in actual reality, they are featured as double-stack magazines. Because of the versatile texture, you will not sense the exact pressure of the double stack. So wonderful and flexible to every user.
Double Stack Provision – SPRINGFIELD ARMORY – XD MOD.2 4IN 40 S&W BLACK 12+1RD is a double stack firearm. In this, the rounds go into the magazine staggered and are side by side. Although this model looks very similar to the single stack magazine, yet they are a little wider. Apparently, this extra width provides the firearm to produce more rounds. When you are in self-defense situations and if you have the habit of using a single stack magazine, you will be in real trouble when you don't have a backup magazine. However, this is not the case with SPRINGFIELD ARMORY – XD MOD.2, they are double stacked and you can have more rounds in your gun.
Industry's slimmest Pistols – It weighs only 27.5 ounces. Very easy to carry and hence provides greater accuracy due to reduced muzzle rise. The muzzle is plain and it provides brilliant ergonomics and stern firepower in an amazingly concealable full-sized handgun. To be honest, the Springfield Armory XD Mod.2 is a slimmest, short-barrel, full-power handgun. You can have a really exciting and pleasant experience while handling and using the gun.
---
Check out: 30 Cal Suppressor buyer's guide.
What is the most accurate best 40 cal pistol?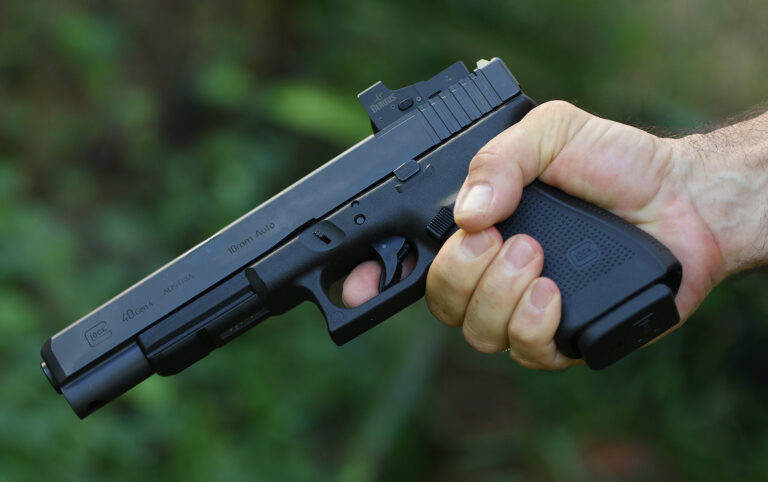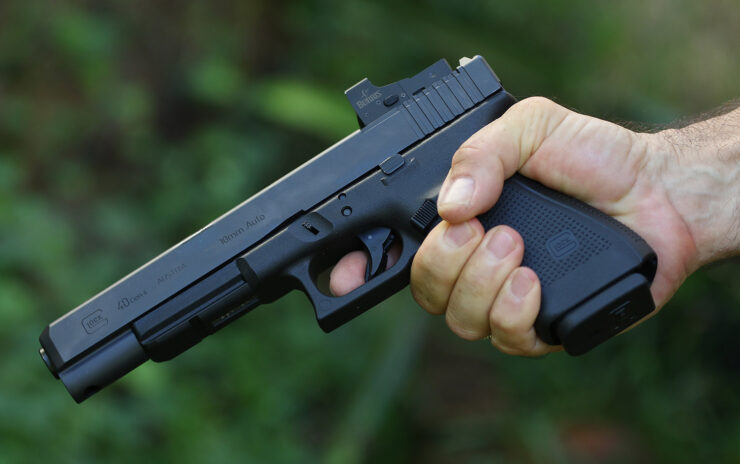 There are many pistols of .40 caliber available in the market, but few provide the required accuracy. One of the most accurate pistols in this caliber is the Sig Sauer Nitron P320. This is a partly automated pistol containing a magazine with a capacity of about 10 rounds.
The machine weighs about 30 ounces and measures to about 8 inches, barrel about 5 inches. And the barrel is made of steel instead of polymer, which makes the trigger smooth via contact with the same material. This, along with a short reset, raises the accuracy.
Moreover, the pistol is also fitted with night sights, which enable you to shoot your target quite comfortably even in a low light environment, thus adding to the accuracy of the gun.
Other guns of the same caliber are also fairly accurate, such as the Walther M2 PPQ, Beretta, Springfield Armory are a few of them. These guns lack night vision but come with their own advantageous features, and are sure to satisfy your need for accuracy.
Is .40 a good caliber?
This question has two answers, depending on your experience in shooting. If you are a newbie in the shooting range, then you don't want to shoot this caliber first. Many beginners struggle with this caliber and ultimately get hit in the face with the butt of the gun during the recoil.
And this caliber uses wider and heavier weapons that can easily tire you out at the shooting range. The wider butt is difficult to get a firm grip on, and the weight of the gun adds to the displeasure, not to mention the kick you get once you shoot.
However, once you have gained some experience with firearms, you will find the .40 caliber is quite good to work with. Users say that this caliber is fun to shoot with and accurate as well. The stopping power of the .40 caliber is great, owing to its mass and speed. This quality makes the caliber efficient to use by the American police.
.40 caliber uses bullets that are heavier and bigger and thus are imparted from the gun with higher energy. If you are using this caliber for personal protection, you can rely on it to stop the criminal in his tracks.
Is .40 cal stronger than 9mm?
Yes, .40 caliber is slightly more powerful than 9mm. The .40 caliber uses cartridges or bullets that weigh more and are given more energy when fired. And the 9mm cartridges, on the other hand, are lighter, smaller, and with pointed ends, leading to less damage to the target when fired.
Bullets of .40 caliber are not as pointy as 9mm bullets, and also are bigger in size. As a result, they can expand as they hit their target and cause more damage.Many guns can fire both 9mm and .40 caliber, but the specialized guns for .40 caliber are lighter than those of 9mm.
This allows the shooter to use it smoothly in spite of the larger recoil force. Due to the great energy of the .40 caliber, the stopping power of the bullets is also greater than that of the 9mm, making the .40 caliber stronger.
Is a .40 cal more powerful than a 45?
Which caliber is more powerful can be decided by considering which caliber causes the most damage. To answer the question in this regard, no, .40 caliber is not more powerful than a 45.
This is because the .40 caliber bullets are lighter than that of a 45 and have slightly less energy than the 45. Thus, the stopping power of a .40 caliber is less.
The force with which a .40 caliber hits the target is less and produces less damage than a 45. A 45, having higher energy, in contrast, has lower velocity. Despite that, a 45 is heavier and has more energy, and as physics says, it causes more harm to the target.
Factors to consider while selecting the best .40 handguns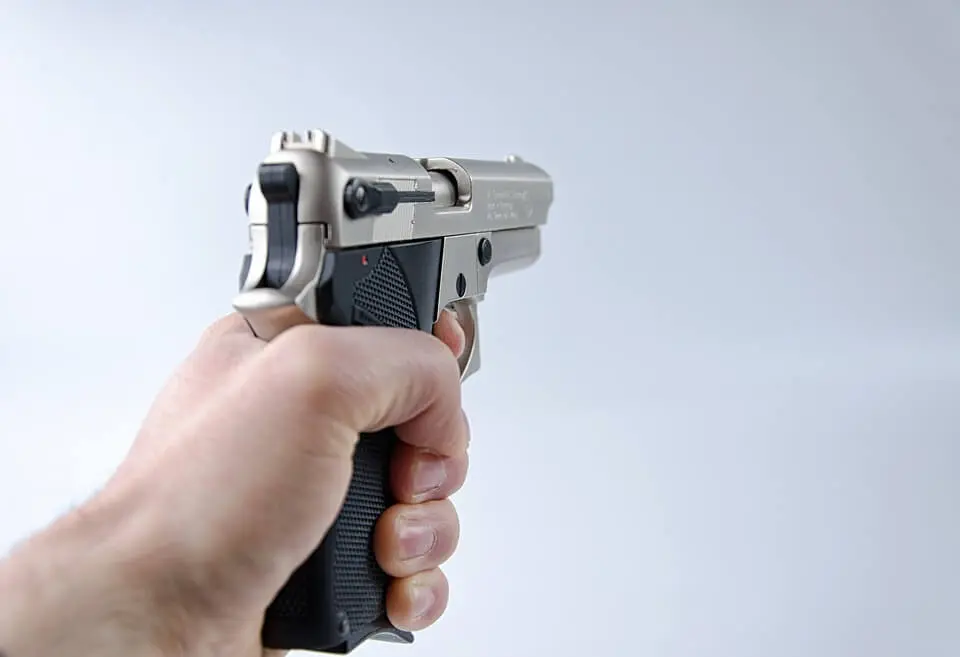 Here are some main points/factors you can keep in mind while you hunt for your ideal safety gun:
Size: A full-sized handgun is always better0abc20 in defense purposes- of course. This is true and recommended especially in case of house defense. Users tend to get a better grip with a bigger gun. More importantly, there would be a greater surface to distribute the force to recoil. If you prefer small ones that you can carry around easily without attracting any attention, a small concealed carry might be good.
Magazine capacity: It is better to have a higher capacity- that is, the number of rounds that the magazine accommodates at once. A minimum of 10 is recommended for the capacity. This helps in situations where there is more than one hostile or say when there is no time to get extra ammunition.
Nigh sight: When considering a gun for home defense, give more preference to a gun that offers night sight. Certainly, criminals prefer low-light conditions for intrusions.
Related Guide: .223 Rifles buying guide and review
How should I find the good 40 caliber pistol ever made?
Hasting the decision would mean that you would probably end up spending several hundred dollars on a pistol that you might not be able to comfortably use.
Now, let's give you a rough idea of selecting your ideal .40 pistol. There might be different points of view you can consider to decide on an arm.
For example, petite guns like that of Kahr Arms 3.6 inch one might not be the top recommendation for people who'd like to use or have practiced with heavier ones.
So it will be the case for those who have big palms. It might be just uncomfortable. However, it might be just fine for those who are looking for a small concealed carry.
Also, consider how exactly are you going to keep or use the gun. See whether you will be carrying it around as a safety gun or you are purchasing a pistol to leave at home.
In the former case, you might want to go for smaller, lightweight guns. Otherwise, if you're buying one for house safety, you can consider even bulkier ones since you don't have to unnecessarily carry it around.
The budget is yet another criterion. You consider the budget factor for just everything- so why not with pistols too! However, it's better to not go for what looks like the 'cheapest'. It's a matter of your safety.
The list provided here has some of the top .40 cal pistols for the money. You can use it as a reference. See which of these have the features that you are looking to have in the one.
Based on it, try renting out the pistols that somewhat seem like what you prefer.
You can finalize the one which practically seems the best and the most comfortable. This way you will be able to find the one that is best for you without wasting hundreds of dollars.
In this context, note that those who have practiced with and are used to low caliber pistols might, in some cases, feel uncomfortable using a .40 caliber pistol. Just keep it in mind, so you can judge accordingly.
Conclusion
Definitely, these 40 cal handgun reviews help you to pick the best pistol from here. We have taken time experimenting and reviewing various guns before finalizing this list of the best 40 cal handguns for the money. We hope this gives you an insight into the kind of guns and features you can consider and compare.
You probably can shortlist the best 40 cal hunting pistol and take the decision. Don't rush, though. Take time analyzing the features you are looking for and then compare and decide!
Let us know your doubts and gun buying experience in the comment!