In the firearm industry, there are a lot of exceptional accessories that can help you have a much better shooting experience. One of these is having the red dot sight on your handgun. It provides you with easier long-range shots, quicker target acquisition, and more advantage in lowlight conditions.
Many manufacturers have embraced the concept of red dot sights on handguns. Hence, there is a myriad of options available on the market today. Among them, these two stand out the most – Trijicon RMR and Holosun 507C.
But which one is better between Trijicon RMR vs. Holosun 507C? In this guide, we will have a thorough discussion about these products to give you the answer to that question. We'll give you an in-depth overview of their attributes and characteristics. So, let's get started!
Trijicon RMR vs Holosun 507C Comparison in 2023
Trijicon RMR Sight
The Trijicon RMR is dubbed to be a professional-grade optic that started the craze about the pistol-mounted red dot sights. Indeed, it has set the standards. So, you can equip precision and rapidity to your pistol with this RMR (Ruggedized Miniature Reflex).
Whether it is for law enforcement, military, competitions, or even just for self-defense, this could be ideal for you. It is made with a patented housing shape that can absorb any impact or force against it and divert this stress away from the lens. With this, it will be able to increase its durability for long years of service.
Models in this line-up offer improved and redesigned electronics. They have been proven to provide maximum performance from the moment they are mounted on slide-ride pistols and other smaller arms.
With the dual-illuminated option, you won't be needing batteries for it to operate. You can rest assured that each of these models is made to be more reliable and rugged. We'll get into a few of them below.
There is a wide variety of Trijicon RMR sights on the market, and it would be hard to choose the best one. To provide you with options, here are our 3 recommendations.
Trijicon – RMR Type 2 RM01 LED 3.25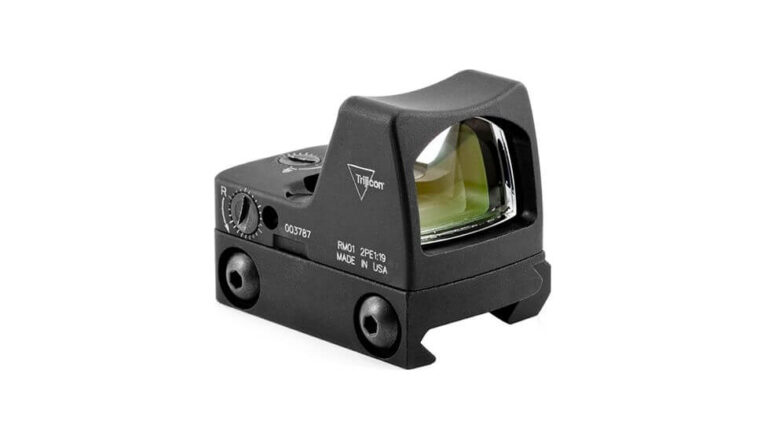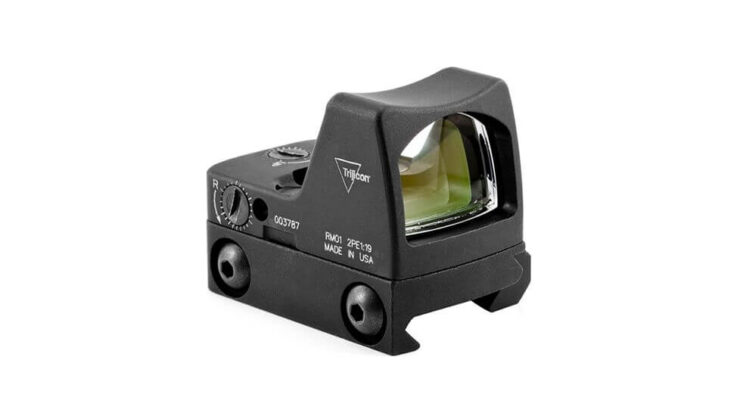 This RM01 is the first product in the Trijicon RMR line-up for you to take account of. It holds a lot of amazing attributes that you will love for sure.
There is no doubt as to its optical performance; it is equipped with a true color multi-coated glass window. With this, you will be able to sight your targets and background clearly without any form of discoloration. Also, it has a 1x magnification and unlimited eye relief.
One of its noteworthy features is its 3.25 MOA brilliant red dot reticle. This is LED-illuminated with an automatic brightness control so you can obtain intense lighting. Also, it ensures a parallax-free effect, so you won't be experiencing any difference or displacement with the view.
With its upgraded electronics and battery contacts, you are guaranteed exceptional performance, especially on the harsh conditions of a battlefield. It offers you the 150 MOA total windage and elevation range for adjustments. Along with this is the 1.0 MOA impact point correction with perceptible clicks.
Much more, it is housed in a 7075-T6 aluminum alloy structure, making it very tough yet lightweight. The tempered glass windows are impact-resistant and scratch-resistant. With this construction, you're sure that it's sturdy enough for long years of service.
Overall, this is a product worth recommending taking into account its features and specifications.
Related Guide: Best Long Range Scope Under $1500
Trijicon – RMR Type 2 RM06 3.25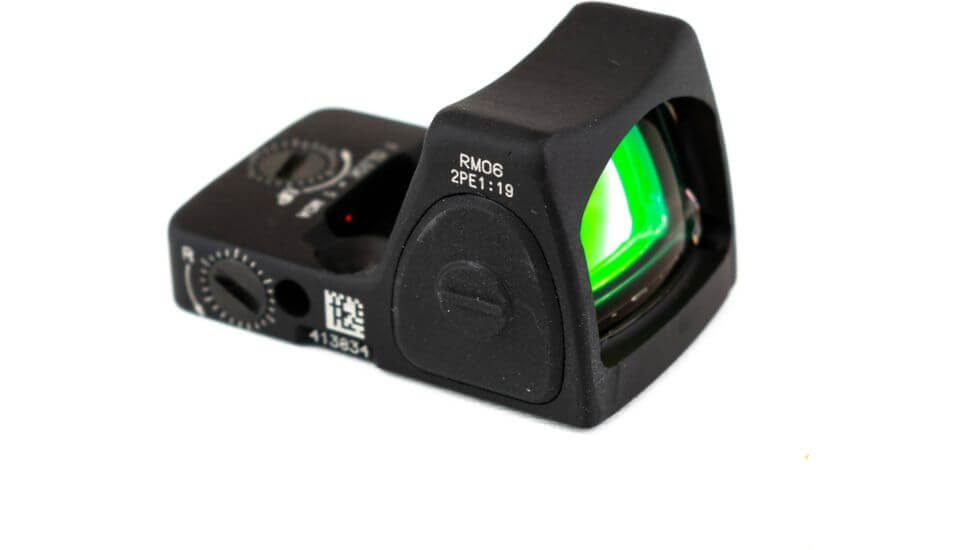 Next up is this RM06 adjustable LED reflex sight in the Trijicon RMR line. It is a feature-packed model that gives you the most versatility and reliability in one unit.
This optic is forged from 7075-T6 aluminum, making it extremely tough and lightweight as well. It only weighs about 1.2 oz, which is very beneficial since it won't add unnecessary weight on your firearms, especially handguns.
In addition, it also boasts its patented chassis shape that absorbs the stress and diverts it away from the lens. This device is sure to withstand recoil stress encountered from the slide-ride pistols. Also, it is waterproof of up to 20 meters for about an hour, attaining an IPX8 rating.
Furthermore, it is equipped with an adjustable LED 3.25 MOA red dot reticle. Its noteworthy feature is its eight brightness settings. Two of these settings are night-vision compatible.
There are integrated, easy-to-use buttons on the sides that can let you adjust the illumination brightness. You can toggle between automatic and manual modes.
In the manual mode, the RMR will remain to be at this mode for about 16.5 hours following the last push on the button. And after that long hours, it will switch back into the automatic mode.
Also, you are allowed to lock out the buttons if you want this RMR to operate in automatic mode only. Therefore, this sight offers a maximum versatility by putting in your hands the full control of the illumination settings.
Related Comparison: Leupold VX6 or VX6HD?
Trijicon – RMR Type 2 RM07 6.5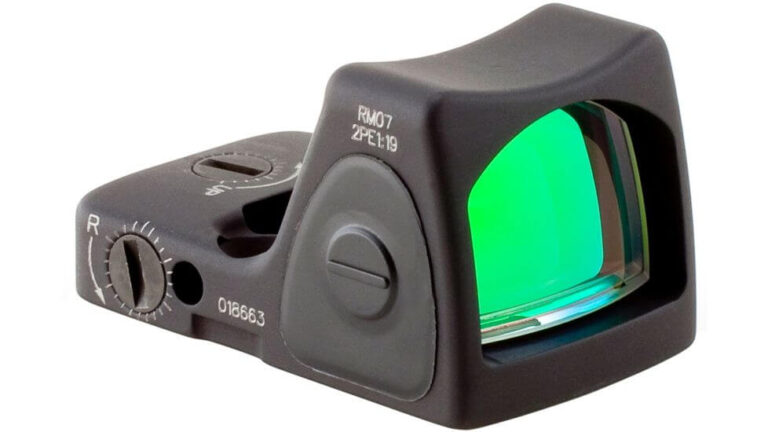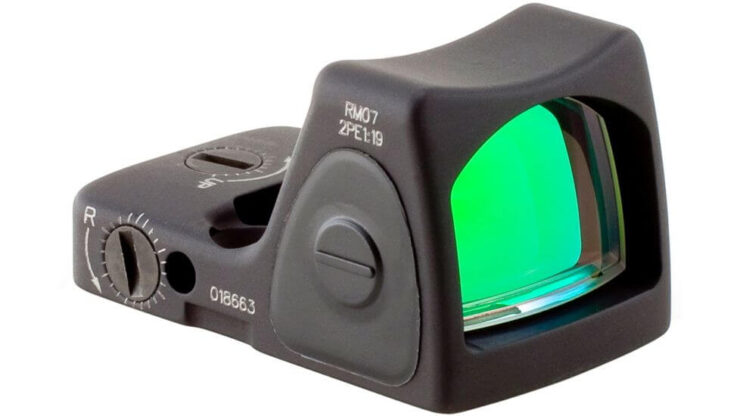 Lastly, we recommend this RM07 adjustable LED reflex sight in the Trijicon RMR line-up. With its given features, it will surely deliver the performance you need in an optic.
This model is equipped with a multi-coated true color glass window with unlimited eye relief. It is impact-resistant, allowing it to withstand all the rigors of training and combat for long years of service.
Much more, it is equipped with a 6.5 MOA red dot reticle that provides you with the biggest dot available. This will give you the capability of quickly locating the dot with ease. It is a great help and solution if you have vision problems. Also, this is ideal for close-quarter engagements with your target.
Additionally, it has an adjustable LED illumination with two modes – automatic and manual. As for the manual mode, you will have eight brightness settings that include two for NVDs (Night Vision Devices) and one for super-bright function.
You can make these adjustments with the use of the integrated buttons on the sides. Also, you will be able to lockout these buttons to let the RMR function in automatic mode only. It also ensures that the unintended push on the button will not cause aiming solution losses.
All in all, this exceptional product is tested and proven to provide you with the best optic performance there is.
Related Review: Top-rated Scope for 50 BMG
Holosun 507C Sight
The Holosun 507C has been a real competitor that goes a long way outside its price range. There are lots of attributes that you will surely love about this optic. So, let's get in detail about it.
For its durable construction, it is made from 7075 aluminum. It is solid and robust that enables it to endure all the impact and abuse thrown against it. You're sure that it can serve you for a long time.
Much more, it comes with a massive battery life that will leave you in awe. For a number of years of operation, you will less likely need a replacement for it.
Also, the 507C features three types of reticle – 32 MOA ring only, 2 MOA dot with 32 MOA ring, and 2 MOA dot only. You can change this according to your preference by pressing and holding the minus button for 3 seconds.
These are some of the characteristics of the units under the Holosun 507C line-up. Get to know more about them below.
You will, for sure, find various models with different attributes and characteristics under this series of optics. It may be overwhelming to pick one, but we'll help you through that. Here are our most recommended Holosun 507C sights to purchase.
Holosun HE507C-GR-V2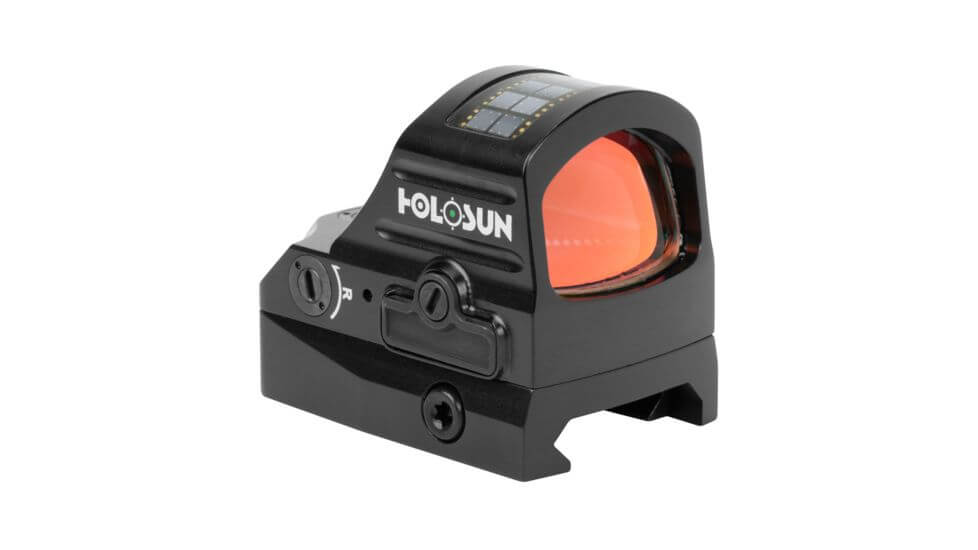 Our first recommended model in the Holosun 507C line is this HE507C-GR-V2 model. It is an upgraded edition of the first version. So, let's get down into it!
One of its exceptional features is the multiple reticle system.
You can choose from the three green reticles – a 2-MOA dot only, a 32-MOA ring only, or a 32-MOA circle with 2-MOA dot. Set it to your preference with just a touch on the button.
For easy and quick target acquisition, it is equipped with an open frame for a broad-sight picture. Also, it has a parallax-free optical design that comes with unlimited eye relief.
Much more, it is equipped with a motion sensor that has a "Shake Awake" feature. With this, this sight can stay on until you manually turn it off. So, this sight is ready whenever you are!
Also, it has dual power supplies – the solar cell and the batteries. You won't have to worry about its operating lifetime, just get out there and shoot with accuracy. This unit has been designed to fit in an RMR cut slide, making it a perfect option for competition shooters.
Given its excellent qualities, you will certainly enjoy its functionality and versatility during your shooting session. It is, indeed, a must-have product!
Related Comparison: VORTEX VIPER VS. TRIJICON RMR DOT SIGHT
Holosun HS507C-V2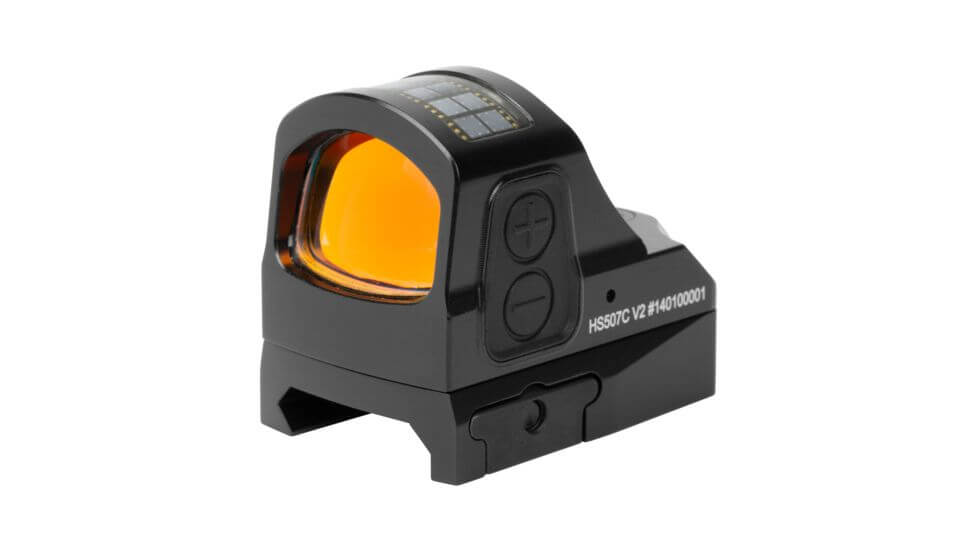 The second unit that we'll recommend is this HS507C-V2 Circle Dot. You will love a lot of things about this unit for sure. So, we'll give you an in-depth review of this product.
This optic is a pistol-sized optic that comes with an open frame to provide you with a wide sight picture. Also, it has a housing made of 7075-T6 aluminum with an anodized finish. There's no doubt about its durability; this can withstand various weather conditions.
It is powered with the use of a CR1632 battery. In addition to that, it features a solar fail-safe back-up uniquely developed by Holosun. Therefore, it can operate up to 10 years without replacing the battery but on setting 6 and dot only.
On top of it all, it comes with a multiple reticle system. With this, you will be provided with the flexibility to choose and change the reticles in just a simple push of a button.
If you aim for a precise shot, then choose the 2 MOA dot only. But if you need one for quick target acquisition, opt for the 32 MOA circle. You can also combine and enjoy both circle and dot. For sure, you can set it according to your preference with ease.
You can certainly have it all with this reflex sight – from durability up to its performance, it will never disappoint.
Holosun 507C or Trijicon RMR Sight?

At this point in the article, we're going to see how these two stacks up against each other in different aspects. Let's start!
Durability
The Trijicon RMR units are known for being one of the toughest red dot sights in the market today. They are constructed with military-grade aluminum alloy, and the windage and elevation turrets are recessed in the housing.
But the Holosun 507C units are pretty durable also. They have the same construction with the RMR in terms of windage and elevation turrets. The housing is made of machined aluminum.
Hence, the Trijicon RMR is the winner of this category. They have set their reputation in making extra-rugged optics. And they never disappoint. But don't worry, Holosun 507C comes close.
Lens Clarity and Reticle
The Holosun 507C is equipped with an exceptionally clear lens. You won't notice any bluish or greenish tint that you may get sometimes. Also, the sight window is large enough for a pistol optic.
Each 507C has three reticle options to choose from – dot only, ring, or dot & ring. You can set it to your preferred option with just a click on the button.
For the Trijicon RMR, it also has a good lens clarity. But when you look through this, you'll notice a slightly blue tint. Trijicon says they've put it on purpose to add better contrast to your image. So, if you're fond of this, it will be great.
As for its reticle, it has two different variations – 3.25 MOA dot reticle and 6.5 MOA reticle.
Therefore, for this category, we have an absolute winner – the Holosun 507C. However, if you're fine with a lens having tints, then you can go with Trijicon RMR.
Price
The prices of these two products vary from time to time. But what's certain is Holosun 507C is always 150-200 bucks cheaper than the Trijicon RMR. So, as for the price range, Holosun 507C is the victor.
Conclusion
So, there you have it, ladies and gentlemen. I hope that this Trijicon RMR vs. Holosun 507C comparison is of great help to you in picking the best between the two. Besides, it's all about your preferences and requirements.