One of the leading companies in the tactical industry is Trijicon RMR. It is known to produce gun accessories that are uniquely reliable in all handgun applications. One of their best selling products is the Ruggedized Miniature Reflex (RMR).
An RMR sight attachment allows you to focus and exactly align your handgun on the target for a better shooting experience. With this additional accessory, you can work on the accuracy of your shot.
In this guide, we will discuss the differences between Trijicon RMR Type 1 and Type 2. These two products are highly appreciated by shooters. Just read on to find out!
TRIJICON RMR TYPE 1 VS TYPE 2 – COMPARISON IN 2023
Trijicon RMR Type 1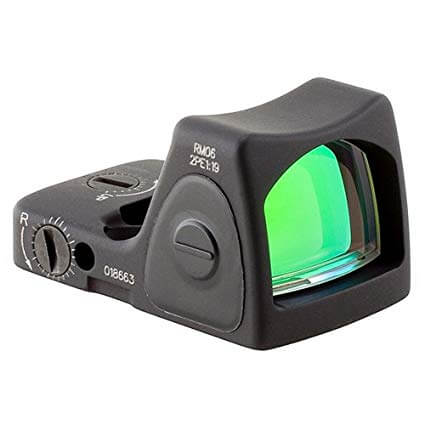 One of the best optics produced in the market today is the RMR Type 1. It is initially made and designed to use on rifles, but due to its size, shooters use it for their pistols.
This RMR sight is well-known for its easy installation and set-up process. Other products might be a bit tricky and frustrating when you work on them, but with this, you are sure to have an enjoyable experience.
Trijicon made sure that this will be amazingly lightweight since it is designed to be only 1.2 ounces with a battery included on it. It practically adds little weight to your weapon, making it portable enough to carry around without any issues.
You can add a Battle Werx anti-flicker plate to make the connection between the optic and battery stronger. This adds more pressure to the battery so it can function well and give you the best output. Using this also keeps your sight being totally sealed and gives extra protection.
It is uniquely housed using one of the most popular grades of aluminum alloy, 7075-T6. This metal alloy is known for its great tensile and shear strength. It is also using for aerospace and structural applications because of its heat-treatable quality. Being made from this metal, it ensures that this sight is greatly durable.
A CR2032 lithium battery powers this sight. It provides longer service life. You can turn this off when not in use to save the battery's life. It can last up to 4 years of use.
With all its features, there is no doubt why this RMR sight can adapt to many weapons, most especially to pistols.
Related Guide: Best Tripod For Bow Hunting
Trijicon RMR Type 2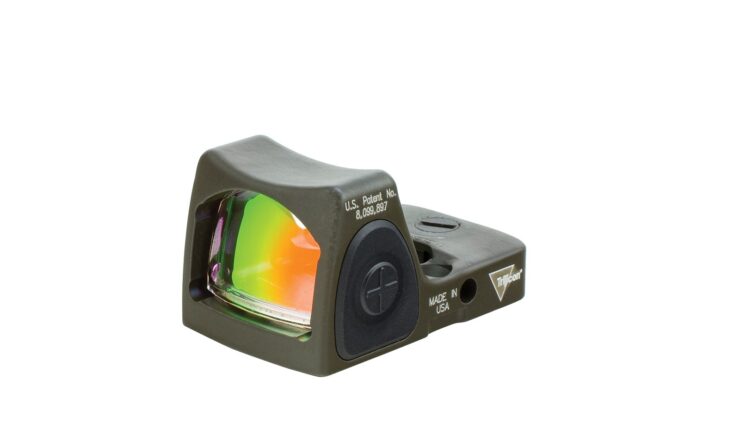 RMR Type 2 is built to improve the precision and accuracy of any weapon. It is made to address the issues encountered in its predecessor, the RMR Type 1. The product is also designed to be as extraordinary as their other sight products.
Trijicon made sure it is waterproof up to 20 meters and shockproof to absorb the strong impacts and direct stresses away from the lens. This optic is competently lightweight and durable, even in unlikely surroundings and harsh conditions.
By pressing the buttons on the sides, you can manually adjust the level of brightness and contrast. It has eight available brightness settings to choose from. These buttons also help you toggle between automatic and manual modes to save power for the storage.
A multi-coated lens is equipping in this sight to offer you clear and crisp views of any environment. This lens creates a wide-band light transmission for all adjustments in the target color, allowing you to adapt to any surroundings.
Easy-to-use adjusters and audible windage and elevation adjustable clicks make this RMR Type 2 easier to use. It is an ideal addition to any set-up and suitable to use for military and shooting applications.
This is powered by a CR2032 battery which provides longer service life. To save the battery's life, you can turn this off by pressing the plus and minus buttons on its side for three seconds simultaneously. It can last up to 4 years of frequent use, allowing you to save for extra costs.
All its features are perfectly impressive, and that's why it is one of the best RMRs currently available on sale. It helps you enhance your capabilities to have a better shooting performance.
Related Guide: ATN X vs Photon XT SIGHT Comparison
Trijicon RMR Type 1 vs Type 2 Comparison
Since RMR Type 2 is the successor of RMR Type 1, there is no doubt that some of their features are alike. But each type still has unique features and disadvantages.
Control
These RMR sights ensure better control, especially when in the shooting range. But to be honest, the RMR Type 2 has an advantage. It has incorporated several designs that allow you to easily access its parts. Say, for instance, you need to adjust the lighting condition according to your most comfortable state.
Or maybe, when you need to adjust the knobs for better shooting. Well, having good ergonomics, which Type 2 can provide, can definitely help you to have more authority in operating the sight.
Red Dot Optic


One of the most special features you need to take into account in RMRs is its red dot. With the use of this sight, you can easily pin your target and accurately make a shot.
RMR Type 1 used to come with a flickering dot, but this issue was fixed in RMR Type 2. Trijicon made sure that the red dot in Type 2 is tougher and more stable to help you have a good shooting ability.
Versatility
Since these RMRs are built with great durability and lightweight, they can be easily carried from one place to another and won't give you a problem when you shoot. They are probably head to head when it comes to their versatility, which makes them suitable in almost all weapons.
Frequently Asked Questions
What is an RMR sight?
RMR stands for Ruggedized Miniature Reflex sight, which is an important attachment to any handgun. It helps you focus on the target, so you can have a good aiming and shooting accuracy. This works with the help of a red dot that is projected on the lens.
Which is better, the RMR Type 1 or the RMR Type 2?
Trijicon made sure both of its products are reliable and can give you the best performance. They are equally good and durable enough for all conditions. But if you're looking for a better-updated version, then RMR Type 2 is a good choice. It is made to address the issues of the RMR Type 1.
Do I really need this in my weapon?
An RMR is an essential attachment to your weapon. It is designated as an official part of the firearm to help you aim accurately so you can perfectly shoot the target.
Are both these RMR can fit in all RMR mounts?
If the mounts are from Trijicon, it surely can since it has the same physical dimensions and mounting specification with the mounts that they produce.
Is the Trijicon RMR waterproof?
Trijicon made sure their RMR sights are waterproof up to 66 feet or 20 meters.
Conclusion
So which is better between Trijicon RMR Type 1 or Type 2? Now that you've known its features, advantages, and disadvantages, you can surely answer that question. Both are great in terms of durability and versatility. By choosing either one of them, you will still have the best sight for your weapon.