So you are looking for a sound suppressor that is powerful and precise but relatively easy to install? You have gone through countless sites claiming that their product is the best in the market, and yet you are still uneasy?
Well, my friend, look no further because this Dead Air Sandman S guide will give you all the facts straight up, no sugar coating, nothing but cold, hard truth.
Whether you are an adventurous bloke who enjoys hunting or competitive shooting, or else you are just into the profession of combat, there is nothing more vital than choosing the perfect firearm for you.
However, owning the best handgun or rifle is just not enough without the accessories that boost their power and put more value on their effectiveness. One of the most difficult accessories to come by, if you want a proper one, is sound suppressors.
You would want a precise device with a sleek design, lightweight, but powerful. It's just really overwhelming for a lot of people. If this sounds like you, read on and learn why this product is just what you have been looking for.
DEAD AIR SANDMAN S REVIEW in 2023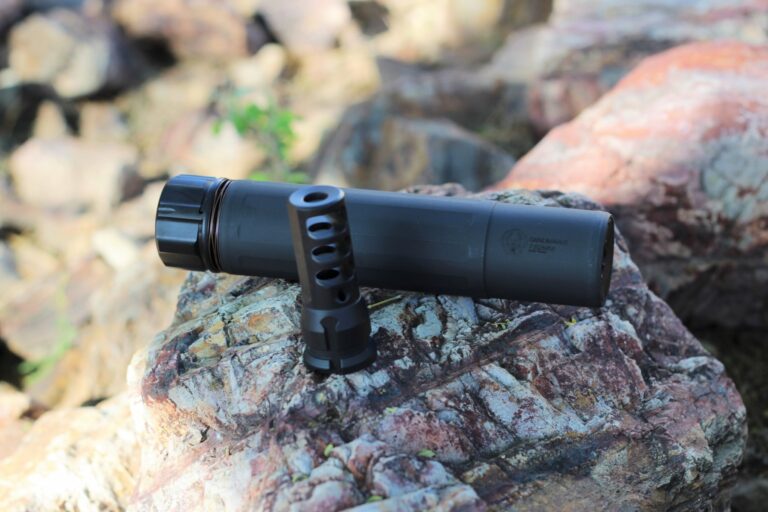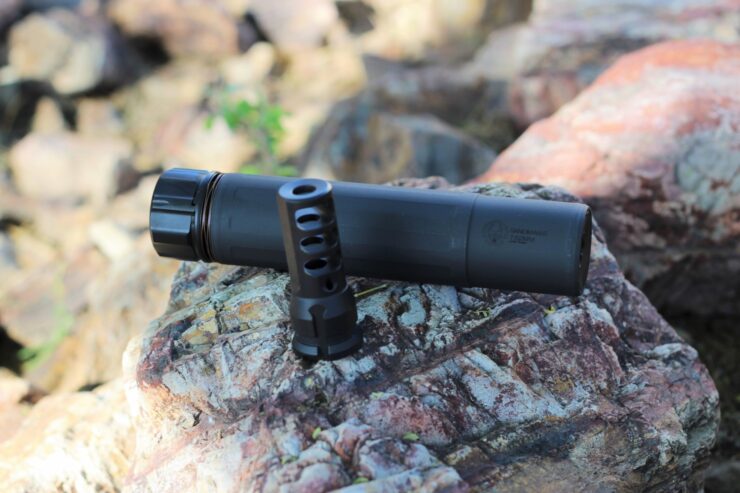 Confined in a package only 6.8 inches long and weighing 18.5 ounces, it is easy to disregard the subtle strength of this product. But as it is, experts consider it the perfect suppressor not only for your 5.56mm, 300BLK but also for 7.62 up to .300 Win Mag platforms.
Yes, you heard that right. It's the love child of the best suppressors in the market. Here, you get all the best features in one model, isn't that just neat? There isn't just any other suppressor that performs this good across a multitude of calibers and platforms.
Of course, just saying that would not convince a smart consumer like you to grab your very own Sandman S at this moment. But, I am hoping that an enumeration of all its best features would do the trick. And that is exactly what I plan to give you. Ready?
Design
At first glance, one would automatically take note of the unique but very sleek design of this merchandise. Forgive me for gushing about its beautiful design. There's just no other way of putting it; the product was manufactured to look and feel good.
But let me tell you how this is as important as any other feature, especially when it comes to sound suppressors. This particular beauty has a QD system, which is an astounding breakthrough when it comes to design.
Ease of Use
It can be removed using just one hand.
Yes, that is right. No more awkward shuffling of the device when you are in the middle of the range, no more embarrassing pauses between preparation and the actual shooting of game.
Your performance will remain unparalleled without wobbling your firearm accessory and possibly adversely affecting your skill. Easy to put on, easy to put off. Just like that.
Related Comparison: Ruger EC9S vs LC9S
Flash Hider


Favorable lighting is a shooter's best friend. Everyone loves good lighting conditions, which is why it is not such a remarkable feat to be able to shoot well during these circumstances.
However, once the axis shifts, and you are faced with low light conditions, the importance of appropriate firearm accessories to aid you cannot be overemphasized. In these conditions, a feature such as an integrated flash hider is of paramount necessity.
And yes, you guessed it right. This merchandise has just that for those of you who are brave enough to shoot in all and in every circumstance. Moreover, this wonderful feature would dramatically boost your performance even in the lowest of light conditions. Great, isn't it?
With innovation in the form of a 7.62 design with the front cap capable of being detached and an integrated flash hider, choosing this product will be one of the best firearm-related decision you have ever made.
Related Guide: Silencerco Hybrid vs Omega 300 Suppressor
No Hassle Replacement
While we all love our firearms and their accessories and do our best to take care of them to maintain their pristine condition, some form of abuse just cannot be avoided in the long run. We have all been there.
Overusing the same sound suppressor repeatedly without taking due care to perform daily maintenance and cleaning measures leads to deterioration of the product. I'm as guilty as you are, my friend.
With this amazing suppressor, you need not worry yourself too much though. The front cap, which, again, as mentioned previously, is detachable, provides a good level of assurance should the unit be dropped or overused.
You guessed it right. In layman's terms, this just means that the unit offers hassle-free replacement in the field. How cool is that?
Power and Durability
Now that we have covered design and all those amazing features, it's time to really get into the best characteristic of this merchandise. Every item coming from Sandman is 100% Stellite. Everyone knows these babies cost more than stainless steel, almost three-fold, but quality comes at a price.
There is just no viable substitute for good material to guarantee power and durability. More than this, all materials used went through rigorous testing under the hardest use and conditions. The tubes used are not those from competing manufacturers.
They are just not good enough. Instead, high-performance precipitation toughened stainless steel are procured for that lightweight strength which, in a sound suppressor, is invaluable.
Related Guide: Vortex Viper vs. Razor Spotting Scope
Frequently Asked Questions
Is it necessary to procure NFA clearance to purchase this product?
Yes, this product does require a Federal-Firearm License and the payment of a Special Occupational Tax Stamp, which is the sole responsibility of the consumer. If you purchase this product online, a fee will be added for this particular order as payment for processing.
How long is the product?
The product is exactly 6.8 inches long.
How much does this product weigh?
The product weighs 18.5 ounces.
Is this full-auto rated?
Yes, absolutely.
Is there a warranty for this product?
Yes, but for more details, you may contact your seller directly.
Final Verdict
This powerful suppressor is definitely worth every buck you are going to spend in purchasing it. If you are one of those people who do not stick to one caliber or platform, buying this beast of a sound suppressor will actually save you more money in the long run.
How? Well, you would not have to purchase another suppressor for another one of your firearms. Since this unit is versatile and easy to attach, you can definitely stick to it and be happy with your purchase, I guarantee it. The Dead Air Sandman S guide says it all anyway.
Do not settle for just good; go for the best!