Sako is a popular brand and produces a lot of quality rifles. But that's a problem as well since you can be easily confused between all the options. So, are you also finding it difficult to decide on which Sako rifle is the right one for you?
Feeling lost between all that there is about barrels, stocks, and chambering? Do not worry. We are here to help.
And we will sort everything in order in this Sako rifles review list and hopefully help you find the perfect Sako for you. So why wait, read right on.
Best Sako Rifles Comparison in 2023
Sako Rifles Review
So how did we select the best of the best? We are basically reviewing the Sako 85 platform and choosing guns from that platform based on features that are important in terms of the use case of these guns.
Sako 85 Finnlight Bolt-Action Rifle

First up on our list, we have the Finnlight from Saka. Make note that is not the Finnlight II but rather the OG Finnlight 85. The Finnlight is uber lightweight, making use of stainless steel construction and a synthetic stock. And the fluted barrel helps bring the weight down even further.
So as you can imagine, being lightweight and greatly balanced is one of Finnlights strong suits. It manages to be extremely rugged at the same instance with its synthetic black stock made out of a reinforced polymer. The polymer is very rigid and very weather resistant. It is coated in a soft-touch finishing that further aids grip and carry.
Let us take a scrutinizing look at the barrel and the action. The barrel, as we have said earlier, is a fluted one and is constructed of standardized stainless steel. And the fluting does help bring down the weight tremendously and helps with the overall weight distribution of the rifle.
The receiver is also made out of solid stainless steel and featured a three-lug bolt, which only requires a 70-degree rotation action to engage. This greatly increases the cycling speed and helps protect the shooters from lodging onto the gap between the scope and the bolt handle.
Moreover, this Sako also features a plunger ejector within the bolt and comes with their proprietary extractor. The receiver comes with dove-tailed mounts machined into itself so you can go about and attach an optical sight or scope of your liking.
Furthermore, the trigger itself is single-stage and adjustable. We are happy to report that there was no noticeable creep, and the break is very clean at the shooter's pull. The action post-break is smooth, so you know exactly when you have pulled the trigger (excuse the pun).
There is a lot of leeway in terms of safety. We are getting a bolt lock safety and a bolt unlock safety as standard. The former locks the bolt when it is engaged, and the latter is essentially a dedicated button that unlocks the bolt while the bolt lock safely remains in place, so a safe and secure unloading process.
Related Guide: Winchester SX4 Review
Sako 85 Bavarian Bolt-Action Rifle – .308 Winchester

Next, we have a Sako with a design and build quality, made to sate both the hunting rifles fanatics and the purists, the 85 Bavarian bolt action rifle chambered in .308 Winchester ammunition. The wooden stock, the reliability, and accuracy of Saka rifles makes this gun an essential for those who love the late Central European look.
And the Bavarian is an eclectic mix of innovation and reliability, with a fair dose of tradition thrown in for good measure. We get the ever-reliable, accurate, and versatile Saka 85 action. This time it is encased in a rich brown wooden stock. The wood is walnut and is oil finished to complete that late Central European aesthetic.
The fore-end used in the wooden stock is of Schnabel origins, and we also get a rosewood pistol cap. Neat! There is checkering throughout the body, and the beauty of the stock is further complemented by the non-reflective finishing on the barrel. Our Sako 85 rifles reviews would truly be amiss if we did not include the Bavarian.
A Bavarian cheek piece and comb is used on the stock, from which this Sako 85 derives its name. There are two cross-bolt lugs in use in the Bavarian that helps reinforce the bedding against any and all recoil. The Bavarian features the same solid steel receiver unit use on all Sako 85 variants.
Also, the receiver is a 3 bolt, that only needs to be turned to 70 degrees for a chambering cycle. This enables the shooter to complete a cycle in less than 3 seconds, whilst keeping his mitts away from jamming between the scope and the handle.
Moreover, the Sako extractor also makes an entry here along with the single-stage trigger while negligible trigger creep and a tactile break.
Related Guide: Remington V3 buying guide
Sako 85 Kodiak Bolt-Action Rifle – .375 H&H

To finish it all off, we have a bolt-action rifle made exclusively for hunting large game or Kodiak bears. If the name is not a dead giveaway by now, let us introduce ourselves to the Sako 85 Kodiak bolt-action rifle chambered in .375 H&H ammunition.
This rifle is extremely purpose-built, and it is quite apparent when you set your eyes on it for the first time. Very rugged build, the critically acclaimed Sako 85 action is encased in a wooden stock. The stock itself is lacquered in grey and is further laminated to provide that smooth yet very durable finishing.
And same as the wooden Bavarian model, we see the two cross bolts make an entry here to provide extra reinforcement and control against any and all recoil. What we do get though is trusty old iron sights, which do not require any sighting in, helping for immediate target acquisitions and close quarter combat.
There is also a heavy contour along with a heavy-duty stainless steel barrel. Sako included a TLC provision to make sure that there are no accidental magazine releases. The two-stage locking system and that single-stage trigger are included as standard.
Same as the guns we talked about above, the Kodiak also features a receiver made out of solid stainless steel. The bolt in use is a tri-lug unit and is made of stainless steel too. And the chambering or actuation rotation is the same at 70 degrees, which allows much faster cycling than most of the competitors.
Moreover, this 70-degree cycle also helps keep the shooters' fingers in check. The receiver also contains rails in which we can use optical sights. Granted, because of the iron sights in place, we are limiting our options, but hey, something is better than nothing, eh?
Sako should essentially trademark this great single-stage trigger they use in their 85 lines. The creep is essentially zero, and the break is so clean it feels more like a haptic feedback to hands.
Things to Consider before Buying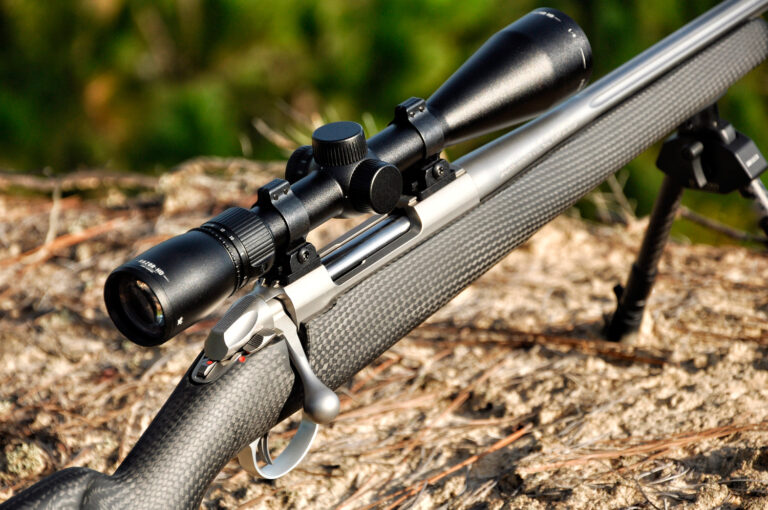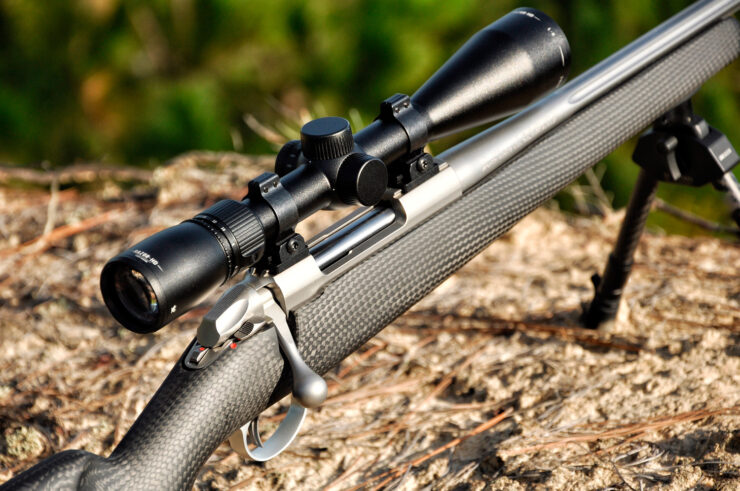 So, we have glanced at some of the best Sako 85s you can buy right now. But this rifle review would be incomplete without a proper buying guide. So what are the things we should keep in mind before acquiring these rifles? Let us have a peek.
Legality
This is the first step we must overcome before we go into choosing the ammo type and the gun. Which rifles and ammo types are considered legal in your area? This is important because this will directly affect the rifle caliber you buy. For example, in the state of Ohio, calibers .357 to .50 are in the legal limits for centerfire rifles.
Environment and Distance
Your hunting area and the distance you will be shooting at directly affects your gun decision. In bushes or close-quarter areas, big bore rifles are the ideal hunting guns. For open field hunts, opt for something flat shooting with a relevant scope.
Caliber
Firstly, what sort of game will you be hunting? You cannot hunt a full-grown bear with a 0.22 long rifle. The bigger game requires a bigger caliber. Keep that in mind, when choosing your gun and your ammo.
Secondly, what is the largest caliber you can handle? That is to say, the maximum caliber you can shoot with minimal flinching. We would all love to hunt with a desert eagle, but realistically, it hurts just to empty out a clip for the average joe.
Budget
What sort of price bracket are you looking at? The gun pricing depends on a lot of factors, including but not limited to chambering, caliber, materials, make, so on and so forth. Remember, you can always get a quality rifle without paying a significant premium. Just do your research.
Follow the things above, kind of like a checklist, and you ought to be able to choose out a chambered rifle for yourself in no time at all.
Frequently Asked Questions (FAQs)
Here we have the most commonly asked queries regarding the best Sako rifles:
Can you attach a silencer or suppressor with a Sako 85?
Yes. All of these Sako 85 variants come with a fluted barrel. Basically, the tip is machined in to accept a silencer or a suppressor. Best consult the manufacturer's site or the rifle dealer to find a list of compatible ones.
Where can I acquire a Sako 85?
These Sako guns can be acquired from authorized dealers only. You can order them online, but they are shipped to physical stores, not private addresses.
How many rounds does a Sako 85 carry?
These Sako 85s with a standard base factory spec magazine come in a 5+1 configuration. That is, they have 5 rounds in the magazine and one in the load chamber. There are third party magazines for these guns, but we recommend sticking to OEM accessories for reliability and maximum compatibility.
Can you attach bipods to the Sako 85?
Yes, you can. Sako does make Bipods for these Sako 85s. You can find a list of them on their website.
Are Tikka and Sako the same?
Not quite. The gun from both names use the same barrel and are manufactured in the same plant. And the finishing and the overall quality of Sako is just better in every way.
Final Words
And that is pretty much all there is to these Sako 85s. We hope you gained something from going through our Sako rifles review list. Do drop by if you need to refer back to something. We will see you in our next writing. Happy hunting!