Are you looking for a reliable and accurate handgun for home defense or competitive shooting? You're just in the right place; this guide will give you a glimpse of two of the best pistols on sale– the PPQ vs P10C.
Both of them are manufactured by different well-known companies, but they have something in common. They are sure to give you optimum performance for your shooting needs.
So whether you're a hobbyist, a gun master, or a newbie, there is a need for you to know which between PPQ vs P10C should you opt for. Yes, we made it easier for you, so just read on to find out!
PPQ VS P10C HANDGUN Comparison in 2023
|   | PPQ | P10C |
| --- | --- | --- |
| MAKE  | WALTHER | CZ |
| CAPACITY | 15+1-ROUND | 15+1-ROUND |
| BARREL LENGTH | 5″ | 4″ |
| Length | 7.2″ | 7.3″ |
| Price | Check Price | Check Price |
WALTHER ARMS INC – PPQ HANDGUN

If you want a pistol that ensures comfortable shooting, then this product from Walther Arms is a good choice. In fact, the company assures that it is one of the most ergonomic handguns ever made to make sure that shooting will be a breeze.
When it comes to reliability and accuracy, this gun performs well without reoccurring stoppages and malfunctions. Its porting reduces the rise of the muzzle whenever shots are made, thereby allowing you to execute follow-up shots with speed.
The trigger is made to corroborate a crisper and identifiable pull. This can result in optimum accuracy. You don't have to exert much force when pressing the trigger, so you won't be moving a lot.
With a barrel length of 5 inches, you can use this gun not only for home defense but also for competition shooting. Also, it has a total capacity of 15+1 rounds, so you won't be needing to reload the magazine oftentimes. This makes it a good option for those who are practicing shooting.
Weighing only 1.38 pounds, its weight is just right to reduce recoil. Also, it is worth noting that the barrel length, as well as the gun weight, are necessary factors to define whether or not it is ideal for personal defense.
Much more, it has a 9mm caliber, making recoil manageable. This makes the gun pleasant to shoot too. Also, it is compatible with all weights and brands of ammo and reloads.
This is equipped with 3-dot sights so you can aim at your target with ease and accuracy. Its rear sight is adjustable, just perfect to suit the windage. In addition, it provides grip fit and hand comfort, making it easier to control the gun.
Being made with polymer, it doesn't require any finish, but it is sure to be resistant to various extreme conditions. Also, it is lighter compared to its metal counterparts. With all of these qualities, you will surely love this handgun.
Related Comparison: EOTECH XPS2 vs. XPS3
CZ P-10 C OPTICS READY 9MM PISTOL

Known to provide reliability, quality engineering, and excellent ergonomics, CZ-USA manufactures this device to keep its great reputation in the market. Read further to know what separates this from other polymer guns.
When it comes to reliability, this is sure to cover up to 15 yards. Just like the PPQ, it can be used without stoppages and malfunctions. Its deep beavertail ensures a higher grip and better control for better accuracy.
Since the trigger press only weighs around 4.5 pounds, you can get a shorter, smoother, and crisper pull. This feature also adds to its accuracy. Anyway, it's already a good trigger, given that it is lighter compared to other handguns.
In fact, it can be compared to the PPQ and other products that have fine triggers. The trigger has no stacking and does not creep. This also provides you an audible and tactile click. Its very short and consistent reset makes it even more excellent.
With a barrel length of 4 inches, this is primarily made for home defense. Weighing about 1.6 pounds, you can easily manage the felt recoil and the muzzle flip. Since the gun itself is also made of quality materials, you will surely have optimum performance.
Although it's quite heavier, you can gain stability whenever you hold it. And this can mitigate recoil too. It only shows that its benefit outweighs the drawback. You also don't have to worry about its compactness since it's just right for a carry handgun.
Much more, it also has a 9mm caliber. However, you have to utilize the right ammo as well as the appropriate grain weight and ballistics. Anyway, this can be easily and comfortably used for shooting.
Having a standard magazine capacity of 15+1, it is sure to give you continuous shots without reloading. It also comes with 2 magazines, so there's no need for you to buy more unless you want to.
Given all of these characteristics, it seemed similar to PPQ, but this one has the unique features that make it stand out among all other handguns in the market.
Related Guide: Maven C1 vs. Vortex Viper Comparison
PPQ HANDGUN or CZ P-10 C Handgun?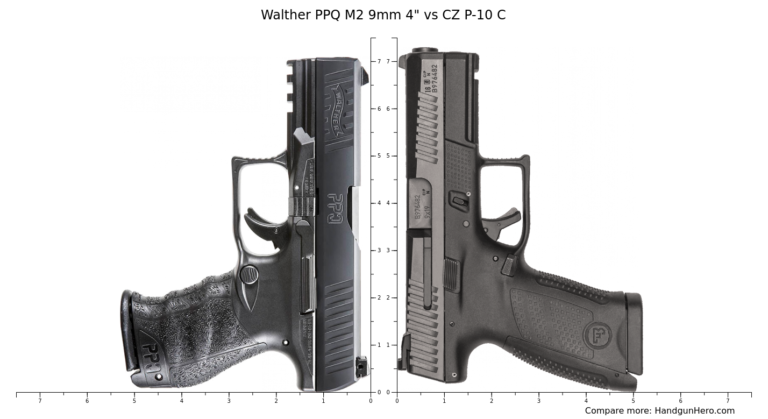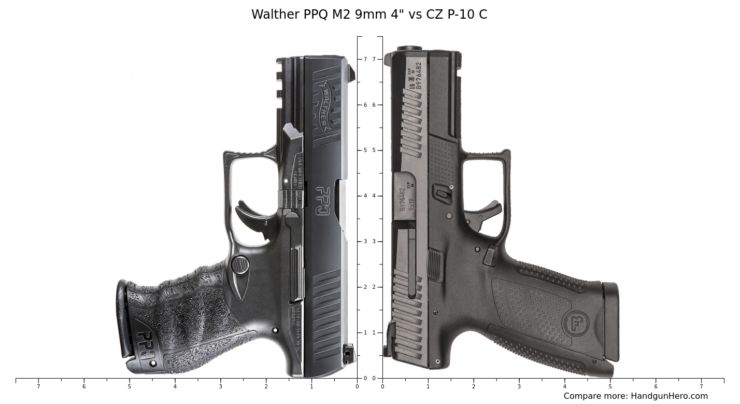 These products may have something in common, but they also come with unique features that make one stand out from the other. Let's look at their differences in detail
Weight
The PPQ weighs only 1.38 pounds, while the P10C weighs 1.6 pounds. It only shows that the latter is heavier than the former. But then, both of these products are good at reducing the recoil felt. They can also manage the muzzle flip with ease.
Although the PPQ is slightly lightweight and better when it comes to these aspects, the P10C has the advantage of better stability. Its heaviness can allow you to hold it firmly.
Suggested Guide: Vortex Viper HD vs. Nikon Monarch 7 Binoculars
Barrel Length
With a barrel length of 5 inches, the PPQ can be used primarily for home defense and competition shooting. On the other hand, the P10C is merely made mainly for home defense with its 4 inches barrel length.
Capacity
Both of these handguns have a total capacity of 15+1 rounds. This means that you can make simultaneous shots even without the need for reloading. They can be used for practice shooting. However, the P10C has one extra magazine, so you can replace it as soon as the other one is fully consumed, and you don't have to reload it soon.
Suggested Topic: Vortex Viper vs Maven C1
Frequently Asked Questions
Is the P10C optic ready?
The compact version of CZ's full-size P10F is the P10C OR. The OR stands for "optics ready," and it refers to the slide's milled portion. With this, you are allowed to mount electronic sights, standard glass optics, and red dot optics.

Well, this product comes with a removable plate that you can unscrew and take off to mount a red-dot sight, for instance.
Are the PPQ and P10C drop safe?
Both of them don't come with a manual safety lever. This feature is very important in preventing the firing mechanism or the trigger from moving. But then, the P10C is equipped with magazine-release buttons on both sides to offset the lacking feature and to promote safety.
Is PPQ good for concealed carry?
Yes. It only has a 5 inches barrel length and weighs only around 1.38 pounds so you can carry it surreptitiously and with ease.
Does Walther make good guns?
Of course. The company is known to provide pistols at a high standard, and all their products are made with optimum reliability, performance, and ergonomics in mind.
What is the difference between a handgun and a pistol?
A pistol is a handgun, but not all handguns are considered as a pistol. This is because a handgun is referred to as a small firearm that can be utilized with only one hand, and it also includes revolvers aside from pistols.
Conclusion
In case you're still in doubt which between PPQ vs P10C is a good choice for you, try to reassess your needs and preferences. Either of them can be a great option. Each product can provide you with excellent features that you will surely love.
If I were you, I would choose one that gives me optimum comfort. And that would be according to your preference. Anyway, both of them are quite similar in the first place.