Glock pistols are always a staple choice when looking for a sidearm or a conceal-and-carry weapon for self-defense. This is primarily because of their size, lightweight build, and effectiveness.
If you've been torn between Glock 35 vs 22 Pistols, then you can get plenty of insight from this article as we will compare them head to head.
You will see how similar yet different they are. These factors will help you determine which one you should go for.
Both pistols have good and practical features that add to the merit of good guns, but the subtle differences will help you find the right one.
Glock 35 vs 22 Pistols Comparison in 2023
Glock 35 Semi-Auto Pistol

This pistol is one of the favorites when it comes to the Glock brand. The 35 is a comfortable pistol to use for self-defense and competition. Police officers have used this in a lot of situations and swear by its reliability.
The comfort comes from the lightweight and well-balanced design. It easily has the most hand sizes.
But if the stock grip does not fit you, you can use the interchangeable backstrap to find which one suits you fine.
Its slide length is 8.15 inches, which is fairly longer than usual Glock pistols. But that is something worth mentioning because it adds to the overall feel of the gun. It helps make it easy to aim and control for more accuracy. The long slide also helps hit targets on longer distances.
With that said, the recoil from shooting this gun is manageable and will not be too much that you will have difficulty resetting your aim. As a balanced pistol, you will get more accuracy on your follow-up shots.
More so, the 35 is made from lightweight polymer that's also seen on other Glock pistols. It also takes 40 caliber bullets. You can load 10+1 ammo in one magazine plus one in the chamber. Something you should note when filling up the magazine manually is that it becomes a bit difficult around the last few bullets.
Other than that, it won't be long after using this that you will realize that it can be used in a variety of applications. It is favored by competition shooters to help win their contests and is favored by law enforcers as their partners day in and day out.
All in all, this pistol is reliable and capable of providing good performance in a variety of settings.
Latest Comparison: Glock 22 vs. 27 Pistol
Glock 22 Semi-Auto Pistol

If you are a fan of Glock pistols, the 22 is expected to be part of your list of go-to guns. This classic and trademark pistol has been around for quite some time and has been in service for law enforcers and civilians who want a reliable self-defense weapon for their homes.
One look at the 22, and you know that you have a Glock pistol. It has a signature look, and the finish is made from a lightweight polymer. The grip also has the patented modular backstrap design that allows you to change the size of the grip for you to get the best fit.
Having a good grip on the gun helps for added control and precision in most shooting situations. If you are looking for a good competition gun, this is a viable choice.
The barrel is cold-forged that ensures that it is durable and strong and will last a long time. Like most Glock pistols, maintaining this is going to be a simple chore. You don't need tools to dismantle it, and you can put it back just as quickly.
You will find that the lightweight frame is easy to control, and the recoils are soft, allowing you to aim faster for follow-up shots. This has a small overall size, which is perfect for conceal-and-carry setup. You know you have a reliable self-defense weapon with the 22.
For ammunition, it takes a standard 40 caliber bullet, and you can shoot 11 rounds. The magazine catch is made for ambidextrous design, which is a great feature for a pistol. Probably the best thing about this gun is that you can add a flashlight or laser sight simply by sliding it on the integral accessory rail.
Related Comparison: Glock 22 vs. 23 pistols
Glock 35 vs 22 Pistols?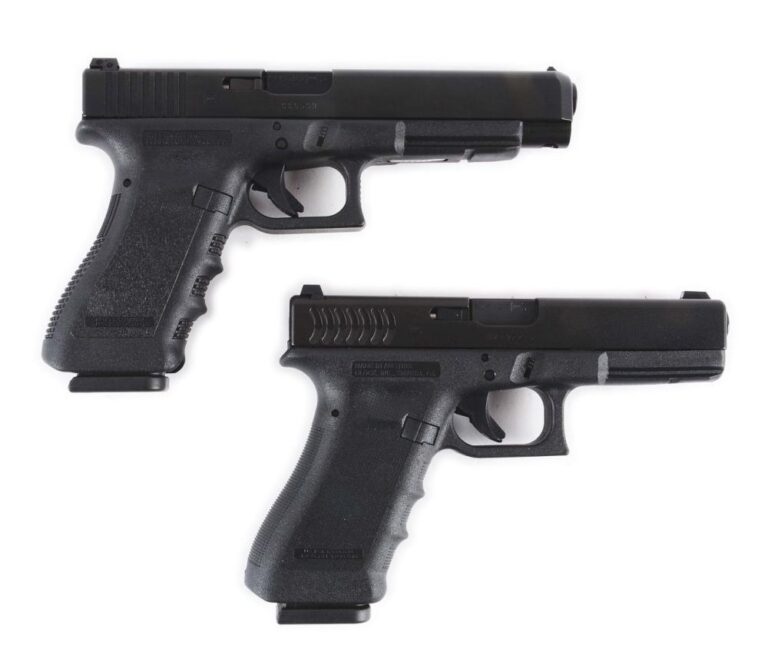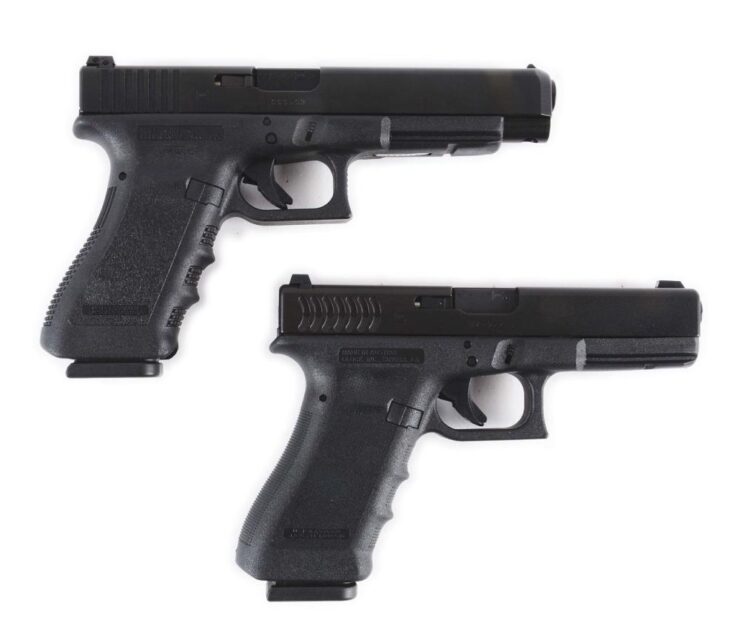 Before the introduction of Glock 35, law enforcers used the 22 as their standard service pistols. This is one of the reasons why anyone who wants a second option should look at both pistols for a close comparison.
Size
Probably the most noticeable difference between these two pistols is their size. The Glock 35's barrel measures more than 8 inches. This dwarfs the Glock 22, which is 7.95 inches in overall length.
So if you're looking for something that you want to be a part of your everyday carry, the 22 is a better choice. On the other hand, if you want something to use in the range or for competition, then it wouldn't make much of a difference if you pick out the 35.
Design
If you're a fan of the traditional and unmistakable design of Glock pistols, the 35 may need some time to grow on you, but the 22 will feel most natural to you. Some may not think that this is something worthwhile to consider, but if you're an avid collector, you know that looks and design also play a role in a good choice.
The 35 has a more modern look to it. If you want something that will blend with modern pistols when you lay them on the table, this is what you should go for.
Performance
This is something worth noting because the 35 is just a competition version of the 22. So you will get the same firepower from both pistols. This factor is included here to be clear that both pistols are great guns, and whichever choice you will make will be a good choice.
Frequently Asked Questions
Here are the most commonly asked queries regarding the Glock products:
Can I change the 40 cal to a 9mm?
Yes. While in the past, it was difficult to convert pistol ammunition, these days, there are conversion kits you can use to change the ammo you're using. The kits are well made that they can be swapped out even by yourself, provided you have ample experience.
Does my gun need constant lubrication?
Ideally, you want any part that has a metal-to-metal connection to be well lubricated to prevent any damage to the material or corrosion. But keep in mind to keep oil away from crucial parts like the magazine, around the firing pin, or the breech face where the firing pin comes out.
Can I update my older generation Glock pistol with the latest parts?
Yes. There are parts available to update older Glock firearms. Some of the parts are triggers, firing pin, spring-loaded bearings, and extractor.
What do I need to know before purchasing a gun?
Understanding the basic gun laws in your state is a good start. Essential skills will also give you a good advantage in owning a gun.
Can I use just any pistol for competition?
Yes. Even if there are recommendations on the best competition pistols, the one that you feel most comfortable using will be the best choice for you.
Conclusion
The battle Glock 35 vs. 22 is an evenly matched bout because the 35 is entirely based on 22 with some slight modifications. So, your choice is all up to you now since both these guns are virtually the same.