With more and more people taking to target shooting and hunting as a hobby, riflescopes are becoming increasingly popular. However, riflescopes are, admittedly, somewhat intimidating looking and can thwart beginners quite a bit. Additionally, it is difficult to find the best company for scopes too.
Thus, we have taken it upon us to recommend the top 3 models from one of the best manufacturers – Athlon. In this Athlon optics review, you will find pointers to find you the perfect scope for you, and answers to some frequently asked questions.
Our Pick
Good Choice
Don't Miss
Argos BTR GEN2 6-24X50 First Focal Plane Riflescopes
Athlon Optics Helos BTR GEN2 6-24x56 Rifle Scopes
Athlon Optics Ares ETR UHD 4.5-30x56 First Focal Plane Riflescopes
Our Pick
Argos BTR GEN2 6-24X50 First Focal Plane Riflescopes
Good Choice
Athlon Optics Helos BTR GEN2 6-24x56 Rifle Scopes
Don't Miss
Athlon Optics Ares ETR UHD 4.5-30x56 First Focal Plane Riflescopes
Last update on 2023-12-06 / Affiliate links / Images from Amazon Product Advertising API
Without further ado, let us take a look at three powerful, feature-packed riflescopes that are all a bang for the buck. We are so excited to recommend all these models to you!
Best Athlon Optics Review
To start off, we would like to introduce to you our top three models from Athlon. These models are packed with features, incredibly reliable, and functional – all at a price that will leave you speechless.
1. Athlon Optics Argos BTR GEN2 6-24×50 First Focal Plane Riflescopes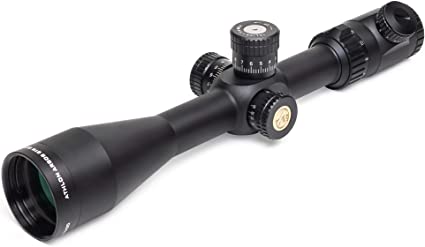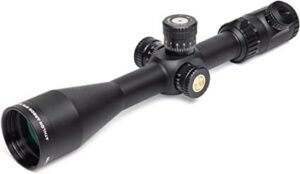 The first riflescope on our list of top three optics from the manufacturer is this first focal plane riflescope. This riflescope not only boasts great features, it does so at a very, very affordable price. If you were to look for the same features in other models, you would have to spend three to four times the price!
Starting with the durability of this scope, this unit argon purged. Being purged with this inert gas ensures that the scope's internal part remains moisture and waterproof at all times. It can also survive being submerged. Additionally, argon purging gives the scope thermal stability, making it safe for extreme and fluctuating temperatures.
To protect the exterior part of the lens, the model has been equipped with XPL coating. XPL coating helps keep the lens safe from oil, dirt, and scratches, extending the lifespan of the scope exponentially. Other coatings include multi-coating on the optics parts.
Multi-coated optics do a better job of gathering light as well as transmitting light more effectively. As a result, you get clear, bright, and high-contrast images every single time. Brighter and higher contrast photos make it easier to distinguish between your target and the rest of the surroundings.
Mid and long-distance shooters are sure to love this particular model. Why so? Because the specially designed illuminated reticle helps maximize your performance by helping lock your target is faster.This is especially useful for moving targets so you don't have to spend more time acquiring your target again.
Lastly, the scope also comes with a precision zero stop system. As we have said before, this model is incredible – and not just for its price. It is one of the most amazing basic models that beginners and experts can both enjoy equally.
PROS
Argon purged
XPL coating
Multi-coated optics
Very accurate turrets
Excellent high value for money
CONS
---
2. Athlon Optics Helos BTR 6-24×50 First Focal Plane Riflescopes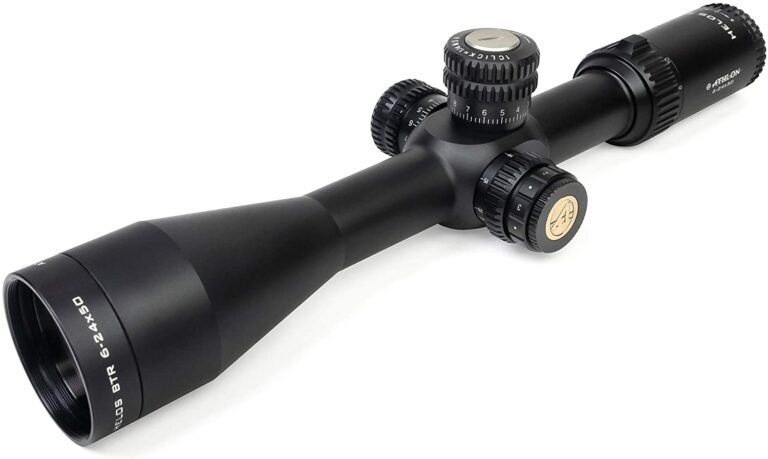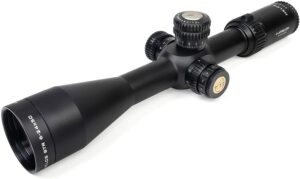 Athlon is a manufacturer that can continue to improve their product with every passing model, and this particular model is yet another proof. This model, for starters, is a single tube constructed out of aircraft-grade aluminum.
However, the manufacturer still offers this incredible piece at an extremely affordable price far below $1000.
Being a single tube model also helps the durability of the model.
Not only are single tube models less prone to breakage than multi-part models, but they also do a great job of locking moisture out of the scope, extending its lifespan. The model is also argon purged, making it waterproof and thermally stable.
Quick target engagement is one of the specialties of this model with the first focal plane reticle. Target acquisition remains quick and precise even at low power, as the reticle shrinks and expands as you zoom in and out. The reticle is also illuminated, making targeting super simple even in low lighting.
As expected from any great model, the scope comes with advanced fully multi-coated optics. Multi-coating gives the scope the ability to gather more light as well as transfer it through the scope more efficiently. This results in clearer, brighter images compared to single coated lenses.
Those who frequently move from one place to another will rejoice at the locking turrets. Being able to lock the turret and elevation in place with a simple push prevents the user from adjusting it every time they change sites.
Waterproof, fog proof, shockproof, argon purged, and made of possibly the best grade of aluminum, this incredible scope comes at an unrealistic price. You can rely on the features and quality of this riflescope, regardless of whether you are a novice or an expert.
PROS
Multi-coated optics
Illuminated reticle
Argon purged
Locking windage and elevation feature
Made of aircraft grade aluminum
CONS
---
3. Athlon Optics Ares ETR UHD 4.5-30×56 First Focal Plane Riflescopes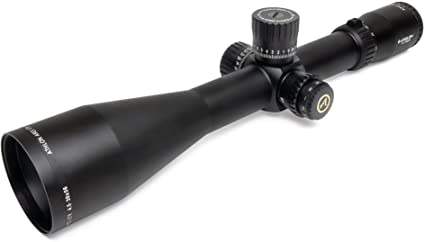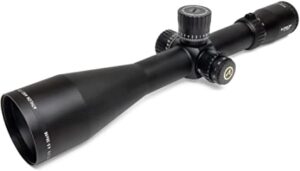 For the last product on our list, we have one that carries a price tag relatively heavier than the previous ones. However, additional features ensure that this remains a riflescope with incredible value for money. Compared to the rest of the market, this is still a great, affordable model.
Let us first talk about the first focal plane reticle. This specially designed reticle functions equally well at every single power setting. Additionally, the reticle shrinks and expands with your target as you zoom in and out. Furthermore, the reticle boasts an illuminated center, which makes visibility in poor or low light effortless.
As for the different coatings on the optics, this model has multi-coated lenses and XPL coating. Multi-coated lenses do an amazing job of gathering and transmitting light better in order to deliver bright, sharp, and high contrast images.
A great advantage of this feature is that you can easily distinguish your target from the surroundings. XPL coating, on the other hand, helps protect the exterior of the lens by preventing scratches, fighting dirt, oil, and other contaminants.
This is great durability boosting feature. To improve the image quality further, this model has been equipped with ultra-low dispersion glass, which helps fight color aberration, making images clearer.
Other great features of the riflescope include a precision zero stop system. This particular model also comes with an upgraded turret system, which offers a lock windage turret.
Frankly, this riflescope takes long-range shooting to the next level. With images clearer than ever before, an impressively accurate illuminated reticle, and several other features that make the unit extremely durable – this is the model we recommend to those who are willing to spend a bit more on their riflescope!
PROS
Extra low dispersion glass
No color aberration
Precision zero stop system
Multi-coated optics
Specially designed reticle
CONS
Does not come with a sunshade
No scope caps
---
What to Look for Before Buying?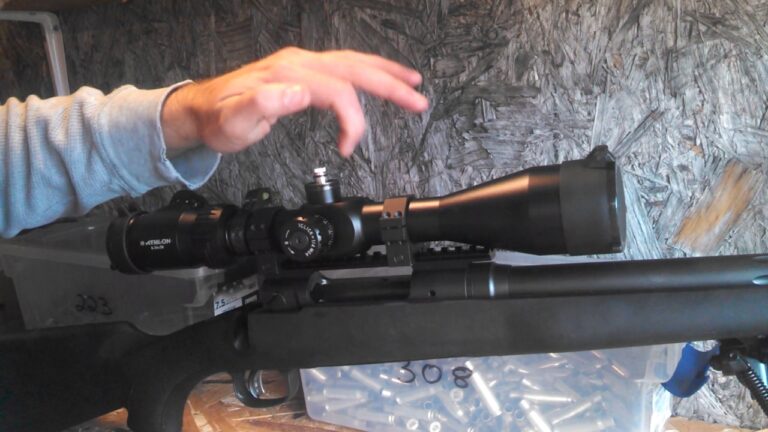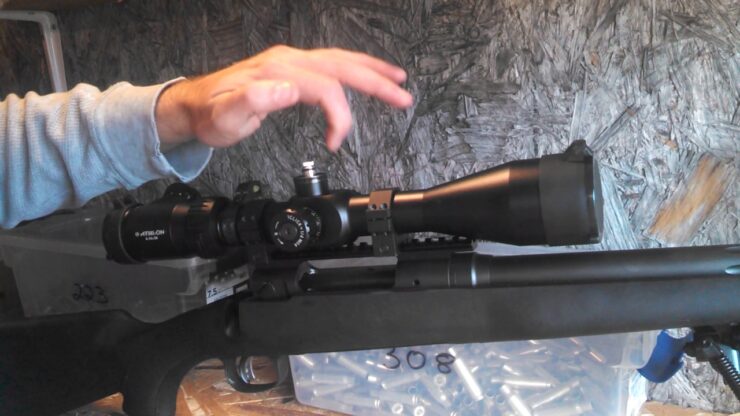 With so many options to choose from, how do you pick the model that will fit you the best? The pointers given below will help you choose the features you want and those you don't to make an educated choice.
Shooting Range
You may want a riflescope for hunting, mid to long-range shooting, or tactical short-range shooting. The second model recommended by us is great for tactical short range. For mid to long-range shooting, the other two models are set to do an impressive job!
Optic Coating
As we have discussed in our reviews, multi-coating for optic parts is an essential feature. Thus, always look for multi-coated lenses so your scope can transmit light better, giving you brighter images. It becomes easier to tell the target and its surroundings apart when the image is bright and clear.
Another great option is 'fully multi-coated', which means all air to glass surfaces are multi-coated, making them really durable. You may also opt for XPL coating to ensure the lens stays protected from damage such as oil, dirt, scratches, and so on.
Turret
Turret adjustments can, depending on the model, be done either with a coin or your fingers. These adjustments are found in the center of the scope, and we recommend getting models that have an O-ring sealed turret cap. This will prevent debris and moisture from entering the scope.
Field of View
Field of view is simply the 'amount of view' you can see using your scope. As you increase magnification the field of view will decrease, and it will increase as you zoom down. This number will vary from model to model, and you can pick one which suits your needs.
Frequently Asked Questions


Admittedly, riflescopes are difficult to fully understand at once, especially if you are a novice. Thus we have answered some of the most frequently asked questions about riflescopes below!
How can I clean my riflescope without damaging it?
Cleaning riflescopes is simpler than you'd expect. There are simple tricks you can follow to clean your one easily. Firstly, make sure you dust off the lens instead of using a wipe as it can be too abrasive on the lens. Always use a microfiber cloth for any cleaning.

Additionally, refrain from applying any cleaning liquid directly on the scope to prevent it from leaking in. Always keep the lens cap on too to ensure the lens does not come into contact with any cleaning agent you are using. To clean the crevices, use a Q-tip and a lens pen for the lenses.
What can I do to maintain my riflescope?
To prevent the buildup of any dirt, it is important to maintain the scope on a regular basis. Dust the scope off and wipe off any water after every use to prevent it from causing long term damage.
What do the numbers mean e.g. 3-9×40?
3 and 9 are the powers, indicating that the scope's image will be 3 to 9 times magnified than it would be with the naked eye. The 40 indicates the diameter of the objective lens.
Which one is better – fixed power or variable power?
Variable power scopes are useful in the sense that they can shoot both long-range and short-range targets, and everything in between, with the same ease. They are more versatile.

However, fixed power scopes are simpler to use, lighter in weight, and sometimes smaller in overall dimension. Thus, there is no fixed answer to this question.
Are high power rifles automatically better?
No, that is definitely not the case. Lower power scopes are meant for close-range shooting, for example, for military personnel in day to day situations. High power riflescopes are better suited for long-range shooting. So, your choice will depend entirely on how you plan on using the riflescope.
Final Words
As promised, all of these models are incredible, and we truly believe in their performance. Countless users around the world attest to the quality of these products and their value for money. We hope our Athlon optics review has been useful in helping you find your new favorite riflescope!
Check out some other picks from Amazon also:
Last update on 2023-12-06 / Affiliate links / Images from Amazon Product Advertising API