If you were ever impressed by persons shooting skills, be sure that they put a lot of time and effort to finesse that. It did not happen willy-nilly. One should also know that there are different tools that can help you perfect a shot!
A chronograph is an example of such a tool that has the ability to measure the velocity, trajectory, speed, and much more of every bullet that passes through the barrel of your rifle.
Among many brands, Magnetospeed is a favorite, and we have the Magnetospeed v3 review to explain why.
This product is an innovative spin on the old and boring analog chronographs. So, if you are excited to learn more about this product, stay around.
Magnetospeed V3 Review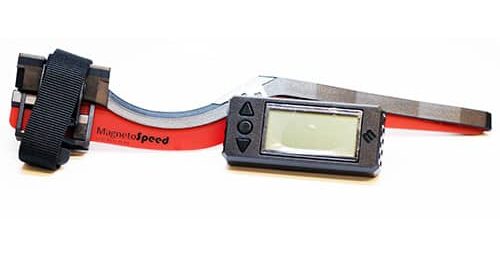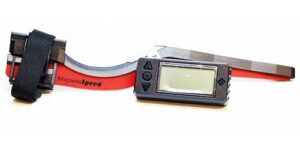 It is a brand that embodies youth and innovation with various new technologies and products related to the firearm industry. The brand has built quite a reputation for changing the face of the industry with new and fresh ideas, and that is also reflected clearly in their V3 chronograph.
The entire product is a digital take on an analog chronograph, and the addition of displays, batteries, and buttons improves the entire experience.
Bayonet
Perhaps the most innovative factor about this product is the bayonet, which you will not find in traditional chronographs. The cool thing about such a design is that you can attach it directly to your barrel. And it is very impressive how it attaches to suppressors, muzzles, and barrels alike.
However, be mindful of barrel and suppressor size. These should not be more than 2 inches in diameter. Flash hides and muzzles can be 3 inches, and the bayonet will still fit. Another cool thing is how you can choose to attach the product sideways on the barrel as well. So, you are not restricted to just the underside.
This item is quite sturdy and has fiberglass elements that keep it lightweight yet durable. It also helps the item in being more receptive.
Display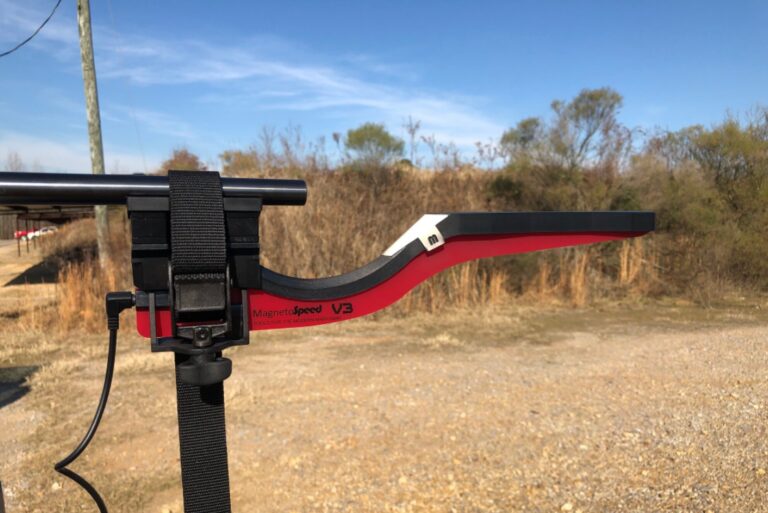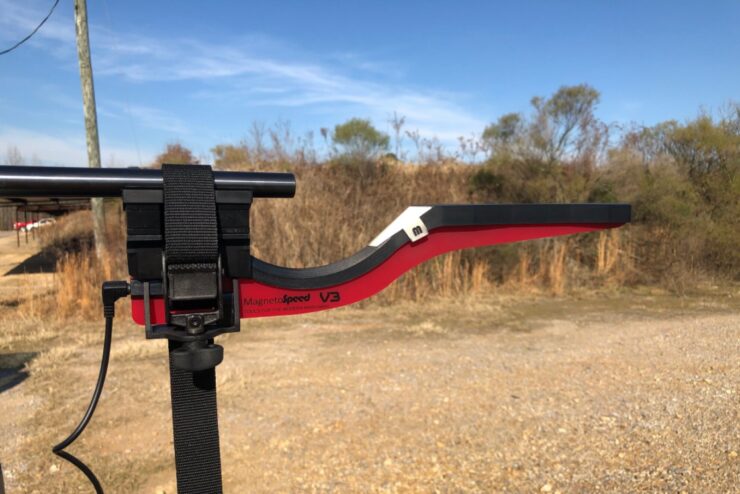 The display on the product is small and effective. It does not need much of a learning curve. All you need are 9V batteries to run it, and as soon as you connect it with the bayonet, it will start working. So, no need to fear forgetting to turn the display and record on.
There are buttons on the side that will let users navigate through many features of the product. It not only lets you log data with ease but also helps in troubleshooting.
If you need some additional calculations, there are firmware updates available as well. So, you can always stay up to date when it comes to data logging with this V3 chronograph.
Cables
The brand took everything into account while designing this product, which is why they offer not one but two different cables. And the first one is a 6 feet long cable that will let you arrange all the things on one table and shoot from another table. That way, you can have someone else monitor the progress while you can concentrate on shooting.
Besides that, you also get a retractable cable if you do not want to mess around with wires everywhere. These cables are quite intuitive and will not pop off from the rifle jerking.
Storage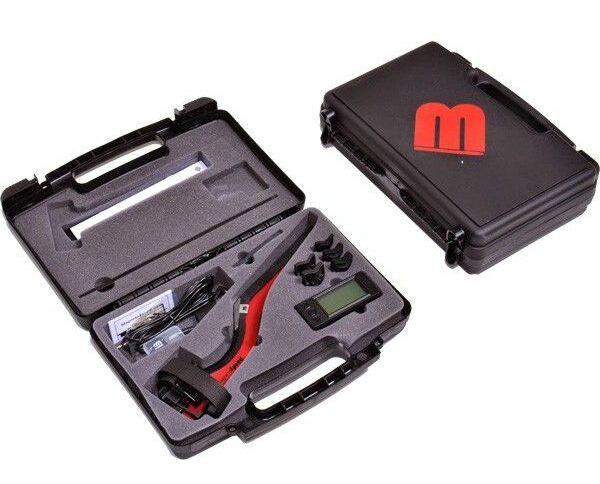 With this product, you can work on your shooting and then process the data! A limited number of records will get stored in the micro SD card, which you can review later and also store all that data on another device.
That way, users can create a detailed history of all their shots and traceback when needed. It will also help you save time in the arena, as you will not have to constantly check and analyze the data after every shot.
Attachment
Earlier, we had mentioned how the bayonet attaches directly to the rifle and how it has to have a specific dimension. So, you must be wondering how you can attach it to the rifle in the first place.
Well, you will get several pieces that will aid in the process. A simple strap will enable users to strap the bayonet with any barrel, suppressor, or muzzle that you have.
If you think that the height of the bayonet is not suitable, then you can use the spacers of different heights to adjust. The spacers are stackable, so you can adjust however you want. Moreover, you also get a straight bar to confirm whether the bayonet is out of the motions path.
Portability
Of course, the entire arrangement is extremely portable. You can carry around everything mid shooting, and it will only take a few minutes to readjust everything. Moreover, users also get a sturdy case lined with foam. So, they can store all the small pieces inside and travel with ease.
Frequently Asked Questions
What files does the Micro SD store?
It stores the files in a CSV file, and you can access it with any spreadsheet software.
Are bayonets and displays of different Magnetospeed products compatible?
Yes, displays and bayonets from different models such as the Sporter are compatible with V3.
What can I do if the height of the bayonet is low?
There should be spaces and straps in the package. Read through the instruction manual and follow the steps to stack the spacers and adjust the height.
Is the V3 compatible with WiFi?
No, the V3 is not compatible with WiFi or Bluetooth features.
Can I use the V3 on a suppressor?
Yes, you can use the V3 on a suppressor, but it should be between .5 to 2 inches in diameter.
Final Words
Now that we are done with this Magnetospeed v3 review, we hope you now understand how unique and useful this product can be. It can improve your shooting skill by ten folds and make it fun while you are at it!