Whenever you hit the range and observe your groups, are they too big? Maybe you have encountered this problem, as many hand loaders do. You might think that it is in your bullet powder, or your ammo itself. Well, there is another factor that hinders accuracy, and that is your bullet's measurements.
Best Choice
Good Choice
Don't Miss
Also Consider
Comparator Body, Compatible with Any Set of Calipers, Measuring Cartridges from .17 to .45 Caliber.
Hornady AB1 Lock-N-Load Anvil Base Kit,Metal
Bylot Comparator B2000 Compatible with Any Set of Calipers
Frankford Arsenal Universal Bullet Seating Die for .224 to .338 Caliber with Micrometer Stem and...
Best Choice
Comparator Body, Compatible with Any Set of Calipers, Measuring Cartridges from .17 to .45 Caliber.
Good Choice
Hornady AB1 Lock-N-Load Anvil Base Kit,Metal
Don't Miss
Bylot Comparator B2000 Compatible with Any Set of Calipers
Also Consider
Frankford Arsenal Universal Bullet Seating Die for .224 to .338 Caliber with Micrometer Stem and...
Last update on 2023-09-24 / Affiliate links / Images from Amazon Product Advertising API
Have you thought of getting the right bullet comparator for reloading? You might think that your set of bullets measures the same, as you used your caliper to measure each one of them, right? Let me tell you that the secret is in the ogive, and not necessarily in the tip of your bullet.
Since it's the ogive of a bullet that first comes in contact with the rifling and not the tip, bullet comparators are a very helpful device for all reloaders. We listed the 5 best models you can get, so keep reading!
Bullet Comparator Comparison
Last update on 2023-09-15 / Affiliate links / Images from Amazon Product Advertising API
Top Rated Bullet Comparator Review


Here are our top picks for the 5 best models you can get your hands on. We reviewed them one by one and listed their pros and cons. Be sure to pick one that will fit your needs.
1. Holland's "Gold Standard" Bullet Comparator
Reloading enthusiasts may think of using bullet comparators as a very tedious task. You need to grab a separate caliper, attach the bullet comparator body, and do the work.
Well, you don't have to do that with this comparator from Holland. This is an insert style comparator that anyone will enjoy using. It comes with a patented horizontal design and a cradle that will properly hold the bullet in place.
This will give the most precise measurements that you need. Also, there is no need to manually position the contact point, so there also is no room for inaccuracy.
Another thing we liked about this product is that you can use it when you are sitting in front of it or standing over it, whichever position you are comfortable with.
In terms of the model's inserts, it comes standard with 5 common bullet holders: .338, .308, 7mm, 6.5mm, and 6mm.
Related Guide: Concentricity Gauge Buying guide.
2. Hornady B14 Lock-N-Load Comparator Body with Set of 14 Inserts
Among the best manufacturers when it comes to ammo equipment is Hornady, and this bullet comparator set will never fail to impress.
Whatever type of caliper is available to you, you can use it with this bullet comparator. You just need to attach the comparator's body to the caliper's jaw, twist it in place and zero out your caliper. What an easy way to measure your bullet by its ogive!
The product's accessories will cater to every reloader's needs. It will work with cartridges from 17 to 45 caliber and comes with a total of 14 inserts. That's a lot!
Since the set includes a lot of inserts, you need to find something to store it properly – maybe a tin can or a small box since it does not come with a case. All in all, we love this bullet comparator since you can use it with any calipers you have.
Related Article: Best Bore Gauge
3. Hornady B234 Lock-N-Load Comparator Body with Set of 6 Inserts
The next model in our list is again from Hornady. Let us admit, we do not necessarily need to use 14 inserts. If you are like the others and the prior model is too much for you, why not check this product out instead?
It offers the six basic inserts most reloaders use: .308″ (7.62 & 8mm), .224″ (5.56mm), .264″ (6.5mm), .243″ (6mm) and .277″, .284″ (7mm).
This model works as easy as the last one. You can use it with any calipers, but for optimum ease of use, we recommend using it with a digital one, if you have that in your inventory.
Just like the set of 14, we also have the same dilemma on this set. That is, the lack of casing or storage. So, if you are planning to purchase this one, also look for something to properly store it so you won't lose any inserts.
Suggested Guide: Silencerco Hybrid or Omega 300
4. Sinclair International – Sinclair Bullet Sorting Stand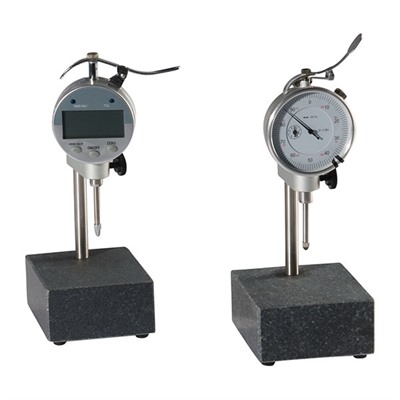 Sinclair International is one of the world's premier supplier of high-quality reloading tools and accessories, just like this bullet sorting stand. It is an impressively quick way to sort your bullets depending on their ogive to base length.
Since this is an insert type model, you do not need to attach it to any caliper. The black granite base is perfectly flat and weighs enough to give the product stability.
It will impress you with its accuracy and ease of use. You just need to carefully press down on the lever, which is placed on the top of the dial indicator. Then, gently insert your bullet face down into the comparator and lower the indicator tip on the base of the bullet.
This is a quick way to get the job done if you have a set of bullets that you want to sort. It will amaze you by how precise your groups will be when you hit the range.
Suggested Topic: .22 LR Rifles
5. BarrelCool Double Comparator
When you have a lot of different bullets to measure, changing the inserts one after the other may take time and effort. That is the dilemma that this BarrelCool bullet comparator wants to eliminate. It is a 'double comparator' wherein you can attach two inserts on the comparator's body at the same time.
What's more, this model claims to work as a headspace gauge as well. Unlike the bullet comparator, the headspace gauge is used to measure the bullet's length from the case head to its shoulder.
In terms of durability, this product will not fail you. It features a blue anodized aluminum body that will last for years. Although it does not come with its own inserts, it will fit standard Sinclair, and Hornady gauge inserts on the market today.
How to Buy the Comparator?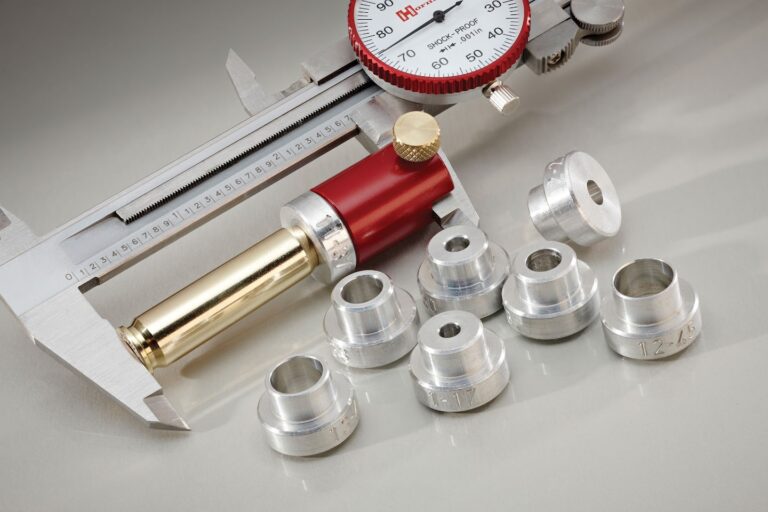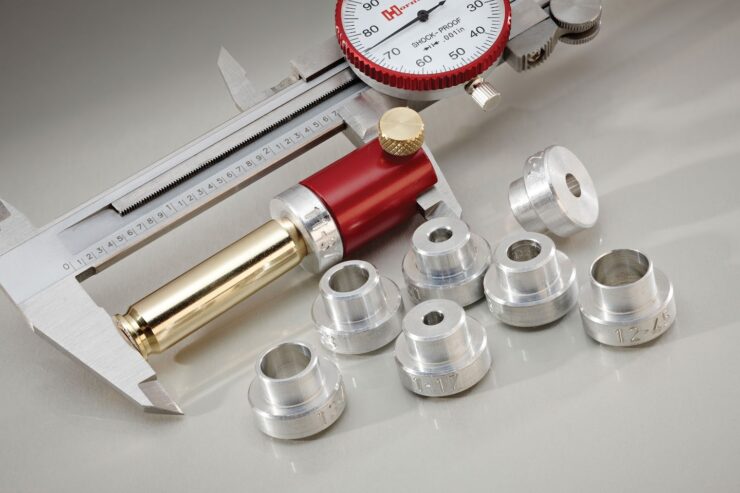 As we have mentioned in the introduction, bullet comparators are very helpful devices for reloading enthusiasts. They help you achieve better accuracy and will surely enhance your performance.
However, not all bullet comparators are the same. This is why it is important to be knowledgeable or at least have an idea of what makes a good bullet comparator. You do not want to spend on something that will not do you any good, right?
That being said, here are the points you should consider when looking for a bullet comparator.
Quality of Materials Used
Comparators, although not very expensive, will still cost you money. To get the best out of your investment, you should choose a model that is made with durable materials like brass, stainless steel, and aluminum. This is not only applicable to the body but also for the inserts.
Of course, you want a model that is nicely put together. You do not want anything that is flimsy because it might harm your other ammo materials.
Ease of Use
In this review, we find that bullet comparators, although made to work the same way, have different methods of how they are to be used.
Models like Holland's Bullet Comparator does not need to be attached in any caliper to work. It comes equipped with its own dial, so you just measure the bullet's ogive using only the model itself. A lot of users like this method until they need to read the small dial symbols.
Other models like Hornady's will need to be attached to a caliper. The body has a locking feature that you attach in the caliper's jaw. This set-up will take from a few seconds to a few minutes, but it's worth it if you pair it with a digital caliper.
Inserts
Not all bullets have the same dimensions, and that is why bullet comparators are equipped with inserts. Of course, make sure to get a set of inserts that will fit your bullet.
Frequently Asked Questions
What does bullet ogive mean?
To make it simple, think of it as the curve of your bullet's forward section. It is the part of the bullet that is tapered near the very tip.
I usually just measure across the bullet tips. Is that wrong?
Actually, measuring cartridge lengths across the bullet tips is not recommended. Ask any reloading enthusiasts, and they will tell you the same. That method is neither reliable nor repeatable and will result in variations up to .025 inches.
Will measuring the bullet ogive improve my accuracy?
Yes, it will help improve accuracy and precision. Since the ogive is what hits the rifling, you can't get any meaningful measurement using the tip.
What are the good brands when it comes to bullet comparators?
We can say that Holland and Hornady are the best brands that sell bullet comparators.
Do I need to buy a specific caliper to use with my bullet comparators?
No, you don't. Just use a caliper that you trust, and you are good to go.
Are bullet comparators easy to use?
Yes, you just need to attach it to your caliper, zero it out, and measure it as usual. Just be careful in inserting the bullet tip inside.
Final Words
That's it! Have you chosen the good bullet comparator? Use it immediately, hit the range, and be amazed by how it will improve your precision. Say goodbye to big groups and get ready to see those little holes sticking together. Good luck and enjoy!