You cannot be good at any sport unless you practice a ton and figure out your weak spots. The same goes for target shooting as well. One cannot hit the bullseye unless one practices, but the question is, how to calculate all the aspects before shooting?
It is not wise to shoot willy-nilly, hit one time, and call that proper practice. One has to track the performance, note velocities, and measure accuracy after every shot.
Thankfully, with a chronograph, you can do that. That brings us to MagnetoSpeed v3 vs LabRadar – which one will be better?
There are several other brands and models, but these two products are talked about a lot. So, let us find out what all the buzz is about.
MagnetoSpeed V3 Ballistic Chronograph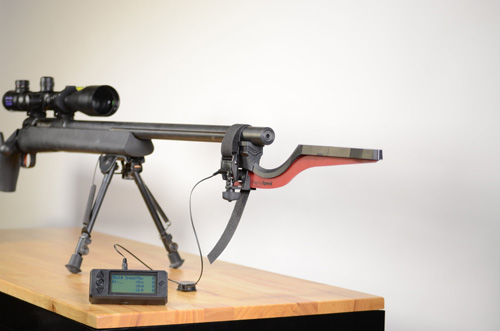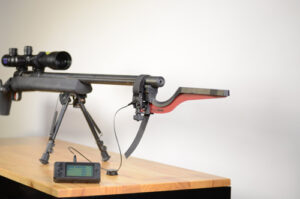 Chronographs are known to be large and bulky. These analog devices are so outdated that people often feel uninspired to get one of such products. However, if you want to be accurate and precise, there is no alternative to this product.
Hence, MagnetoSpeed came up with their super-efficient V3 ballistic model. It is a clean, sleek tool that does so much more than it looks. The long slender object is a bayonet that one can attach directly to the rifle.
So, users will not need any stand or pod to support the product. All you need are some spacers and a strap for a secure fit.
Conveniently, the user will get all the items needed for a secure fit in the kit. There is even a long bar that should aid in aligning the bayonet to the rifle.
What is even more helpful is the product's versatility. This bayonet fits on muzzles (3-inch), suppressors, and barrels as long as they are not more than a 2-inch diameter and not less than 0.5 inches. Additionally, users will get more than one spacer to stack on each other.
This device is truly digital because of the digital display. You get different data logging capabilities and can even troubleshoot technical issues. There are three buttons on the display to help the navigating process.
Moreover, it lets one store data of immediate shots, their trajectory, and acceleration in its micro SD card, which one can access at any time. Attaching the display unit to the bayonet is also super easy.
Users will receive a 6 feet cable to make a direct connection and even get a spare retractable cable. The battery for running the display will also be in the kit. To help users safekeep all these accessories, the brand also packs things in a sturdy case lined with foam.
LabRadar Chronograph
Products like these sometimes have an issue with compatibility where they work with rifles, but not with pistols. But these are not cheap items, so when you invest in a chronograph, users should be able to use it with different shooting devices.
So, if you are someone who needs a truly versatile chronograph, then we suggest going with the LabRadar one.
It is so powerful that one can use it with crossbows, shotguns, pistols, and rifles! So, one gets multiple uses out of it.
It is unlike a bayonet product, and you will need to set it beside the rifle you are operating. But do not worry, thinking it will be a hassle.
Users will get wires to attach it with the pistol. It also boasts Bluetooth compatibility, so one can connect it with iOS and Android devices.
The product has the capability of capturing accurate data by processing 65 fps to 3,900 fps speed, totaling a 0.1% lack of accuracy. Besides that, it also has an IPSC/IDPA calculator built-in, which simplifies a lot of power factor issues.
You will not have to sit there, making charts and solving problems. It also has an internal computer which can store up to 100 shots! Thus, you can visit the data anytime to analyze different trajectories.
The display is also quite convenient with a 3.5-inch screen. There are different buttons for navigating through the display. You can record up to 9999 series, which will show up as ES, SD, or high and low.
It can capture the speed up to 100 yards and still work for a long time. When the battery runs low, an indicator will warn you as well. So, you will not have to worry about the device stopping in the middle of a crucial shot.
MagnetoSpeed V3 vs LabRadar Chronograph Comparison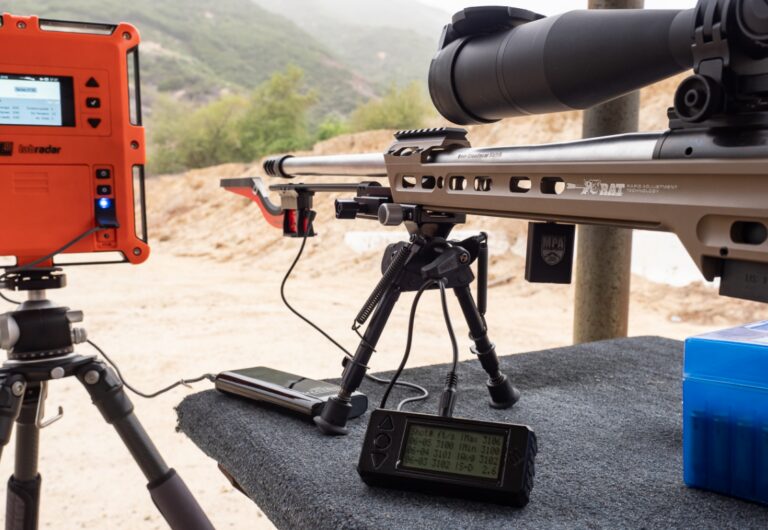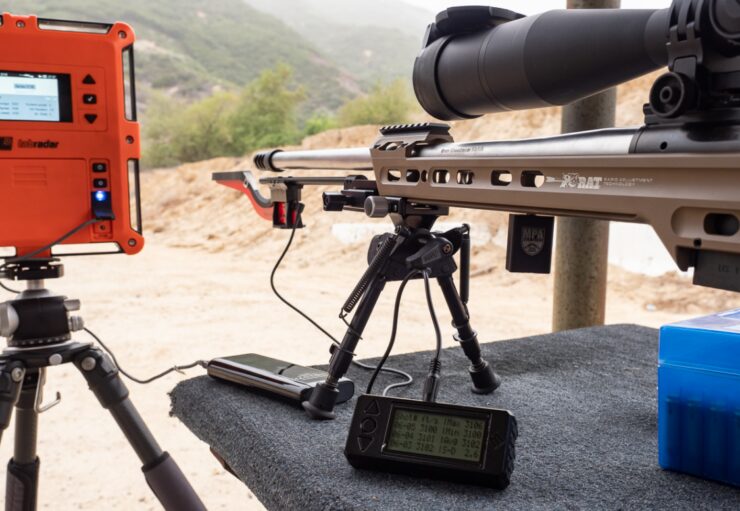 We can say right off the bat that these two products are for different audiences, but if you still need some guidance, we can help you out with that.
Structure
These two products are very different in structure. While the V3 model is much more portable and compact, the LabRadar is bulkier.
You will have to attach the bayonet directly with your equipment. So, there is a concern about whether it will fit the barrel or not.
On the other hand, you do not have to worry about that with the other product. It will work with most speed shooting items. However, there is a concern of having to set up the chronograph every time.
Features
The features of these two products are more or less the same. Both these devices can accurately estimate the speed and acceleration of the bullet. They come with digital displays, and you can store data.
However, the LabRadar features are slightly elevated. So, it can hold 100 shot records with ease. It is also Bluetooth compatible. The V3, on the other hand, has its own convenience. It comes with the necessary cables and spacers for easy attachment and usage.
Usage
If you work with different rifles, bows, and guns, you would be happy with the LabRadar. It is much more versatile and heavy-duty. However, setting up this product can be a hassle for some users, so for regular use, one does not really need the LabRadar.
On the other hand, for recreational purposes, the V3 by MagnetoSpeed will be much better. It is much more portable and also comparatively more affordable than the other one.
Frequently Asked Questions
Can I use the product directly on the barrel?
If the chronograph has a bayonet like the V3 or a Sporter, then you can. But if it is a LabRadar, then you will need to set it on a stand.
How do I power the display?
You will need compatible batteries to charge the displays. Sometimes they will be available with purchase, or you will have to buy separately.
Is the MagnetoSpeed waterproof?
No, the item is not waterproof.
Can I connect a chronograph to my phone?
You can, but only when the products are Bluetooth or Wi-fi compatible.
Will these products show raw data?
Yes, the display can show both raw and processed data.
Final Words
So, in the MagnetoSpeed V3 vs LabRadar argument, you can side with the LabRadar product if high-usage and durability are the main concerns. You will also have to pay a bit more for that, while the V3 will give users more convenience and affordability.
Last update on 2023-12-06 / Affiliate links / Images from Amazon Product Advertising API