The AR is undeniably one of the most popular firearms available today. And one of the major rationales for this is the huge number of aftermarket accessories it has. One of these is the trigger.
Although overlooked by many people, the trigger is one of the most important upgrades you can make in an AR, especially if you plan on using it for a "field" application like hunting.
This is why, today, we are going to focus on helping you find the best AR 15 trigger for hunting.
So, why not the original stock trigger? Because a custom trigger solution can help you achieve a better pull on your rifle, which amongst other things, can help with accuracy.
However, not all triggers are made to serve the same purpose. Your choice will be greatly determined by the application. The triggers reviewed here make up some of the best options that are currently available for hunting.
Before we dig into the meat of the review, let's see in more detail how a good AR trigger can make a difference.
AR Trigger for Hunting Comparison
Why Quality AR Trigger Is Important for Hunting?

So, is there really any difference between using your stock trigger and purchasing an single stage ar trigger?
Well, yes!
First, upgrading to a drop-in trigger will give your AR a personal touch. You will be able to select a pull weight that goes well with your skill level and hunting style. Believe me, the lighter and crisper break will make much difference for you, especially if you're a new shooter. The gun becomes smoother, and shooting is easier.
Overall, a good trigger can help improve consistency and accuracy. It can also minimize fatigue during long shooting sessions, thus improving your performance.
Best AR Trigger for Hunting Review in 2023
Below is a review of the top ten AR triggers currently available in the market.
1. HIPERFIRE AR-15 EDT SERIES TRIGGER

Key Specifications:
Color: Black
Material: Heat Treated Alloy Steel
Pull-Weight: 4.5 – 5 lb
Trigger Bow Type: Curved Trigger
When it comes to AR-15 trigger reviews , the name Hiperfire is synonymous with quality and reliability. Thus, we would consider any list of the drop in ar trigger incomplete that doesn't feature a product from Hiperfire.
The EDT series is one of the best creations by the brand for hunting. But don't just take our word for it; see for yourself.
Actually, the EDT triggers are designed to provide a single-stage pull with minimal creep. There are two interchangeable hammer springs for different pull weights – 4.5 and 5.5 pounds.
We have no doubt you will really like the trigger feel of the EDT as it features an improved sear alignment, which is typical of Hiperfire triggers. This is complemented by the use of a SwingFast Hammer Head, that ensures faster lock time.
In addition, the trigger is self-cleaning, meaning its design allows it to remove debris. This could cause jams or similar issues. All this happens in the disconnector.
There are four configurations of the trigger which you can choose from. These include the base model coming with a curved trigger shoe. It is also referred to as Sharp Shooter.
The next one is the Heavy Gunner, which features a heavier SwingFast hammer for more effective hammer strikes. It also comes with a curved trigger shoe. The other two models are Designated Marksman for heavier pull with increased safety and the Enhanced Duty model for full auto select-fire on rifles like the AR-15 and M16.
For the EDT, installation doesn't require the removal of the safety selector.
Features & Benefits:
A lightweight AR15 fire control unit with US Primers for .223/5.56, 300BLK, 6.5/6.8.
High-quality duty trigger.
The trigger weight for each pistol can be adjusted between 4 1/2+ and 5 1/2+ lbs.
You'll have a stronger, more accurate trigger pull.
Your rifle will be easier to shoot accurately.
You can adjust the weight of your trigger for different shooting situations.
Related Guide: Best Reloading Dies
2. VELOCITY TRIGGERS AR-15 MPC DROP-IN TRIGGERS

Key Specifications:
Color: Black
Gun Model: AR-15
The AR-15 MPC is another wonderful one-piece trigger solution that can greatly improve the pull and trigger style of your AR.
Velocity Triggers might not be a name you come across every day in the world of weaponry, but there's no doubt they make really decent drop-in triggers.
With over 30 years of expertise in the industry, there's no reason not to trust the brand. Their product line consists mostly of affordable AR triggers that compete favorably with some high-end models. It is in this category where you will find the AR-15 MPC.
Like the Hiperfire EDT, the Velocity Triggers MPC is a single-stage drop-in trigger that is designed for precision shooting, which makes it a great choice for hunting applications. It offers a crisp and clean pull, and you have the option to set between 3 to 4 pounds pull weight.
The trigger is available in various color options, but the predominant choice seems to be classic black. Installation should be easy, provided you use the right set of tools.
To ensure better resistance to wear, the trigger is coated with Diamond-Like Carbon (DLC), which ultimately leads to a longer lifespan. Since this is a single-stage drop-in trigger, one would expect the installation to be easy.
Overall, the Velocity Triggers AR-15 MPC Drop-In trigger is an excellent choice if you wish to modify your trigger pull weight on a tight budget. For its price, you might not find a better alternative.
Features & Benefits:
This product cannot be used with 9mm conversion or an open bolt face.
Trigger is designed to improve finger position.
Trigger shoe is 3/8″ wide vs. the standard 1/4″.
3. GEISSELE AUTOMATICS LLC AR-15 ENHANCED TRIGGERS

Key Specifications:
Type: 2 Stage
Stage-1 Weight: 2.3 lbs
Stage-2 Weight: 1.2 lbs
Pull Weight: 3.5 lbs
Pin Size: Mil-Spec
Trigger Bow Type: M4 Curved
Weapon Platform: AR15/AR10
If you're looking for single stage ar trigger that will not disappoint, then you should consider these top-of-the-line triggers from Geissele. These triggers are not only great for field hunting but also competition and recreational shooting.
We like the fact that they come in two different styles – the B-GRF, which is great for rapid firing and the B-G2S-E, which is better suited for long-range shooting. Both are two-stage triggers with great control and precision.
They come with a black steel finish that aesthetically blends in with .308 and AR-style rifles that can be fitted with AR-15 triggers. Two trigger springs are provided for 3.2 pounds and 4 pounds pull weight.
Although the trigger is supplied with an installation kit, we advise getting a gunsmith to set it up for you.
Features & Benefits:
Tool steel is used for the trigger and hammer.
Wire edm machines are used to cut sear surfaces.
With the full force spring, all types of ammo can be locked instantly and ignited positively.
It is possible to install the trigger without removing the safety.
The factory pre-sets the engagement of the sear.
Related Guide: Brass Wet Tumbler for Reviews
4. TRIGGERTECH AR-15 TT-AR-15 TRIGGERS ADJUSTABLE

Key Specifications:
Material: 440C Stainless Steel, 7075-T6 Aluminum
Pull Weight: 2.5 – 5 lb
Trigger Pin Size: Mil-Spec
Hand: Ambidextrous
Gun Model: AR-15
Tiggertech triggers are known for being very reliable and durable, and this is exactly what the TT-AR-15 is all about. Whether you're competing or shooting distant games, you will find this trigger quite adequate.
As the name suggests, this is an adjustable trigger, which means it grants you extra control on your shots. It uses the company's patented Frictionless Release Technology to improve your feel on the gun and afford you greater accuracy.
There are two designs to choose from – the curved design and the straight on. Feel free to choose the one that fits best with your finger.
As earlier indicated, trigger pull can be adjusted from 2.5 – 5 pounds, which makes it tenable to any shooting application provided you are comfortable with such triggers.
While installing the trigger, you will need .154-inch pins.
Features & Benefits:
Designed to feel like the 1911, this trigger action is short and has two stages
Yes, TKR technology exists
It uses FLTWR technology
The pin size is standard mil-spec (0.154in).
CLKR Technology allows for quick and easy adjustments to the trigger pull weight.
Short, two-stage action provides a true zero-creep break with extremely short
5. TIMNEY AR-15 DROP-IN TRIGGER MODULE SOLID SHOE

Key Specifications:
Gun Model: AR-15
Gun Type: Rifle
Trigger Pin Size: Mil-Spec
When it comes to drop-in triggers, Timney truly stands out from the crowd. This is why their Solid Shoe Drop-In Trigger Module is just about the best you can get for the price. Its performance is top class, and you can expect a long service life.
The trigger comes in three different standard pull weights – 3 pounds, 4 pounds, and 4.5 pounds. So, feel free to select the weight that best suits your situation. Unfortunately, you need to dismantle the lever anytime you wish to switch to a new pull weight.
There's a small curve on the trigger to ensure it provides a good grip and fits better with your finger.
Like we said earlier, this is a drop-in trigger, which makes it easy to install. And the process is the same for any pull weight you choose—no need for any fitting, adjustments, or gunsmithing.
Once put into action, you can expect zero creeps and a short, clean reset. And being single-stage makes it smooth and easy to handle.
The housing is made of aluminum alloy, which makes it lightweight.
Overall, if you're looking for a reliable trigger to use for any shooting environment, you will not be disappointed with the Timney Solid Shoe. For its price, you might not find a better alternative.
Features & Benefits:
These triggers will fit all mil-spec AR-15/M4 platforms, including large pin Rifles made by Colt in the 90s
All Military Spec Built Lowers
Timney Triggers AR-15 Competition Trigger is the smoothest, crispest trigger pulls imaginable.
Equipping these Rifle Triggers by Timney Triggers is incredibly simple as it's 100% drop-in so no gunsmithing, fitting, or adjusting is required.
6. CMC TRIGGERS AR-15 TACTICAL TRIGGER GROUP

Key Specifications:
Color: Black
Material: 8620 Alloy steel and S7 Tool Steel
Gun Model: AR-10, AR-15
Trigger Pull Weight: 3.5 lb
Installation Type: Drop-In
To get the lightest pull on your AR-15, you should consider investing in this trigger from the CMC Tactical Group. For its price, you will hardly find something with a lighter pull. This makes it a good choice for competition and hunting as it provides consistent performance.
For each of the triggers in the group, the pull weight has been set for you. Feel free to choose the best one for your AR-15, depending on your specific need.
In addition, the triggers come in both traditional curved style and flat shoe style. Each of these provides a different feel for some shooters and gives a different look to your AR. It's up to you to decide on the one that appeals most to you, but we personally prefer the curved shoe version.
While these are mainly single-stage triggers, the two-stage versions are also available. So, if you feel the need to add a little resistance in your pull, then you can explore the two-stage models.
As expected, with this trigger, creep is zero while reset is short and can be heard.
Features & Benefits:
Hammer release is instantaneous with no feeling of creep when the trigger is pulled
There is no grittiness or roughness to the trigger break
Using controlled weight and balance, as well as a rocket wire hammer spring, the assembly is designed to ensure repeatable performance regardless of the type of ammunition used.
The trigger pull is preset by the manufacturer and cannot be changed by the user
An accurate follow up shot can be taken with the positive trigger reset
7. ELFTMANN AR-15 3 GUN TRIGGER STRAIGHT

Key Specifications:
Material: A2 Tool Steel
Gun Model: AR-15
Gun Type: Rifle
Another quality AR trigger you can go for to improve the performance of your hunting rifle is the Elftmann AR 3 Gun. This device is specifically built to fulfill one goal, and that is to help you take down more games.
It comes with a number of interesting features you will hardly find in many similar triggers. Some of these include a short pull and reset, an adjustable pull weight, a clean and double-wound hammer spring, and a 1/4-inch disconnector sear surface.
Let's go over some of these in more detail.
As earlier indicated, this trigger has an adjustable pull weight between 2.75 to 4 pounds. This gives you the chance to select the perfect pull for your games and hopefully end up with more hits.
The addition of the quarter-inch disconnect helps to minimize the problem of wear and makes the unit easier to use. More so, the trigger can be set using any small or large standard mil-spec pins, and this allows for better installation on a large number of ARs.
Overall, good trigger, smooth performance. It is highly recommended!
Features & Benefits:
This attachment fits any military AR-15 (colt large pin also available)
No matter what pull-weight it takes, it is 100% safe to drop
With a 50% lighter pull weight compared to a standard AR-15 trigger, it provides an excellent combination of speed and accuracy
The weight can be adjusted from 4lbs to 2 3/4lbs without removing the lower
8. HIPERFIRE AR-15 POWER DROP-IN TRIGGERS

Key Specifications:
Trigger Pull Weight: 2 lb
Included Accessories: Finger Pad
Installation Type: Drop-In
If your current trigger feels less predictable and doesn't perfectly align with your shooting style, then upgrading to a drop-in trigger can give you a better experience. One of the best options you will find in this category is the Hiperfire AR-15 Power Triggers.
This unit is equipped with a hard-hitting hammer that adds a lot of power to your shot, which is typical of Hiperfire triggers.
It is no news that the vast majority of drop-in triggers sold in the market are known for being easy to install. This is exactly what you can expect with these triggers.
With this unit, you also get the hard-hitting hammers and "feel" that is typical with Hiperfire triggers. These hammers hit harder than those used in most aftermarket drop-ins, even the popular MIL-spec M4/16 hammers. This is why they are able to hit harder.
These triggers are basically targeted towards shooters who want a pull that is light, short, smooth, and sweet.
Features & Benefits:
The strongest Hammer Strike, ever, without LPS
It has an exceptional smoothness
Protection from corrosion enhanced
You'll enjoy protection against disconnector crash and spring crush damage, too!
9. TRIGGERTECH AR DIAMOND TRIGGERS

Key Specifications:
Color: Black
Finish: PVD
Material: 440C Stainless Steel, 7075-T6 Aluminum
Pull Weight: 1.5 – 4 lb
Pin Size: Mil-Spec
Gun Make: AR Platform
Gun Model: AR-15
The TriggerTech AR Diamond Trigger is another option you should consider if you want to enhance the accuracy of your shots by gaining pull control. You can adjust the trigger pull from 1.5 to 4 pounds in tiny increments of 2oz.
Luckily, the hammer force is the same regardless of the set pull weight, so you can rely on getting a reliable primer strike every time.
As expected, the trigger has a two-stage pull and thus is mostly targeted towards long-range shooting. The first stage resistance weighs 4oz, while the second stage weight can be anywhere between 20oz to 3.75 pounds.
While the trigger boosts of a stable trigger press, you will experience a little bit of over-travel. This combined together with its clean and short reset is what makes it most suited for slow shooting.
However, this doesn't mean the trigger can't also be used for rapid firing, just that it will require some level of practice.
Features & Benefits:
Improved accuracy and reliability.
Tuned for a fast, light trigger pull.
Feel the difference in your hands with this precision engineered drop-in AR trigger.
The trigger action is a short two-stage action that feels like a 1911 trigger action
It's made of durable, lightweight aluminum.
10. ELFTMANN AR-15 SE TRIGGER CURVED

Key Specifications:
Pull weight: 3.5lb
Gun Model: AR-15
To round off the list is a budget-friendly option from one of the most reputable brands – the Elftmann AR-15 SE Trigger. It is specifically targeted towards shooters who want to upgrade their pull weight and trigger performance without breaking the bank.
Although the trigger is said to be competition-grade, it also makes an excellent choice for hunters. It provides a smooth trigger pull characterized by a very crisp, clean break, minimal creep, and short audible reset. Also, it comes with increased lock speed – thanks to its double-wound hammer spring.
The trigger has a factory pull weight of 3.5 pounds, which is quite impressive. This should be adequate for most competitions and hunting challenges.
Being a drop-in trigger makes installation less of a hassle. The trigger itself weighs only 2.3 ounces. To prevent wear, the trigger also features a 1/4-inch disconnector.
Overall, the Elftmann Tactical SE Trigger is a great choice for anyone looking for a budget-friendly trigger that won't disappoint. It comes highly recommended.
Features & Benefits:
Trigger pull weight is 3.5lbs, which makes it easier to shoot for a longer period of time.
The design is made with aircraft grade aluminum and hardened A2 steel, making it durable and reliable.
You'll feel like an expert marksman every time you use this trigger because the takeup and break are so short.
What to Look for Before Buying?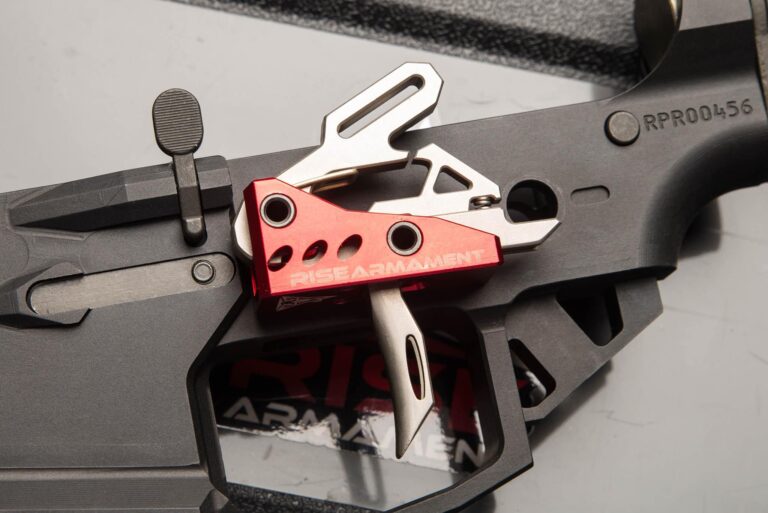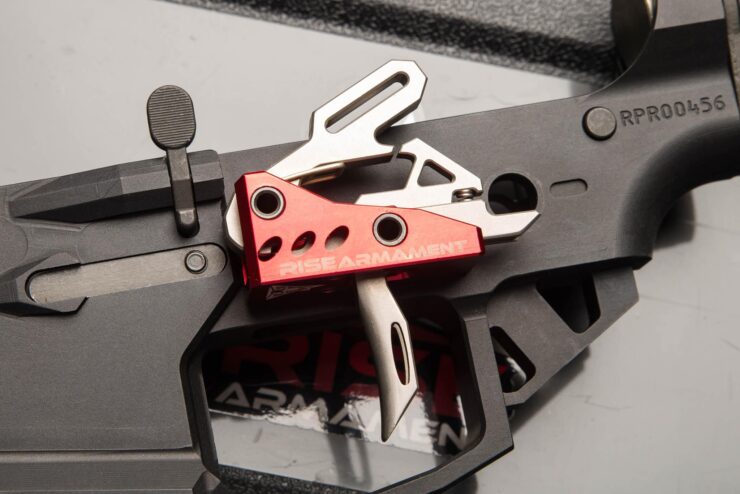 There are certain things you need to consider when searching for a ar 15 drop in trigger. Let's walk through them.
Pull Weight
The trigger pull weight is the amount of effort you need to exert to pull the trigger until it breaks or fires. Usually, this will depend on what you are using the rifle for.
Generally, for AR triggers, there are two classes – those with a light pull weight and those with a heavy pull weight.
The light triggers are those whose pull weight is below 4 pounds. Such triggers require less energy to fire and thus provide a higher degree of accuracy.
However, accidental discharges are more common with these triggers, making them somewhat unsafe for inexperienced shooters.
On the other hand, heavy triggers (4 pounds and above) require more force to pull and are less prone to negligent discharges. They tend to be more suitable for long-range shooting.
Personally, we prefer AR triggers that have adjustable pull weight as this enables you to adjust the weight to meet your specific needs.
Flat or Curved
This is not particularly an important requirement. Some triggers come with a curved area that fits better with your fingers. Others are flat. This has nothing to do with performance. It is a matter of personal preference. So, feel free to choose what works best for you.
Trigger Break
Another important factor you need to consider while choosing a trigger is how it breaks. It is best to go for a model that breaks without warning. This ensures that you don't flinch and thus enhances accuracy. Normally, without this feature, you will wait for the recoil of shot, and in doing this, you will flinch and get distracted.
Ease of Installation
AR 15 triggers can be difficult to install, depending on the particular module. Drop-in triggers offer the easiest installation, while some other models might require some advanced tooling, which can complicate things.
Drop-in Trigger Vs Standard
You should familiarize yourself with the differences between standard and drop-in trigger groups for the AR now that you understand the difference between single and two-stage trigger groups.
What about an AR trigger that can be dropped in? Fire control groups come preassembled and are ready to drop directly into your lower, just like they sound: They're quick and easy to use. Once you have the pins adjusted, you can seamlessly switch to your new improved trigger in a matter of seconds.
A standard group is more labor-intensive since each part is separately packaged for construction. You should not be afraid of this if you're an AR15 build junkie, you just need to understand what you're getting into.
AR Trigger Upgrade: Tips


An accurate rifle depends on an accurate trigger system, so you should start with a trigger upgrade if you want to improve accuracy.
In order to increase accuracy, the trigger of the best rifles should "break" without any warning – this prevents you from flinching in anticipation of the recoil of the shot. Furthermore, by paying less attention to the trigger break, you can keep your eyes on the task at hand, which could improve your efficiency.
Normally, you don't have to pull a trigger back very far before it breaks and starts firing. In the absence of excessive force, this very short travel reduces the possibility of inaccurate shots being fired. Putting down more accurate rounds allows you to reposition for a new shot more quickly because of the short travel.
It is certainly beneficial to change triggers, but not all triggers are created equal and there is a wide range of trigger kits available. Whenever you buy a trigger upgrade, look for a "drop-in" kit – these can be installed quickly. If the kit has loose parts, it will be impossible to work with the tiny trigger springs.
How Does an AR-15 Trigger Work
We'll begin by examining the original AR-15 trigger, how it is constructed, and what each component does in order. Our trigger is a typical single-stage mil-spec trigger with the hammer cocked at rest when we show it below:
The trigger: 
Using the trigger is like pressing the "go" button. If a round is in the chamber, pull the trigger to let the hammer drop.
The hammer:
At the top of the trigger assembly, there is a large piece of flat steel called a hammer. Hammers rotate up and down like levers. When a hammer strikes a firing pin on an ignited primer, it ignites the bolt carrier group.
The Sear: 
In firearms, each hammer is held in place by a flat steel portion at the trigger's front, It's called the sear. When the hammer is at rest, it is engaged by a cut-out on its lower portion. Angling the trigger downwards means the sear is released from the cut-out in the hammer, allowing the firing pin to strike.
The Disconnector:
The gas system at the front of the gun causes the bolt carrier group to recoil back into the buffer tube whenever it is fired. Upon riding backward, the BCG pushes the trigger assembly hammer down. The hammer is cocked to get back in position for the next round in this manner.
As the hammer is cocked, the sear holds it down. It's in the wrong place at the wrong time since you pulled the trigger to fire a round. The BCG forces the hammer back down by pulling the trigger too fast, and no human shooter was capable of doing this. In this manner, the spring-loaded disconnector captures the hammer so it won't fly back up on its own.
The Hook:
A hook on the back of the hammer temporarily holds the disconnector when it is driven down by the BCG, preventing it from flying up again. After releasing the trigger, the sear moves to meet and cock the hammer as soon as it has returned to its resting position. When the hook slides off the hook, the sear returns to position. You have now cocked the hammer, reset the trigger, and are ready to shoot once again.
How to Polish AR Trigger
Get your sandpaper out! The areas we will be focusing on are as follows:
First, let's discuss the trigger. The square lug in the front of the wheel needs to be polished on both sides. Initially, we will use 600 grit. The triggers on many AR-15s are rough (yet precisely) machined from the factory.
This is visible in the silver area in front of the trigger. The goal is to remove any machining marks while keeping all the surfaces square and true. It takes a blink of the eye for any rounded edges, burrs, or "oopses" to ruin a trigger pull. Keep the edges of that lug as sharp and square as possible in order to pull more crisply.
You should polish them on a flat, steady surface. Consider taping it to the wall if necessary. Ensure the part is truly flat, and don't allow it to rock while you place it on the paper. Make 1/4-inch motions back and forth to keep it flat. You don't want to rock the part up on the edges with longer strokes. If you see machining marks, only polish until they disappear. Make sure you do this on top of and beside the square lug of the trigger.
The machining scratches should be polished out until they are gone. Move on to the 1000 grit once you've finished with the 600 grit. A "mirror" effect will begin to appear on the parts. Maintain a smooth edge!
Hammers are more challenging. The square lug on the trigger connects to that little sear notch in the back of the hammer. When I sand the bottom of the notch, I wrap it around the thin nail file and gently work it. Because it's so challenging to get this right and so easy to screw up, I recommend that you use 600 grit and then 1,000 grit paper, gently polishing the area.
It's likely that the trigger won't catch if you remove too much metal from the gun. I don't want that to happen. The less the better. Keep the sear notch straight and even, and all will be fine.
By polishing those two points in your trigger, you should be able to see a significant improvement in the smoothness of the trigger pull. The trigger/hammer interaction will be smoother so you'll get the illusion that it actually feels lighter.
It is okay to polish the areas around the disconnector if you like. Don't worry about it. In this process, we're only polishing, not removing, the metal. The gun doesn't have to be unsafe… you just need a smoother trigger pull to improve accuracy when you're trying to concentrate. Make sure to polish both the hook on the disconnector and the claw on the back of the hammer.
Polish the hammer and pivot pins gently by using 600 grit sandpaper. Just a little bit of friction will be reduced on the trigger and hammer.
Frequently Asked Questions
How does an AR trigger work?
Although there are various kinds of triggers (curved, flat, single-stage, and so on), each one of them basically operates the same way. A trigger pull causes the hammer to be released; the hammer then pounds on the firing pin, which in turn also strikes the primer.

The major difference between the various trigger types lies in the amount of effort that is required to initiate the pull and if the pull will be met with any resistance.
What is the difference between a single-stage and two-stage trigger?
To simply put it, the trigger stage has to do with resistance in the pull weight. Single-stage triggers offer no resistance as they are pulled to the rear while two-stage triggers do offer some resistance.
Can I make adjustments to the trigger by myself?
Sure, but it depends on the model. Just as drop-in kits allow everyone to install their triggers, it is also possible to tweak the trigger if it's adjustable. However, we do recommend getting professional help just to be on the safe side. Some triggers might lose their proper functionality when adjustment is not made correctly.
What is the best AR trigger?
This is a tricky one. It is impossible not to sound bias since the right trigger choice for anyone largely depends on their shooting style and preference. That said, our favorite pick is the Geissele Automatics AR-15 Enhanced Triggers.
Where can I get these triggers?
Just click on the corresponding product link, and you will be taken to the product page.
Final Words
These days, almost everyone wants a taste of action with an AR rifle, and using the right trigger can make a lot of difference. By increasing your consistency and accuracy, upgrading to an AR will help you become a better shooter.
Hopefully, our review of the best AR trigger for hunting will set you on the right path that will best suit your needs. Each of the triggers reviewed above was carefully handpicked by our team, and we can tell you that they are some of the best available for hunting. Ultimately, your success with any of these largely depends on how well you use it.
Let us know if you have any more questions, and we will be glad to help.