Trijicon is one of the leading manufacturers of excellent gun and rifle accessories in the firearm industry since 1981. It has been creating and producing innovative aiming systems for all shooting enthusiasts around the world, may it be for military, hunting, or self-defense using RM06 vs RM07.
Recently, Trijicon has released a new edition of their ever highly-praised RMR (Ruggedized Miniature Reflex) optic – the Trijicon RMR Type 2. There are various units under this line, but two of them are certainly notable– the RM06 and RM07.
Many have been wondering which one is more worthy of purchasing between RM06 and RM07. To answer your questions, this article will give you an in-depth review of these products. We gathered all the information you need to get to know them better. So, let's get started!
RM06 vs RM07 – Which One is Better?
1. TRIJICON – RMR TYPE 2 RM06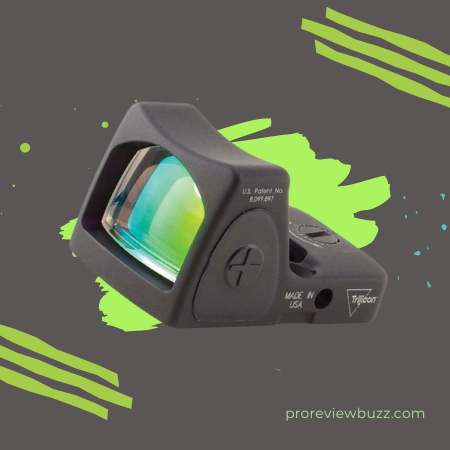 To provide you with a detailed review of the RM06, we will be using this Type 2 RM06 adjustable LED reflex sight with 3.25 MOA dot as reference. Below, you will get to know more of its features and specification and see what it can offer.
One of the defining features of RM06 is its adjustable LED 3.25 MOA red dot reticle that comes with a parallax-free performance and an adjustable illumination of the LED. It has eight brightness settings that you can choose according to your preference. Two of these settings are night-vision compatible.
There are integrating buttons on the sides that let you adjust the illumination brightness with ease. Also, they are sizing enough so you can access it with no trouble at all. Much more, you can toggle between automatic and manual modes.
When you choose the manual mode, RM06 will stay at this mode for 16.5 hours from the last push on the button. After those long hours, it will switch back by default into the automatic mode.
As for its construction, it is forged from 7075-T6 aluminum. So, you're sure that it's extremely sturdy and lightweight as well. Also, it has a patented chassis shape that absorbs the stress then diverts it away from the lens. It can, for sure, endure recoil stress felt especially from the slide-ride pistols.
Overall, RM06 is one of the best units in the Trijicon RMR Type 2 line-up. It is a feature-packed model that offers you maximum versatility by putting you in full control of the illumination settings.
Suggested Comparison: Vortex Viper vs. Trijicon RMR Dot Sight
2. TRIJICON – RMR TYPE 2 RM07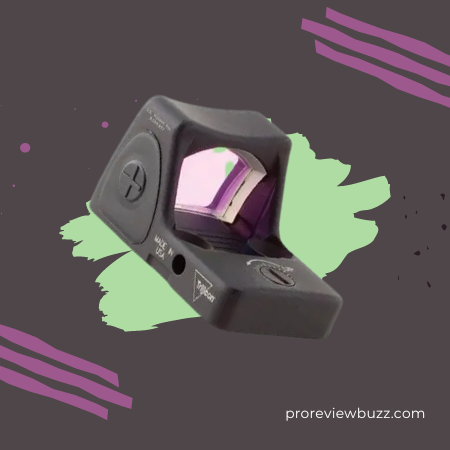 Now, we'll use the Trijicon – Type 2 RM07 adjustable LED reflex sight with 6.5 MOA as a reference to give a thorough review of the RM07. So, here's everything you need to know about it – attributes and specifications.
You'll certainly identify that it's RM07 when it is equipping with a 6.5 MOA red dot reticle. This sight is known to be the biggest dot available in this line of optics. Surely, you'll be amazed if you have this equipping in your weapon.
Much more, with this dot size, you are sure to aim it at your target with ease and speed. Not to mention, this will be beneficial if you have vision problems. You won't be needing to wear eyeglasses to make accurate shots. Also, it will be perfect for close-quarter engagements with your object.
One of its amazing features is its variable LED illumination that comes with automatic and manual modes.
In the manual mode, you can choose from the eight brightness settings that include two for night-vision devices and one for super-bright function. You will be able to make these adjustments through the included buttons on the sides.
Also, it will be possible for you to lock out these buttons to ensure that the RM07 will only function in automatic mode. It will also make sure that the unintentional press on the button will not cause any trouble with your shooting.
Therefore, RM07 is an exceptional unit in the Trijicon line of RMR Type 2. Given its features, you will never be disappointed with its durability and performance. Indeed, it will give you a much better shooting experience.
Related Comparison: Vortex Viper vs. Diamondback Binoculars
RM06 vs RM07 Reflex Sight – Which to Choose ?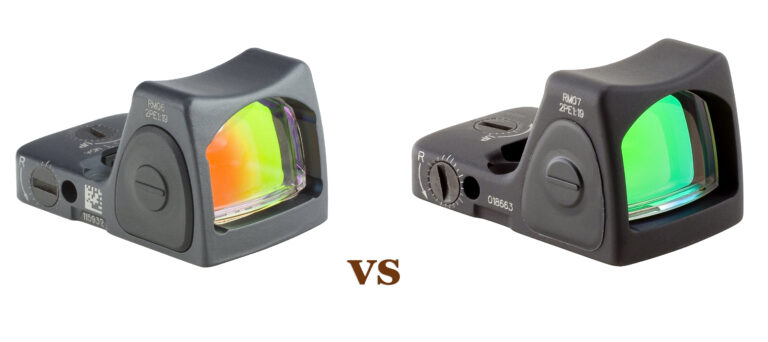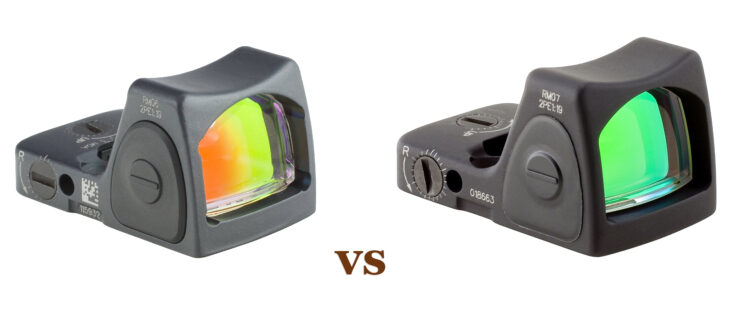 The RM06 and RM07 units of the Trijicon RMR Type 2 line-up are pretty much the same in many categories. Such as dimensions, magnification, illumination source, adjustments, materials used for construction, batteries, and battery life. But there's only one thing they differ with in terms of features – the reticle pattern.
Suggested Topic: Vortex Diamondback vs Nikon Monarch 5
Reticle Pattern
The only feature that sets RM06 and RM07 apart is their reticle pattern. RM06 is equipped with a 3.25 MOA red dot sight, whereas RM07 has 6.5 MOA red dot sight. Let's discuss the difference between the two.
As for the 3.25 MOA dot, it is known to be the most versatile and most popular among the dot sizes available in the RMR models. Its size is small enough to provide you with an accurate shooting even at a certain range and big enough for fast locating.
On the other hand, the 6.5 MOA dot is the biggest dot offering in the Trijicon's adjustable LED-operated units. With its size, it will give you the ability to trace the dot quickly. This is best for close-quarter engagements. Also, it will be helpful to the ones with problems in their vision.
So, the choice that you will make merely depends on your needs and requirements on a dot sight.
Suggested Topic: Pulsar N750 or N550
Frequently Asked Questions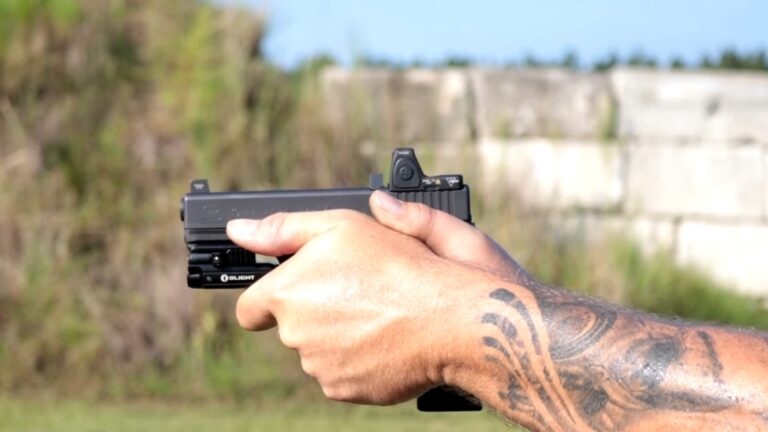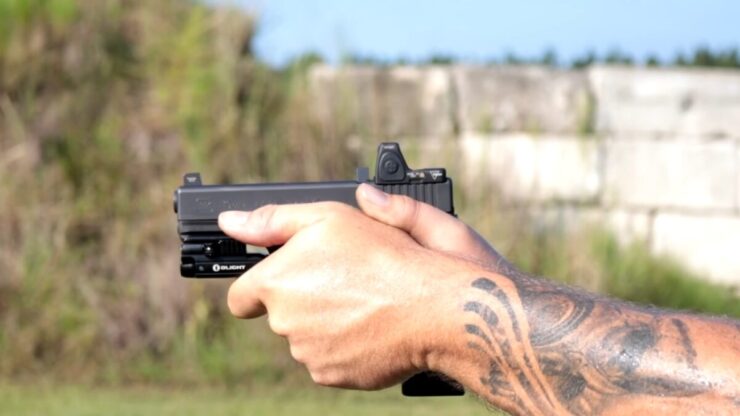 Is the Trijicon RMR waterproof?
Yes. All RMRs are rated and submersible to a depth up to 66 feet or 20 meters.
What is the LED RMR battery life?
This usually depends on the RMR you have. RM06 and RM07 have 4 years of battery life with frequent use.
What are the things needed to mount the RMR on my Glock pistol?
You'll need a Trijicon RMR mounting kit to mount an RMR on the Glock pistol. Fortunately, this is included when you purchase one.
How do I clean the lens of an RMR sight?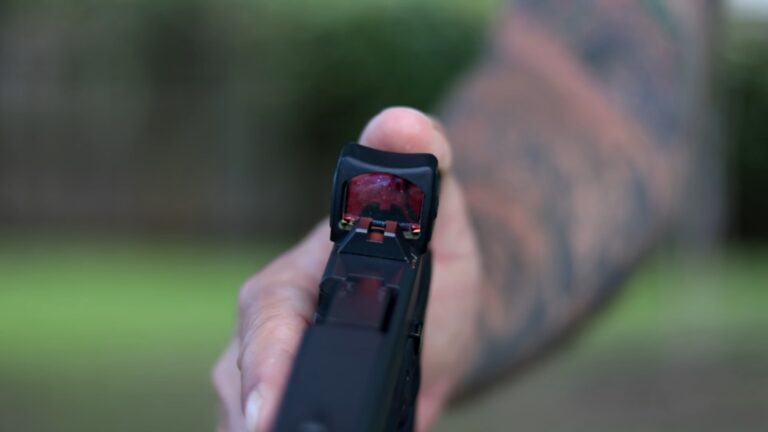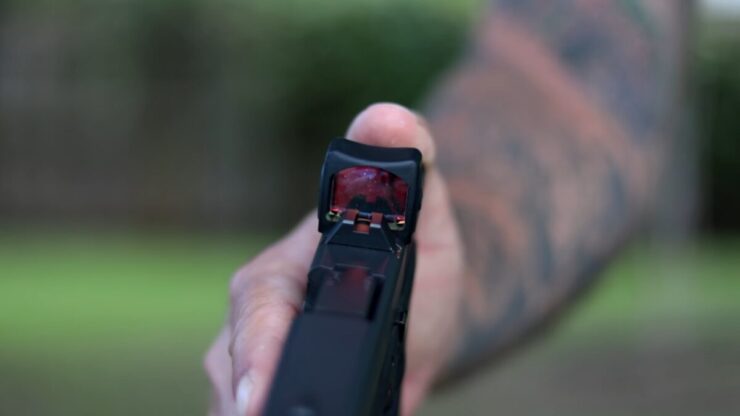 It is suggested that you should use compressed air to get rid of any debris to avoid scratching your lens. When you're done removing debris, use car wax or any ordinary glass cleaner. Also, avoid using strong chemicals like thinner since it can damage the coating of the lens.
Why is the lens of the new RMR bluer than the previous one?
This is to maximize the efficiency in reflecting the wavelength of the LED, which results in longer battery life.
Conclusion
After reading this article, you're now knowledgeable about RM06 vs RM07. Also, you've seen that they have a lot of similarities and one main difference. So, it will all depend on your preferred reticle pattern. I hope this RM06 or RM07 talk helping you decide which unit you should get.