Ade Advanced Optics Compact RD3-009 2 Red Dot sight is an upgraded version of the original release in 2015. it proves to be the bst cheap red dot that does not compromise the quality.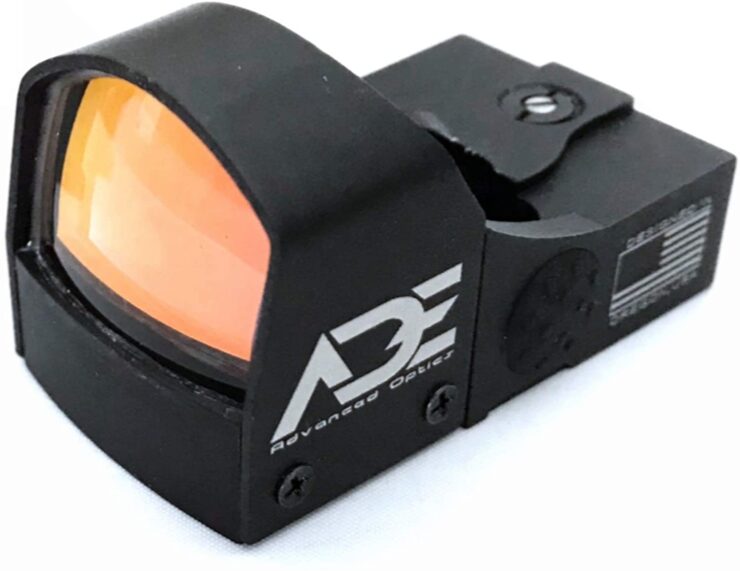 Dimensions

Length: 2.0″ / 52 mm

Width: 1.0″ / 26 mm

Height: 1.1″ / 28 mm
Weight

Without Mounting Materials: 0.9 oz or 25 g.
How is it better than the original?
Well, speaking of the advancement in the features and specifications, here are some upgrades.
It is capable of withstanding various recoil.

Improved ability to hold zero.

Waterproof, shock, and fog resistance offer additional durability. 

Lenses are precision ground and polished to virtually eliminate parallax, offering a clear and sharp image. 

Fully windage and adjustable and lockable evaluation.
Customer Opinion

It has been made to endure adverse weather conditions. This red dot sight is an efficient alternative to Viper red dot optic for people who really are in need of weapon optics, but do not want to spend a fortune on it. Ade Advanced Red Dot has made using the sight a lot easier and worry-free with waterproofing and shock or fog resistance.
What We Admire About It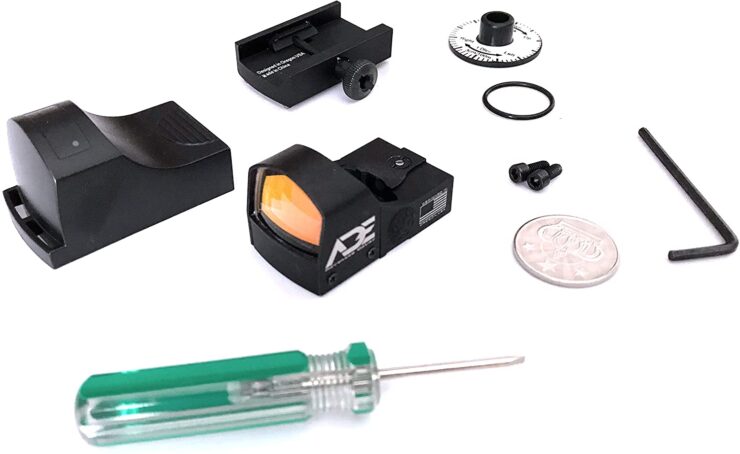 Mounting Base

This red dot sight comes with a Picatinny mounting base, which is compatible with various handgun mounting plates. It replaces the rear sight dovetail. Ade Advanced Optics RD3-009-2 Red Dot Sight offers ultimate versatility to mounting for optics ready pistols;
Glock MOS
Springfield OSP
Unlimited Eye Relief

Any weapon optic that can be mounted as far forward on the firearm as per the shooter's personal preference. RD3-009-2 Red Dot Sight comes with unlimited eye relief, which offers;
It eliminates the possibility of the scope impacting the shooter during recoil.
It offers a more peripheral vision.
Unlimited eye relief provides a faster setup, unlike defined eye relief. 
Lockable Windage & Elevation

Windage adjustment moves the point of impact left and right, whereas elevation adjustment deals with moving the point of impact up and down. RD3-009-2 Red Dot Sight offers lockable full windage and elevation, which eliminate the misadjustment. 
Features & Specifications 
Magnification: 1X
Sight Window: 25mm x 16mm; .98″ x .62″
Elevation Adustment Range: 3° or 190″ @ 100 yds (524 cm @ 100 m)
Windage Adjustment Range: 3° or 190″ @ 100 yds (524 cm @ 100 m)
Set Value for One Scale Division: 1 MOA or 1″ @ 100 yds with 60 scale divisions per turn
Subtension of the Aiming Dot: 4 MOA (10.5 cm @ 100 m)
Parallax-Free Sighting Distance: approx. 50 yds
Recoil Resistance: At least 1000 Gs
Operating Temperature Range: -10°F to +130°F (-25°C to +55°C)
Storage Temperature Range: -40°F to +160°F (-40°C to +70°C)
Power Supply: 3V with one CR 2032 Lithium battery
Pros
3 MOA reticle 

5 brightness settings

Sturdy anodized aluminium frame

Amber glass is coated for scratch resistance

It takes a single CR2032 battery
Cons
It is difficult to change the battery 

The brightest setting has a lot of glare
Perks | Ade Advanced Optics RD3-009-2 Best Cheap Red Dot Sight
Ade Advanced Optics RD3-009-2 Red Dot Sight comes with a mounting plate. It is made with Aircraft Light Weight Aluminium and is compatible with other Red Dot brands, such as;
Vortex Venom

Razor

Viper

Burris Fastfire

Meopta

Docter

Insight
Speaking of enhanced accuracy, especially at the shooting range, there is nothing that could beat ADE Advanced Red Dot Sight for your Glock.
Choosing the best cheap red dot that suits your needs the best, depends on personal preference, such as, where you will be needing it, how much are you going to use it, and what level you are at. Understanding your needs before making a purchase can get you the most efficient sight.
Check this also:
Last update on 2023-10-01 / Affiliate links / Images from Amazon Product Advertising API