When it comes to rifles and guns, you cannot solely rely on your steady hands and clear eye vision. There are several tools that help you achieve that shot of your dreams, and one of those tools is a riflescope.
Yes, with that tool, you will not have to depend on how clearly you can see with your own bare eyes. Riflescopes allow you to view far and wide and also zoom at will. But now the question is that between MOA vs Mrad riflescope — which one to get?
Both these features are very popular in the scope world, which is why many people adore them. But do they admire your admiration as well? Let us find out.
MOA Riflescope Review
Among many MOA scopes, we believe that the product below is one of the best.
Vortex Optics Crossfire II – Dead-Hold BDC Reticle (MOA)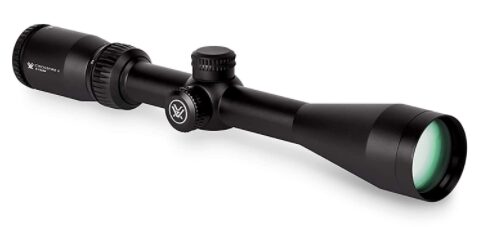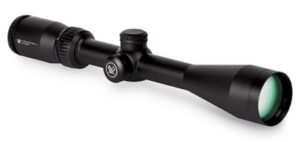 Some people may be confused as to how a MOA reticle works. Well, to begin with, MOA stands for minutes of angle, and here minute is not a representation of time, rather of how small the angle on the rifle can be.
So, with this Vortex scope, you will be able to determine how much bullet dispersion will happen around an inch at 100 yards. Thus you will be able to easily decipher your shots and know the straight line of your bullets.
Of course, in an outdoor setting, the bullet will never travel perfectly straight, but the MOA reticle will help, and that is why this model is suitable for hunting and outdoor experience. Besides that, it has 6 to 18 points of variable magnification so that you can zoom upon hundreds of wards.
The 44 mm lens size should also help in the quest of viewing at a distance that will allow you to see wider angles. It is especially suitable for outdoor activities for its durable lens that is anti-reflective.
They also have coatings that prevent sunlight from blurring your vision. Moreover, it has a second focal plane reticle, which essentially means that the size of the reticles will not change when you zoom in on your target. It is a common practice, and most people are used to this feature more.
Additionally, the MOA turrets on this model are resettable. So, you can adjust it to zero when you need it. This scope also helps you avoid windage errors and eliminates guesswork. The eye-relief also helps quite a bit during long sittings.
Finally, as an outdoor product, it has suitable features to protect against nature. Such as a secure o-ring traps nitrogen gas inside, which diminishes fog buildup and also keeps the product waterproof. And as a cherry on top, you get a cool camo hat to protect yourself during the harsh sun.
Mrad Riflescope Review
Below you will find one of our favorite Mrad scopes.
Schmidt Bender PMII 5-25×56 L/P DT P4Fine FFP MRAD CCW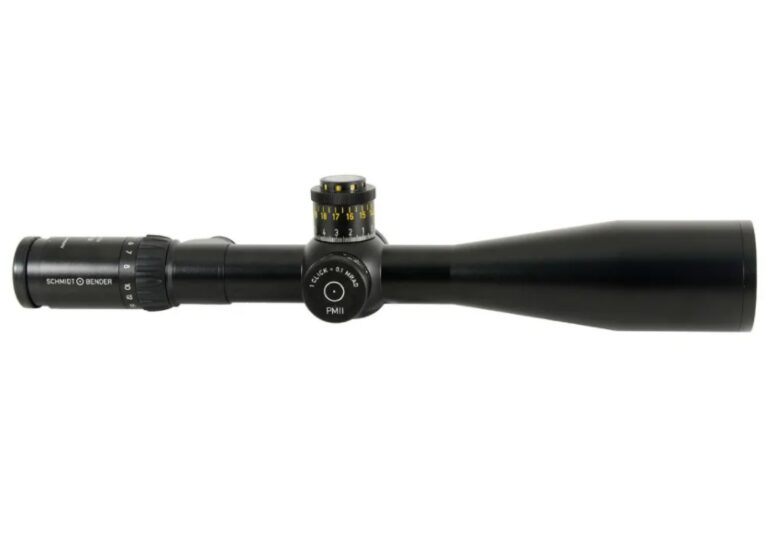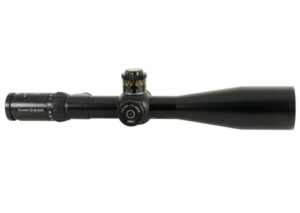 Mrad is another feature on a rifle scope that has much to do with the reticle. Now in various charts, you must have seen reticles that showcase mill-dots, and that is also what you will get in this mode by Schmidt Bender.
In this type of reticle, you can easily divide the space between each dot and make a simple calculation for better performance. Another point you have to keep in mind is that this features a first focal plane.
So, unlike traditional SFP scopes, the reticle on this model will also change in size when you zoom. That is particularly helpful when you want to pin-point a target at a long distance instead of assuming a general dispersion.
As a result, this model is quite popular among the police force and in the battlegrounds. However, it is universal, and you can use it for hunting as well. Moreover, the amazing variable magnification feature that extends up to 25 points is an absolute treat.
That backed up with a massive 56 mm objective lens offers the greatest visuals anyone can hope for. You can practically aim hundreds of yards away with this baby and not miss a shot! It also comes with a 90 mm eye-relief to help you ensure long hours of hunting. The comfortable exit pupil also helps in that regard.
On the top, you will find the turret, which is quite adjustable and has clear indications and markings to help you set. You can adjust the parallax up to infinity, which helps massively during long ranges.
Another usage of this product is during night time. It comes with a twilight factor lens, which helps the lens to absorb light during night time. So you can have better visuals even when it is dark.
MOA vs Mrad Riflescope Comparison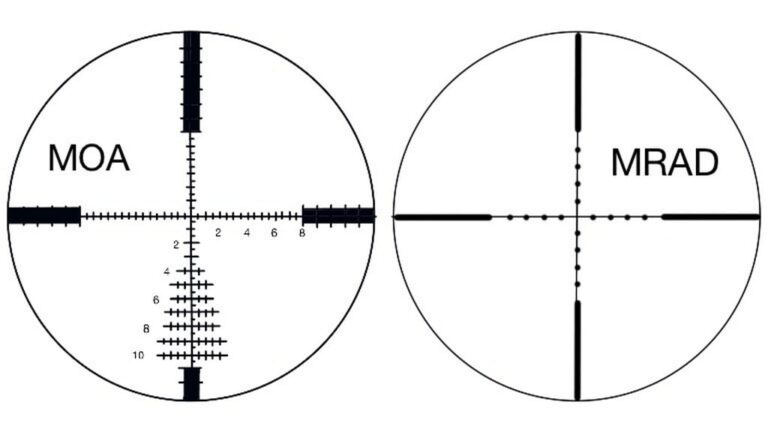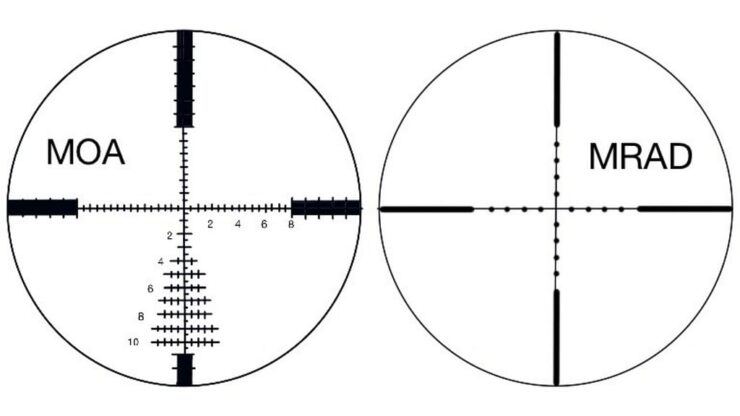 These two features are quite different when it comes to using them, but when combined in scope, both our suggested models work quite the same. But if you had to choose just one, the comparison below will help.
Focal Planes
The clearest difference between these two products is how one functions on the first plane while the other works on the second plane. The Vortex scope features an SFP, which will not change the reticle size when you zoom. So, it does not take up space on the lens and offers clean visuals. Moreover, most people are used to this version.
On the other hand, the Schmidt Bender has a reticle that changes in size with every zoom, which means you can target the tiniest part with ease. This factor is much appreciated for precise shootings.
Usage
If you want a rifle for military purposes, then we would certainly suggest the Schmidt Bender product. It offers a great deal of adjustability and an amazing range. However, these hefty features will also cost you a bit more.
On the other hand, the humble Vortex model is still a fantastic product for general hunting and practice shooting.
Lens
The Schmidt Bender product clearly has a higher magnification range and comes with a much larger objective lens. However, unless you absolutely need that range, we do not think you will require such sharpness if your work field does not call for it.
On the other hand, the Vortex has a standard variable magnification backed with a moderate lens that should do the job just fine.
Frequently Asked Questions
What does MOA at 100 yards mean?
It means that the minute of angle spreads 1 inch for every 100 yards.
How many radians is within reach degree in a mrad?
Within each degree, you will find 6.8 radians in a mrad scope.
Can I stop at zero on these scopes?
Yes, you can adjust the turret to stop at zero.
Are scopes waterproof?
If the scope has some form of inert gas to regulate the temperature, then the product can effectively be waterproof.
How do I reduce glaring on scopes?
If you face glaring too much, you need to choose a lens with additional coatings and a sunshade.
Final Words
Choosing between MOA vs Mrad riflescope is highly personal as it heavily depends on the professional or line of work you are engaged with. However, we can assure you that both these products will be worth the purchase and help you shoot with poise and grace.
Take a look at these products from the same price range, that are available right now on Amazon:
Last update on 2023-12-06 / Affiliate links / Images from Amazon Product Advertising API