Precision shooting or target shooting without a scope is unthinkable. It is like ketchup and french-fries, you can have fries alone, but it will not taste as phenomenal.
Similarly, it is possible to shoot without a scope, but will you hit the mark every time? That is a question we are not sure about.
However, another debate that seems to keep many scope enthusiasts interested is the Leupold VX-3i LRP vs Vortex PST Gen 2 debate.
Different people favor both products for different reasons. But if you wanted to know which one you should pick, we are here to help.
So, put your reading lens on, because we need some serious studying to do!
Leupold VX-3i LRP Side Focus Riflescope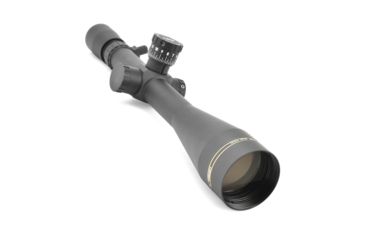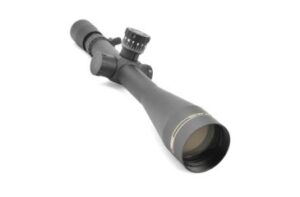 When you think of getting scopes, you have to consider the size of the lens. It is a no-brainer that a bigger lens size will let you have a better view of the landscape. So, if getting a larger field of view is what you need, then the Leupold VX-3i is what you need.
The lens on this scope is 50mm. That means it is larger than the most lens you will usually get for leisurely activities.
Moreover, the high magnification power ranging from 8.5 points to 25 points certainly utilizes the entire capability of the lens.
What is more appreciable about the scope body is the different levers for adjusting the vision. You get a turret cap that is fairly high on the scope. So, no matter what position you are holding, you can view the turret markings.
Moreover, it has a sharp zero setting, and you can turn the lever as much as you want without worrying about miscalculation.
It also has a side focus wheel, which comes in handy during crunch time.
Near the eye-piece is the magnification lever, which is also easy to detect. So, you will not have to fidget while trying to find it. Even with all these adjustment pieces, the scope does not weigh much.
The overall weight of the tool is about 1 pound 6 ounces. Hence it sits comfortably on any rifle. Also, the pieces needed to attach the tool of the rifle will be available with purchase.
Additionally, the lens also has an amazing twilight max light coating. Viewing at night-time should become really easy because of the lens feature. You will also get a detachable lens cover to close the lens after use.
Vortex Optics Viper PST Gen II First Focal Plane Riflescopes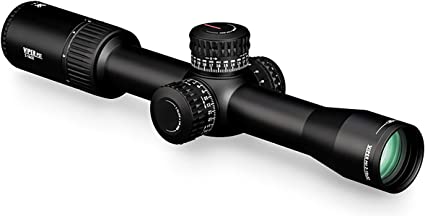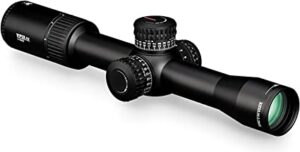 Taking a riflescope to the field means subjecting it to various weather hazards. You have to carry it in a bag or on your rifle, and who knows where it can get scratched. Hence, these scopes need some layer of protection.
The Viper Gen II has that field cover with multiple protective features. First of all, this product has a sort of inert gas in a sealed chamber. The argon gas makes sure that the internal temperature remains static.
So, even when the temperature rises or drops, the inside of the scope will not get foggy. And the gas itself does not react with anything. As a result, it cannot harm the surface of the scope.
Moreover, the entire product has a special Armortek coating. It keeps the exterior safe from scratches, marks, oil spills, etc., the lens on this model is fully equipped as well.
It performs well by improving color fidelity and resolution with the help of low-dispersion glass.
The lens is also XR coated to improve the light-transmission rate through the lens. It is equipped with a 32mm objective lens, which can help in close-range shooting. You can also change the magnification for a better image.
Hence, it is a variable scope, which is always a bonus. The magnification ranges from 2-10 points, and you can use this for long-range shooting as well. Besides, it has an intuitive reticle that makes focusing very easy.
The lever and turrets of this model are also very crisp. There is an optic rotation to help you keep track of the levels. Even if yous lose count, the RZR zero stop feature will help you. All in all, it is a very durable, aircraft-grade scope that weighs about 1 pound.
Leupold VX3I LRP vs Vortex PST Gen 2 Comparison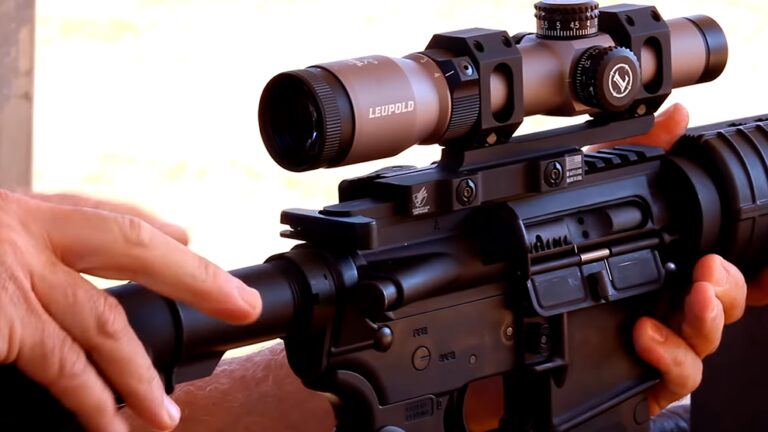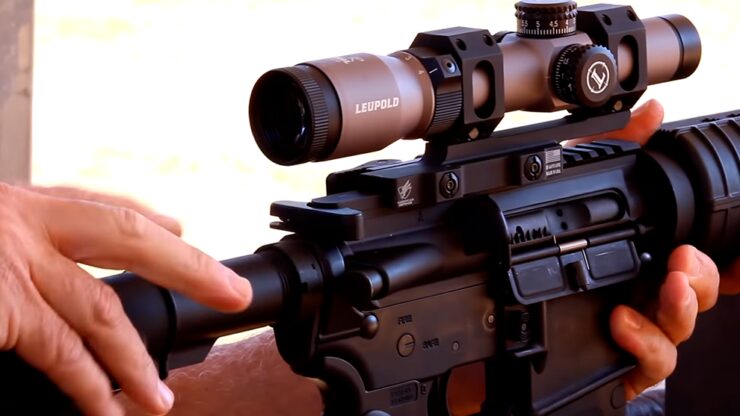 You still might have some questions about which one to get after reading the reviews separately. However, the comparison below might smooth things out.
Magnification
If long-range shoots and gazing over hundreds of yards is what you really need, then going for the Leupold product will serve you better.
It has a magnification limit that ranges from 8.5 to 25 points. So, it will help in zooming.
However, if close-range is more your forte, then the Vortex is a better option. It may have only a 10 point limit, but that should be enough for scoping over 50 yards. Plus, it starts very low, from 2 points, which can really help in close zooms. Besides that, the reticle on this model is unique.
Usage
Both lenses will perform as they promised and are of high quality. However, the Leupold model is slightly heavier than the Vortex.
Since the Vortex uses aluminum, it only weighs about 1 pound. Moreover, it also has different protective features such as O-ring sealed chamber, scratch-resisting coats, and more.
But you will also have to pay a bit more to get a hold of all these amazing features from the Vortex.
Lens
The Vortex also has a smaller objective lens of 32 mm, while the other has 50 mm. Each of the lenses has specialized coatings as well to accommodate different situations. For example, the VX-3i LRP will work better at night thanks to its twilight coat, and Gen 2 has amazing color correcting features.
Frequently Asked Question
Can I set the magnification at any point?
If the scope has variable magnification, then you can adjust to any point within the given range.
Will I need a tripod?
To attach these two scopes in question, you will not need a tripod. However, there are more heavy-duty scopes that need a separate tripod.
Are scopes waterproof?
Not all scopes are waterproof, but most are water-resistant and fog-resistant.
Can I replace the lens?
Yes, if the existing lens is damaged, you can replace it, but the new one should match the product's magnification.
Can I use these devices at night?
If the lens has options to let more light in through the hollow tube, then you can.
Final Words
So, between Leupold VX-3i LRP vs Vortex PST Gen 2, there is no clear winner. Both the models have different purposes, and based on your needs, you will either love one model or not be impressed by it.
Last update on 2023-09-24 / Affiliate links / Images from Amazon Product Advertising API