Short and compact rifles that provide the power of its bigger counterparts are quite the blessing — but they are equally rare to find as well.

However, here are two rifles that we have hand-picked for you, so you won't have to put much effort into finding one yourself.
To make the process even more convenient for you, we have compared the two and put forth their fundamental differences.
Once you go through our POF vs LWRC rifles comparison, you will become clear regarding what sets them apart.
Other than that, we have also provided sufficient details regarding these rifles, so you won't be missing out on anything at all.
Don't wait for any longer and hunt for the right rifle already!
POF Rifles Review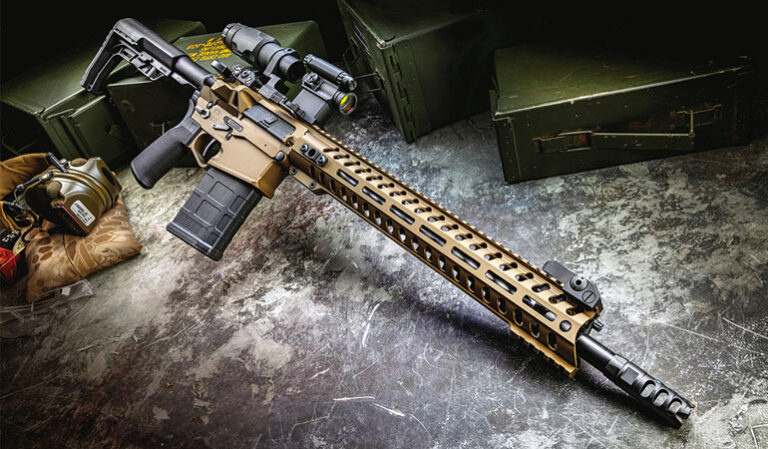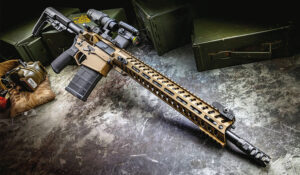 Are you looking for a rifle with revolutionary changes and unique traits?
One that is very different from the others? In that case, here's one that you wouldn't want to miss out on. Find out more about the amazing aspects that it has to offer in our review, which will elaborate on its facilities further.
What really sets this one apart from the rest is its compact (34-inch) and lightweight body. With 7.3 pounds of weight, you wouldn't have to be experienced in handling rifles; you can just operate this item effortlessly, even as an amateur.
But it does have characteristics that go hand in hand with its compact construction.
For instance, it comes with four built-in QD mounts featured on the new Edge Handguard.
Other than that, the product is packed with all the parts and accessories that you can possibly expect from this model; so you won't have to set up anything separately.
It includes a billet receiver set built for ambidextrous people, along with a triple port muzzle brake, which has been redesigned to make sure recoil management is no longer an issue. Hence, this item will be very convenient for just about anyone to use.
For further convenience, the gas piston is adjustable to five positions, and the match-grade trigger is single-stage, so it doesn't require a lot of effort either.
In the case of durability, the bolt carrier group is coated with high phosphate nickel, so you won't have to worry about replacing it.
But that's not all. The rifle includes other remarkable parts as well, starting from, a charging handle, barrel extension, bolt assembly, heat sink barrel nut to cam pin; this has everything you could possibly ask for.
This item will only keep on exceeding your expectations.
However, since the item is smaller than a standard rifle, many professionals may not feel comfortable using it — so you may consider that before getting it. On the other hand, the item comes at a higher price than expected, which can be inconvenient too.
LWRC Rifles Review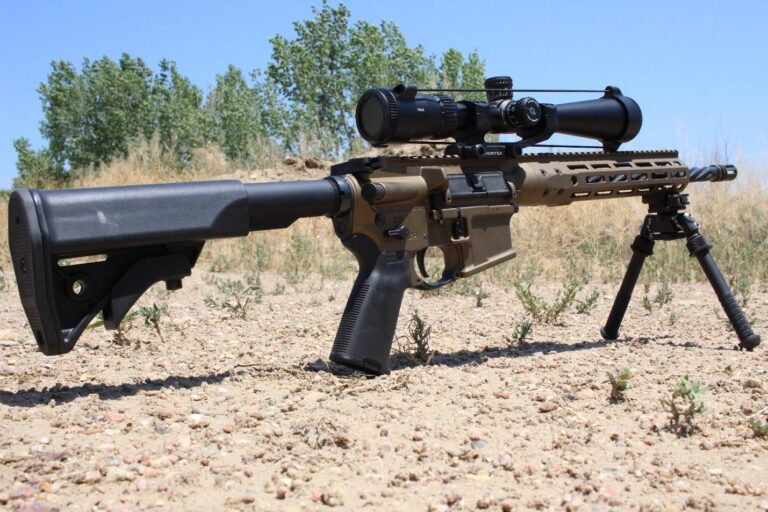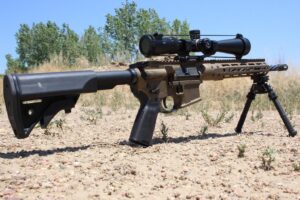 Finding rifles of small stature but great enough power can be quite rare, even impossible if you don't search well enough. But here's one that offers both of these facilities simultaneously, along with a lot more that will make you love it eventually.
We will discuss this further in our comprehensive review.
With the size of a sub-machine gun, this item will provide the firepower of a rifle cartridge.
It only weighs about 6.15 pounds, which is far smaller than what you'd expect at this level of power. But it also has a length of about 24.75-28 inches of length overall, with its barrel being about 8.5 inches.
What makes the item even handier and user-oriented is that it comes with slim modular handguards, making it simple to operate.
This aspect will allow the user to add rails wherever necessary, and this facility will save some weight off an already lightweight rifle.
On the other hand, you will be able to remove the top rails pretty effortlessly, without requiring extra tools or too much energy.
The benefit of this facility is that it will provide access to the piston components without preventing a repeatable zero for better performance.
If you want a rifle that will specifically be suitable for range courses along with successfully shooting around obstacles, then you might as well fall in love with this one. The product includes all the features and facilities that you could need for these tasks.
Not to mention, the device comes with an LWRCI Enhanced Fire Control Group trigger, which is highly efficient and works in favor of even the beginners.
Moreover, the rifle has a fire rate of 700 RPM, which makes it even more accurate for the users.
You will have to be rather patient while looking for this item because it may not always be available. On the other hand, it may seem to be a little too expensive for some users to afford it without any qualms.
POF vs LWRC Rifles Comparison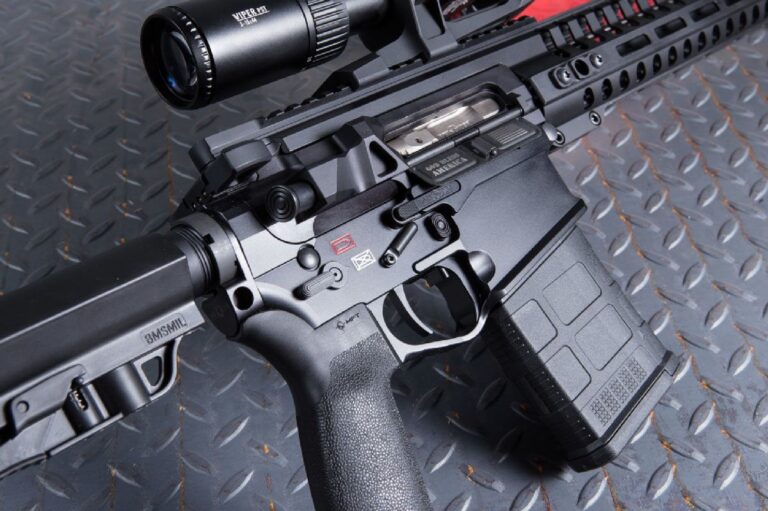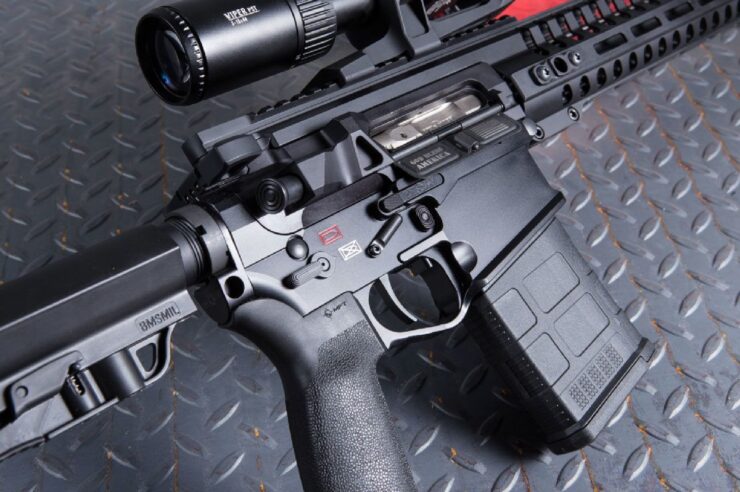 To choose between POF and LWRC rifles, you need to be well aware of their differences. Or else, it will be difficult for you to know which one is more suitable for you.
They are both great, as they both offer their own sets of benefits, but that will only confuse you further regarding which one you should get.

Therefore, in this section of the article, we will be focusing on the essential differences between both the rifles, so you can think it through before making a choice.
Durability
If you are concerned about the durability of any of these rifles, then we can assure you that you won't have anything to fret about.

POF is built with top-grade materials, such as high phosphate nickel coating on its bolt carrier group.
On the other hand, its counterpart may come with a light construction, but it still provides more longevity than expected.
Ease of use
Both the rifles are quite easy to use, making a lot of people choose them first when given with choices.
However, POF comes with more user-friendly features than its counterparts, making it a little more convenient to use in general. But LWRC is suitable for range courses, so that implies that you won't face any trouble using it either.
What Can It Be Used for?
POF and LWRC can be used for various purposes, but one is suitable for some tasks than the other.

For instance, POF is more heavy-duty, so it can be used for hunting or for other tasks that do not require much movement. On the other hand, LWRC is quite suitable for target shooting and practice in general.
Weight and Size
There isn't much difference between the two when it comes to weight and size, but it's still noticeable.
POF weighs about 7.3 pounds but is very compact in size.
Its counterpart is lighter than it, weighing 6.15 pounds, and is quite compact as well. This aspect also determines how comfortable you will be with the rifle, so do consider that.
Length
When it comes to the lengths of both the rifles, there isn't much to distinguish either. While LWRC comes with a length of 28 inches, POF is slightly larger and is about 34 inches long.
Despite that, POF comes with a compact design that may not be suitable for many professionals.
Price
The cost of both the items goes hand in hand. There is little to no difference between the prices, so it isn't much of a factor to be considered before choosing one.
However, LWRC is slightly cheaper than POF by 200-300 dollars. So if that's an advantage for you, then you can go for it.
Frequently Asked Questions
Among POF and LWRC, which one is better?
Both POF and LWRC are amazing in their own ways. However, they can be better than the others in some aspects. But if we are going for an overall opinion, then we would say that the one that would be better for you depends on how well it suits your requirements.
Is POF more suitable than LWRC for professionals?
POF is designed to be compact and lightweight, which is often more suitable for beginners. Hence, if you are a professional looking for something more robust and heavy-duty, then we will recommend you to go for LWRC. However, so consider your field of work before choosing.
Is it safe to use POF and LWRC?
Both the rifles have been designed while keeping the safety of their users in mind. Therefore, you won't have to be concerned about the gun harming you in any possible way during operation — you can rest assured and use it at all times.
How long can a rifle last?
Although maintenance and care can make a rifle go a long way, they are typically designed to last for 5000 rounds only. Hence, once you have shot from your rifle that many times, you can choose to replace it then, or you can wait for it to stop operating properly.
Which gun should I get for practice?
For range courses and target shooting practice, we would recommend you to go for LWRC. It has been designed in a way that makes it absolutely suitable for this purpose. However, that does not imply that it cannot be used for professional purposes, because it can be.
Conclusion
Both the rifles will be providing the performance and power that you are seeking. But one will surely be more apt for you than the other. That is why it is necessary for you to put some thought into finding the ideal one for yourself.
In our POF vs LWRC rifles comparison, you will not only find their essential distinctness but also details regarding what makes them great. So have some patience and make a wise choice.