Choosing a great compound bow for your needs and desires that doesn't render you broke is quite possible. There are many affordable compound bows on the market today. Whether you are a beginner or a professional archer there is an affordable bow for you under $500. You just have to know where to look for the best compound hunting bows under 500.
Editor Picks : 5 Best Compound Bows
Last update on 2023-09-17 / Affiliate links / Images from Amazon Product Advertising API
Determining The Correct Compound Hunting Bow For You
There are several aspects of choosing a bow that you need to know before going into a store and purchasing your first hunting bow. Please take a few minutes to review these crucial elements of fitting a bow to your body type and style.
1. Eye Dominance
Typically people have one eye that is more dominant than the other one. This is the eye that you will most likely use when sighting. One way to determine your dominant eye is to make a 'v' with your fingers and focus on a object in front of you. Close one eye and look through the 'v' at the object. Take note of what you see. Then close the other eye and again look through your 'v' and see if you can tell the difference. You mey use an archery target for practice.
2. Draw Length
It is important to adjust the bow to you, not the other way around. When you shoot a bow, an arrow should be shot from the bows full draw length. Which means that the bow is fully extended. Now for shorter people they typically need less draw length, likewise, taller people require more draw length. Often times people will set their draw draw length too long. Improper draw length will result in poor shooting and inaccuracy.
It could also cause pain while shooting. In order to determine your draw length you should measure your arm span and divide that by 2.5, the remaining number should be your proper draw length. If you are unsure about your draw length or how to set it properly please talk to a professional or your local bow dealer.
3. Righty or Lefty
Typically a bow will be designed for a left handed or right handed person. However, if you have never shot a bow or a gun before and your eye dominance doesn't match your hand dominance, you can choose to get a bow that matches your eye dominance and still learn to use it fairly easily. However, if you have shot a gun or a bow before, it maybe hard to make that adjustment. Be sure to go with the bow that feels comfortable for you and the way you will be shooting.
4. Axle to Axle Length
A bow's axle to axle length is the length from one wheel axle to the next one. Most people prefer the smaller 32" bows. A bow with an axle to axle length of 34" is normally used for hunting or competitive use. Also, a bow that is 36" is typically only used in competition. I recommend for beginners to get a 32" axle to axle length. If you are a hunter or shoot competitively then go with a 34" or 36". Keep in mind that a longer a bow and the more weight it is, typically the more stable and accurate in will shot.
5. Draw Weight
Selecting the proper draw weight for your bow will help you to steadily shoot your bow with more accuracy. On average your bow weight should be: for a small child the weight of the frame should be 10-25 lbs, for an older
child or small framed women the weight should be between 25-35 lbs, for a medium to large frame woman the weight will be 30-55lbs and for older boys and men the weight should be between 40-65 lbs. It's crucial that you properly fit you bow to your body type.
Suggested Draw Weight Chart
| Archer's Weight | Suggested Draw Weight |
| --- | --- |
| Small Children (70-100 lbs) | 10-15 lbs |
| Larger Children (100-130 lbs) | 15-25 lbs |
| Small-Frame Famale (100-130 lbs) | 25-35 lbs |
| Medium-Frame Famale (130-160 lbs) | 25-35 lbs |
| Small-Frame Male (100-130 lbs) | 30-45 lbs |
| Medium-Frame Male (150-180 lbs) | 45-55 lbs |
| Large-Frame Famales (160+ lbs) | 30-45 lbs |
| Large-Frame Male (180+ lbs) | 45-60 lbs |
What To Look For In A Compound Hunting Bow
You want a bow that you can maintain and take care of easily. Inspect it frequently to make sure it is proper order. Never dry fire your bow and be sure to wax the string on occasions.
You want a solid frame that will fit you. Most frames are made of aluminium, magnesium alloy or aluminum alloy. Be sure to check with your bow dealer to make sure you are buying a frame that fits your body type and arm span.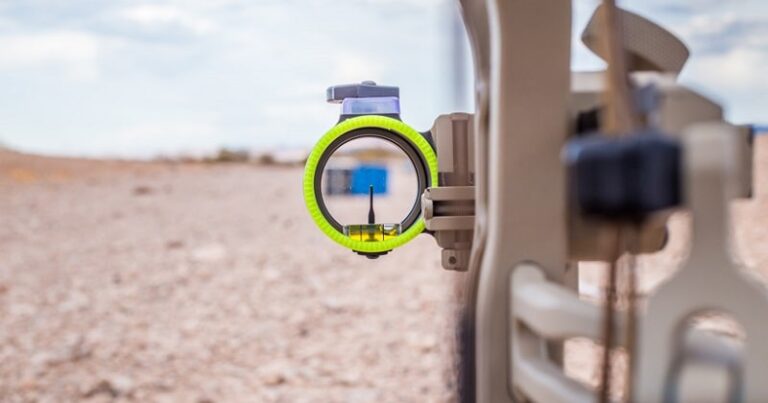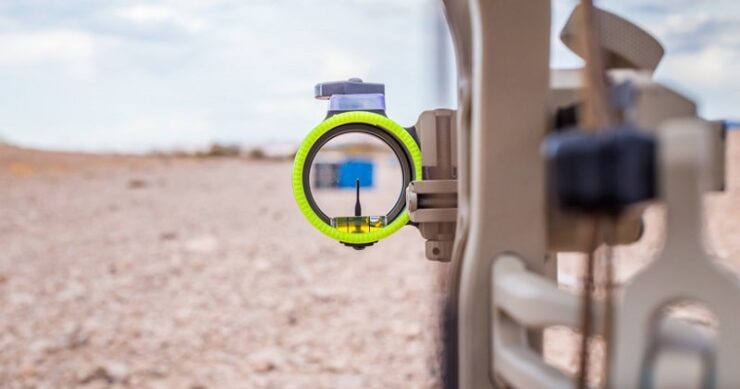 Sights are a device on a compound bow that help you aim and shoot the bow from a distance. They usually are a set of pins and are built in to the bow. These pins can be adjusted for different distances.
A peep site is a nice feature to have on a compound bow.
An arrow rest is meant to cradle and keep your arrow straight. There are some rests that come standard, however you can always upgrade or custom a bow with a better arrow rest. Be sure to use an arrow rest that feels natural to you and holds your arrow steady.
Some bows come with a string silencer while others do not. You can add a string silencer to your bow if you like. Silencers are great for hunters who don't want to scare away their prey.
When buying a new bow sometimes a case is included. If a case is not included I highly recommended buying a case for your compound bow to protect it from being damaged.
Some compound bows come with spare parts this is great for repairing or replacing parts that get a lot of wear and tear.
Some bows may come with their string already waxed or extra wax to use. If the bow that you want to purchase does not be sure to buy wax for your bow.
Top 10 Best Compound Bows Under $500 Reviews
There are many compound bows on the market. I took 10 best compound bows under $500 and reviewed them below for you. Be sure to check them out for yourself.
1. RAPTOR Compound Hunting Bow Kit Review
When it comes to finding the perfect starter bow for your children or for yourself, you want to make sure that you know what you're doing. Luckily, this Compound Hunting Bow Kit by RAPTOR is extremely easy to use. Since the draw length on this bow is adjustable (24.5-31"), it can be used by just about anybody at any skill level. The cams on this bow are fully machined aluminum with absolutely no type of plastic, which is typically uncommon among bows at this price range.
The length of this bow from axle to axle is 30 inches and it weighs 3.6 pounds, which is perfect for the younger archers out there. This bow can also brag about its best in class 315 foot per second when it's at max settings using a 350 grain arrow. This RAPTOR Compound Hunting Bow Kit comes with a five pin sight with light and level, a biscuit style rest, a stabilizer, a four arrow quiver, and a string stop. If you're looking for a best compound bows as beginner's bow, then this kit would be a perfect choice.
Pros
Peep sight and d-loop come pre-installed
Comes with allen wrench set and paper target
Comes in a variety of colors
Cons
Arrows sold separately
Cable guard can fall out
Cam breaks easily
Check on Amazon
2. Genesis Original Kit Review
Archery has been a sport for kings ever since the Middle Ages, and it's been a means of survival ever since man figured out how to use weapons, so it's not surprising that so many people are interested in getting themselves a bow. If you're new to the world of archery, then you just might want to check out this Genesis Original Kit, which is the perfect starter bow for archers of all ages. If you're a parent who's trying to get their child into archery, this bow would be perfect because it has no specific draw length requirement, meaning your child will never outgrow it.
This bow, which is actually an official bow for the National Archery in the Schools Prograp (NASP), includes a machined 6061-T6 aluminum riser, an aluminum cam and idler wheel, sturdy composite limbs, and high-strength bowstrings! Because this bow was built with single-cam technology you dont have have to worry about tuning issues. It also means that there is less recoil, less noise, and more accurate shooting, which is great for novices. This kit includes a bow, belt tube quiver, an adjustable arm guard, five aluminum arrows, a 3/16" hex wrench, and a helpful owner's manual! If you're interested in getting into archery then the Genesis Original Kit would be a great way to get started!
Pros
Comes in a variety of colors
Perfect for kids
Easy to use
Cons
Not the best bow for hunting
Arrows may bent
Needs to be restrung frequently
Check on Amazon
3. Leader Accessories Compound Bow review
If you're a fan of archery and hunting then you already understand that it can certainly be a pretty expensive hobby to enjoy. With that being said, it's completely understandable why someone wouldn't want to spend a ridiculous amount of money on a bow for someone who is just beginning to learn about the sport. When Leader Accessories made this compound bow they made it for people exactly like that in mind! With a max speed of 296 FPS and a brace height of 7", this bow is great for the beginning archer in your life.
This bow comes with an aluminum riser, and it takes arrows with a tip weight of 100 grains, so make sure that you get the correct arrows after purchasing this bow. Using the allen wrench included with this bow, you're able to adjust the draw weight and the draw length. This means that there is no bow press needed to get the job done. If your archer is right handed and ready to get started, don't hesitate to purchase this excellent bow today!
Pros
Plenty of colors to choose from
One year warranty
Durable
Cons
Draw length bolts come loose
Strings break easily
Short bow
Check on Amazon
4. Diamond Archery Infinite Edge Pro Bow Package Review
It goes without saying that archery is the type of hobby that can be for just about anyone, and fortunately, so is a bow just like this one. The Infinite Edge Pro Bow by Diamond Archery has an adjustable draw of five pounds to 70 pounds, so this bow is able to be used by a novice or by someone who has been enjoying the hobby for quite some time.
With the infinite draw setting and a solid back wall, this bow will give an edge that will blow any type of competition that you have right out of the water. The Diamond Archery Infinite Edge Pro Bow Package comes with the Infinite Edge Pro Bow, a 3-Pin tundra sight, a hostage XL arrow rest, a DeadLock lite octane quiver, a tube sight, a BCY string loop, a comfort wrist ling, and a 5" ultra-lite octane stabilizer. If you're going to spend a bit of money on a bow, you might as well purchase one that will last you for quite some time.
Pros
Comes in different colors
Easy to adjust
Easy to use
Cons
String silencers break off easily
Sight is made out of plastic
Cam breaks easily
Shortcode
Check on Amazon
5. Bear Archery Cruzer G2 Adult Compound Bow Review
People decide to join the wonderful world of archery for a different number of reasons. Of course, some people decide to take up archery for the challenge of the sport, and others choose to take up archery because they enjoy hunting. This Cruzer G2 Adult Compound Bow by Bear Archery is able to embrace the best of both worlds. It's important to mention that even though this maximum versatility bow was engineered for people of all ages and skill levels, people who have been in the sport for a while will still enjoy using this bow.
This ready to hunt bow comes equipped with six Trophy Ridge accessories including a four-pin sight, a Whisker biscuit, a 5-arrow quiver, a stabilizer and sling, a peep sight, and a nock loop. The Cruzer G2 Adult Compound Bow is adjustable from 12" to 30" draw length, and all of the adjustments can be done using an Allen wrench, meaning there's no need for a bow press.
Pros
Plenty of colors to choose from
Smooth draw cycle
Easy to use
Cons
Doesn't have draw stops
Strings may break
Limbs can pop out while in use
Shortcode
Check on Amazon
6. Southland Archery Supply Compound Bow Review
No products found.
Are you in the process of getting your little one interested in archery or maybe even hunting? If so, have you been having a hard time finding a compound bow that they are actually able to use? If so, don't feel bad, you're not the only one struggling to find a decent bow for their beginning archer. Luckily, that's exactly what this Compound Bow from Southland Archery Supply was designed for. This bow, which features a 35" axle to axle length and a 30" draw length, gives shooters the ability to harness their skills at a very young age.
Thanks to the compressed ABS limb, the weight, strength, and balance are spanned to extend the life of this perfect beginner's bow. For enhanced accuracy, the limbs are kept in place by the back pivoting limb pockets. It goes without saying that it can be difficult to find a durable bow for new archers, but this bow from Southland Archery Supply takes all of the guesswork out of it.
Pros
Comes in a variety of colors
Comes with a helpful user's manual
Lightweight
Cons
Peep sight snaps off
Strings twist when in full draw
Shortcode
No products found.
7. PSE Mini Burner RTS Compound Bow Package review
No products found.
Do you remember what it was like when you first started getting into archery? What about the first time that you were actually successful at shooting an arrow for the first time? You can probably agree that it's a feeling that can't be explained, and a lot of people who enjoy archery want to share that feeling with their own children. If you're looking for a great starter bow for your child, then you can stop searching right now. Because this bow comes with a highly adjustable draw length range of 16" to 26-½", this bow is perfect for the beginner archer in your life.
The PSE Mini Burner RTS Compound Bow Package RH Mossy Oak Break Up Country comes with a three pin sight, an arrow rest, a five arrow quiver, a 6" stabilizer, and three carbon arrows, so you won't have to purchase any extra accessories when you purchase this bow.
Pros
Lightweight
Easy to adjust
Great for kids
Cons
Buyer should purchase additional arrows
Quiver is difficult to attach
Shortcode
No products found.
8. Crosman Elkhorn Jr. Compound Bow Review
If you're looking for a starter bow for your child, or even for yourself, then this Crosman Elkhorn Jr. Compound would be a great purchase. This compound kit comes with the bow, two composite arrows, a two piece quiver, an arm guard, a finger tab, sights, and an arrow rest. Even though this bow was designed to look and feel like the bows that adults would use, it's perfect for children and novices. This bow is unbelievably durable, and it comes with heavyweight composite limbs and an integrated composite center-shot riser with a large sight window.
The composite cam system in this bow is supported by heavy-duty strings that are great in all types of weather conditions, cables, and a cable guard to ensure that your child has superior shooting performance. Considering that this bow is extremely easy to use, you can tell that it was designed with young archers in mind.
Pros
Easy draw
Durable
Great starter bow
Cons
Sighting needs improvement
Arrows break easily
Instructions are a bit confusing
Shortcode
Check on Amazon
9. XGeek Compound Bow Kit Review
No products found.
If you're looking for an entry level bow for yourself, your child, or your spouse, then the XGeek Compound Bow Kit might be a great option for you to consider. This compound bow is fully adjustable and unbelievably durable, making it the perfect bow for the young archer in your life.
This incredible package includes one bow, a five pin optical bow sight, a braided bow sling, a brush arrow rest, a rubber stabilizer, a bow release, a D-loop, a peep sight, two limb dampers, a set of Allen keys, some string wax, a bow stand, a six piece arrow quiver, an arrow puller, 18* carbon arrows, and a soft bow bag! Needless to say, you're definitely getting more bang for your buck with this beginner's bow. If at any point you feel dissatisfied with this bow, you can return it or have it fixed under the two-year warranty!
Pros
Easily assembled
Easy to adjust
Lightweight
Cons
Not available for left handed people
Arrowheads easily unscrew
Zipper on carrying bag breaks easily
Shortcode
No products found.
10. AW Pro Compound Right Hand Bow Kit Review
If you've been an archer for quite some time then you know that this hobby isn't exactly for the faint of heart, and it's certainly not for someone who gives up too easily. Being a good archer comes with plenty of time, incredible patience, and of course, a great bow to learn with. If your child is interested in learning the great sport of archery, then the AW Pro-Compound Right Hand Bow Kit would be a perfect first bow for your little one. This right handed bow comes with an aluminum alloy riser that has high intensity.
It also comes with a stainless steel cable guard, so you won't have to worry about your child having a difficult time using it. Thanks to the adjustable draw weight and draw length, your child will be able to grow up using and learning with this great bow! Before you spend a large amount of money on another bow, try out this beginner's bow first!
Pros
Comes with 12 carbon arrows
Easy draw
Easy to assemble
Cons
Release doesn't lock at times
Cam screws come loose
Difficult to tighten sight housing
Shortcode
Check on Amazon
What Draw Weight Bow Should I Get?
Archery is a whole lot of fun, but as we said before, it's not exactly easy. In fact, one of the most difficult parts of getting into archery is figuring out what draw weight you should be working with. The draw weight is the amount of force needed to pull a bow and it's measured by pounds. A lot of times, people tend to get a little overzealous when buying a bow and they assume that they can pull something much stronger than they're actually able to. Not only could this cause you to injure yourself, but it will also prevent you from actually shooting the arrow the right way, if at all. If you're new to archery and you're unsure of what draw weight you should be using to correctly shoot the bow, keep these simple key points in mind and you'll do just fine.
The first thing you need to know is that there is a difference between a compound bow and a recurve bow. While there's a bit more that goes into determining the draw weight of a recurve bow, compound bows all have a set draw weight and can be adjusted by a professional. The biggest things that you need to think about are your height, your weight, and your strength.
For example, if you weigh 120 pounds and you're pretty short, you most certainly wouldn't get a bow with a draw weight of 70. Doing so would cause you to struggle with the bow and potentially hurt yourself pretty badly. All in all, if you know your strength (and you're being honest with yourself) you shouldn't have a difficult time finding the right draw weight. If all else fails and you still aren't sure, you can always speak to a professional to help you through the process.
Frequently Ask Questions On Compound Bows
Q: How Long Do Compound Bows Last?
Ans : If you have a compound bow it should last you from 15 to 20 years. This is obviously a pretty long time, which is great, but your bow will only last that long if you properly take care of it. Failing to clean it, leaving it out in the rain, and using it improperly will cause your bow to wither away much faster than it would if you took care of it.
Q: What is the Highest Draw Weight for Compound Bows?
Ans : While standard best compound bows typically go up to 70 pounds, there are professionals out there who go much higher than that. For example, Mark Stretton from the United Kingdom drew a longbow that weighed an incredible 200 pounds in 2004 at The Bath Archers in Somerset! While that's impressive, you shouldn't try doing that yourself (unless you're a professional).
Q: What Size Compound Bow Should I Use?
Ans : While it would be convenient to say that everyone should use the same size and weight bow, that's just not the case. Every single person is different and has different abilities, so the size of your compound bow is entirely dependent on your own size, weight, and strength. If you're unsure of which bow you should use, you can always speak to the professionals for help!
Final Thoughts
Choosing an affordable compound hunting bow that fits you and your archery needs is not hard. You just need to know how to fit a bow to your body type before you start searching. Be aware of the draw weight, draw lengths and axle to axle lengths you are looking for. I highly recommend, especially for beginners to start with a less expensive bow. As you learn how to shoot and hunt you will understand compound bows better and may want to change to a more customized bow.
All of the above best compound bows that I reviewed are under $500 and work just as a great as any expensive, customized compound bow. My favorite from the above reviews, I would have to say is the Diamond compound bow. I love how flexible and adjustable it is. It's also quite easy to use for any skill level. This bow grows with you and your level with such ease. The fact that it is a multi-shooter bow with great sights, and has great flexibility makes it a great purchase for the price.
Thank you for taking the time to read this article, please share with your friends and feel free to comment below. Have fun shooting and be safe everyone!