Well, we all know how easily out outdoor ventures can turn into something more-exhausting and less-fun. You most definitely don't want that. An instant tent that is easy to set up can save you a lot of time and effort. But mind you, an easy setup tent must also offer some good enough features.
A tent can help you stay warm, protect you from animals and water, give you a more comfortable experience. There is a huge variety of easiest tent to setup available in the market. But we have chosen only the best ones for this article.
Things to consider before buying
Before buying a tent, the general considerations are related to its size, material, and the number of people it can fit. To buy a tent that is easy to assemble, one should consider some other factors as well.
DESIGN
The design of a tent is an important factor that makes the assembling of a tent difficult or easy. Some designs available are easy to assemble in comparison with others. The common tent designs include:
Pop-up tent
The cheapest and the easiest tents to set up our pop-up tents. Due to their low price, they are the most popular tents out there in the market. They are an automatic choice for travelers and hillwalkers due to them being light-weighted and compact. Pop-up tents look small from outside, but they are spacious from inside. Due to them being lightweight, they get exposed to extreme weather.
Dome tent–
Dome tents, having a two-pole construction are as convenient to set up as pop-up tents. In addition to that, dome tents are a bit studier that allows them to resist extreme weather conditions. Dome tents also fall in the category of cheap tents
Ridge tents–
Construction of Ridge tents is more complicated as compared to other tents. Pitching this tent for the first time takes longer than usual. If you have experience of pitching it once, you will not find any difficulty pitching it for the second time.
Cabin tent-
Cabin tents are big and require 2-3 people to set them up. Due to its size, it can accommodate more people than the usual tent, making them ideal for families and larger groups.
Inflatable tent-
Inflatable tents are quite famous these days. They are expensive in comparison with other tent types and are a bit on the heavier side. They are convenient to set up as they contain hollow panels that can be filled with air instead of traditional tent poles. One can easily layout the tent, set-up guy lines, and inflate the tent.
Tunnel tent–
When we talk about spacious tents, tunnel tent comes right on the top. There is a lot of versatility in these types of tents. Due to its length, 2-3 people are required to set-up these tents
Geodesic tent–
Geodesic tents are more studier than dome tents, keeping them unexposed in extreme weather. But they are more expensive at the same time. Their stronger crossover structure makes them an ideal choice for camping at places with a stronger breeze.  Due to its compact structure, it is not ideal for larger groups.
Vis-à-vis tent–
Having two or more separate sleeping areas makes Vis-à-vis tents spacious of them all. When it comes to pitching, it is the most difficult of them all. It can accommodate a large number of people, making it a family tent. It is not suitable for traveling purposes, it is more of a family camping type.
SIZE AND WEIGHT
Size and weight are the most important factors when it comes to pitching a tent. The tent is more convenient to put up when it is smaller in size and lighter in weight and vice versa. Tents that are smaller in size and lighter in weight, usually have fewer parts. So, it takes less time to set them up.
Sometimes, tents that are smaller in size are trickier to set up than the larger or heavier ones.
PRICE
The most critical factor in buying any product is its price, buying a tent is not different. Your budget decides the type of tent you could afford based on your requirements.
Usually, tents that are convenient to set up are expensive. But convenience is not always the factor that decides the price of a tent. Brand, design, material, and size are the factors when combined, decide the price of a tent.
Buying easy to set up tents from online retailers, will give you a better price in comparison with buying from stores directly. You need to find the best deal for yourself.
8 BEST EASIEST TENT TO SETUP
1:
CORE 9 Person Instant Cabin Tent
– easiest tent to set up
CORE 9 is the most convenient and less time-consuming, as it only takes 60 SECONDS to set up. 60 seconds gives a wrong idea of its size. It takes only 60 seconds to set up, but it is not small at all. You won't believe it, but it can accommodate 9 people at a time, which is quite insane. It contains advanced vents, which draw cool air in and allows hot air to escape. Its oversized mesh ceiling panels allow you to enjoy the natural view. It is resistant to extreme weather conditions.
Key features:
Capacity: 9 people
Dimension: 14′ x 9′
Weight: 5 lbs
Pros
Easiest set-up
Spacious
Includes rain fly, tent stakes, and carry bag
Contains electric cord access port
Cons
Not suitable for travelers
2 people are required to set it up
2:
Big Agnes Fly Creek
– best
instant set up tents
When it comes to traveling, these tents are ideal for camping in unusual places. It is one of the most convenient tents to set up and has great value. It is lightweight yet spacious and can accommodate 2 people easily. Due to its ultralight material and waterproofing, these tents are weather-resistant.Check Price On Amazon
Key features:
Capacity: 2 Person
Dimension: 4″ x 19″
Weight: 2lb 5oz
Pros
Lightweight
Maximized floor and headspace
Waterproof
Cons
Can accommodate 2 people only
Expensive
3: Coleman Steel Creek –
quick set up tent
These tents are so easy to set up that people with zero camping experience could set this up in 7 minutes. So, if you want to go camping with friends or family and are afraid of setting up a tent, this is your go-to option. It could accommodate up to 6 people at a time. The rain fly does not cover the screen room. Most users have complained that the clips that came with tent were already broken right out of the box
Key features:
Capacity: 6 Person
Dimension: 26 x 10 x 10 inches
Weight: 01 pounds
Pros
Easy setup
Spacious
Cheap
Insect-free lounging
Cons
Rainfly does not cover the screen room
Not good in rainy weather
Clips broke right out of the box

4: Napier Backroadz Truck- easiest tent to set up by yourself
Napier came up with the idea of camping on the back of a truck. This tent is easiest to set up, as it simply assembles in the back of the truck.  This ten-minute set-up could give you a unique road trip experience. They are highly weather-resistant.
Key features:
Capacity: 4 Person
Dimension: 6′ long, 58-62 inches height
Weight: 4 pounds
Pros
Convenient
Easy to set-up
Weather-resistant
Cons
You need to own a truck
Non-durable

5: Weanas Professional Backpacking – easy to put up tents
 This tent requires only one person to set it up, this tells us how convenient it is. One can easily set it up all by itself, without any help.The material used is polyester and it comes out in 3 sizes 4 colors. The ventilation system of this tent is great. It is water and SPF proof. Users have complained that size is too small as compared to what is advertised.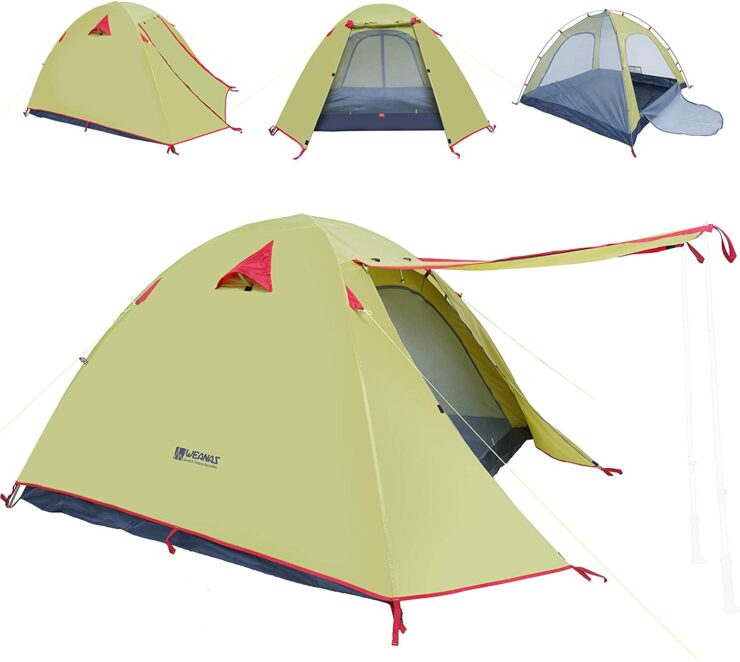 Key features:
Capacity: 3 Person
Dimension: 5"x5.9"x5.9"
Weight: 5 Pounds
Pros
Two doors
Easy to install
Water and SPF proof
It includes: Inner Tent x 1, flysheet x 1, Carrying Bag x 1, Fixed Rope x 4, Tent Stakes x 12, Frame Pole x 2
Cons
Size is too small
A user complained about not receiving tent poles
6: KAZOO Family Camping-
easy tents to pitch
Spacious camping tent that can accommodate up to 4 adults, perfect for family camping. It comes in 2 sizes; 4 people / 6 person. It has 3 color options to choose from. The set-up time is only 30 SECONDS. Only one person is required to set it up Contains a double layer of netting mesh and polyester, making it a high-performance instant waterproof tent. This tent does not hold up to the slightest of wind.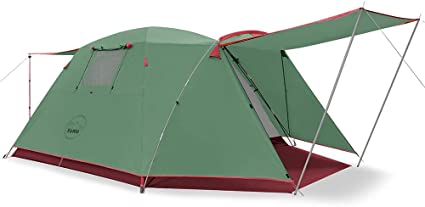 Key features:
Capacity: 4 Person
Dimension: 95 x 86 in
Weight: 31lb
Pros
30 seconds instant set-up
Automatic frame made up of aluminum
Separate porch area
No-see-um netting
Rainfly
Cons
Can't hold up in the slightest of wind
7: NTK Laredo GT – fast set up tents
It is an extended dome type tent which is easy to set-up and studier at the same time which makes it ideal for 3 season camping. It has a two fiber-glass pole structure, which can accommodate up to 9 people. Full coverage rainfly makes this tent fully waterproof, only the door is without fly.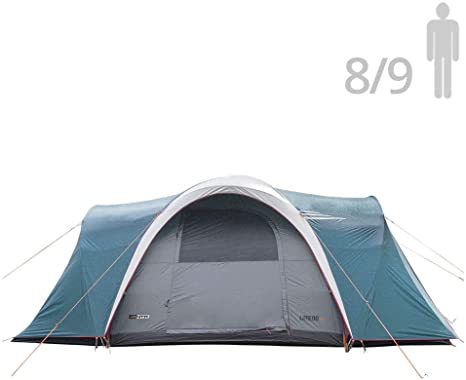 Key features:
Capacity: 8-9 Person
Dimension: 07 H x 10 W x 11.81 D
Weight: 5kg / 18.74L
Pros
Lightweight
Spacious
3 season camping tent
Poles are made up of 100% virgin NANO-FLEX shock-corded fiberglass
Cons
The door is without fly
The floor of this tent is not seamless
8: Coleman Cabin –
instant up tent
It is large yet very easy to set-up by one person, all alone, that too in only 2 minutes. A spacious tent that could accommodate up to 6 people, its 6-foot height allows people to stand inside it. Made up of Poly-guard fabric, it is highly durable. It consists of an integrated rainfly that ventilates the air through the tent. Its darkroom technology keeps the tent cool by blocking out the sunlight. The tent has a one-year limited warranty as well.
Key features:
Capacity: 4 Person
Dimension: 9 x 4 ft.
Weight: 6 pounds
Pros
Fast setup
6 feet high ceiling
Weather Tec System
Darkroom technology
Cons
The door opens only on the right side
Some leakage problems reported
Conclusion:

For beginners, most of the tents can be a pain to set-up. Luckily, there are tents in the markets that take a few seconds to set-up. Ideally, if you don't have much camping experience, opt for the tents that are easy to set-up. So, don't spoil your camping experience by spending hours setting up a tent.
Good tents will protect you from extreme weather conditions. So, always prefer weather-resistant tents over tents that get exposed even in the slightest of rain. You need to take good care of your tent, to use it for a longer period.
We have done the hard work for you. Choose a tent which suits you the best. Happy camping!
FAQs:
How Can We Dry Our Tent Quickly?
Try setting up your tent at a place where there are enough breeze and sunlight
Hang the tent anywhere high e.g. over the shower curtain rail
Separate the rainfly from the tent and spread-out the tent
Once the tent is dried, never leave it under direct exposure of sunlight for long
Why does your tent get wet inside?
Poor ventilation system results in intent condensation. Tent condensation is mainly due to moisture that builds-up due to various reasons:
Wet boots, cloth, and other camping gears
Setting-up tent on a damp ground
Are our teepee tents easy to put up?
It is the easiest tent to set-up requiring only one person to set it up.
Are instant tents durable?
Depend upon the tent. Good instant tents are durable. While cheap instant tents might fall out on the first camping experience. A good instant tent is a bit expensive than the usual tents. So, if you can't afford a good quality instant tent, go for the regular one.
What is an instant up tent?
An instant tent is simply a tent that simply sets-up in few seconds. You don't need to be a professional to set them up.
When's the best time to buy a tent?
The best time to buy a tent is just when the camping season is about to end. Most of the brands offer sales at the end of the season so that they could unload their inventory.