Camping for several days is substantially joyful but, in this case, it can only be convenient with a tent with a stove jack. For safer camping, it is essential to have all the required gears like;
Wood-burning tent stoves
A proper ventilation system
A quality tent
A tent with a stove jack should be of durable material so that it would not tear off after using it once or twice. Also, the weight of a tent matters a lot, therefore, if you have to do more trekking or hiking, you should have lightweight backpacking tents.
For your easiness, we have assembled a list of the best tent with stove jacks keeping durability and nature as the foremost priority.
A Buying Guide To The Best Tent With Stove Jack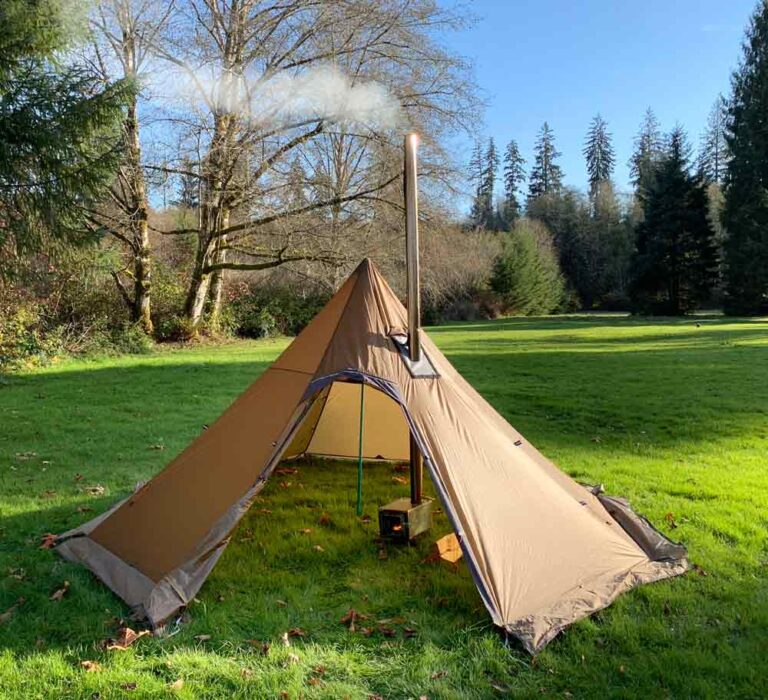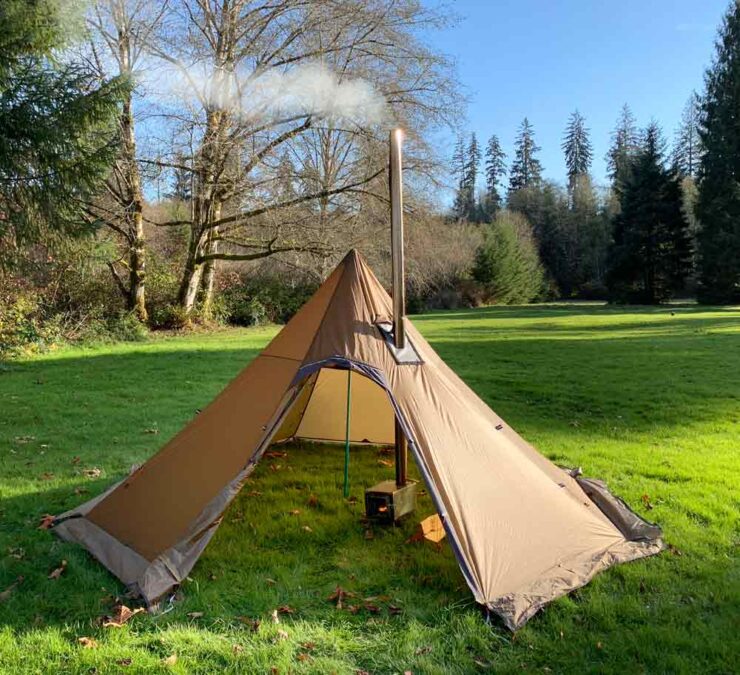 Buying the best tent with a stove jack can be pretty hard if you do not know what to look for before buying. So, considering your comfort as our priority, we have prepared a fully researched and thorough buying guide to help you!
There are some factors that you need to consider before buying a tent with a stove jack and those factors include the following:
Tent material
Weight of tent
Quality
Mesh screen on windows
Space
Ventilation
Dimensions (capacity & size)
Construction
Nature (weather resistant)
Livability
Stove jack design
Frame & Design
Tent Material
The durability and nature of a tent depend upon the material of the tent. A tent's material can be classified into two categories including the following:
Fabric material
Buildup material
Fabric Material
Generally, the tents use two types of materials i.e., polyester or nylon.
Family tents are mostly fabricated of polyester and on the other hand, backpacking tents are mostly made of nylon as it is light in weight.
These tent fabrics are covered with some coating to resist UV rays.
What are the Pros & Cons of Polyester or Nylon?
The following table will help you in better understanding of pros and cons of polyester or nylon:
| | |
| --- | --- |
| Pros | Cons |
| Cheap in Price | Not good insulators |
| Lightweight | Not breathable |
| Easy and quick to dry out | Deteriorate and lose color with time |
| Require less maintenance | Produce noise in the breezy weather |
Canvas
(Cotton Tent Fabrics)
Canvas is the typical material used in the making of tents. These canvas tents are made of cotton and possess a lot of great properties.
Cotton tents are covered with a membrane of polyester that is waterproof.
What are the Pros & Cons of Canvas or Cotton Material?
The pros and cons of the canvas material are given in the following table:
| | |
| --- | --- |
| Pros | Cons |
| An insulating material | Bulkier |
| Breathable fabric and absorbs water | Not weather resistant |
| Quieter while in contact with the breeze | Requires more maintenance |
| Resistant to UV rays | Easier to snag |
| Smells nicer | Expensive |
Poly-Cotton Tents
It is a combination of polyester and canvas tents. It is basically a cotton fabric by the base and weaved with polyester.
You will find all the significant properties of canvas tents in this fabric.
This fabric is slightly resistant to weather conditions.
Polyester weaving helps in reducing the risk of tent tearing.
The drawbacks include;
Heavier
Requires more maintenance
Pricy
Buildup Material
The durability, weight, and nature of a tent are indicated by the buildup materials. The buildup materials of a hot tent with stove jack include denier, thread count, GSM, and RipStop.
Denier
(D)
To measure the thickness and weight of a fabric, a unit "Denier (D)" is used. The more the thickness of the fabric, the higher the number of D. different types of fabrics have different values of strength and so the Denier. For example, nylon has a lesser number of D with a strong and durable tent yet the weight is very low. The lighter the tent, the lower the number of Denier.
For camping tents, the number of Denier is usually high and is approximate;
→ The most ideal Denier number for camping tents is 150D and offers resistance to sunlight and harsh weather conditions for a longer period.
→ In rooftop tents, the Denier number is around 320D to 400D.
Thread Count
(Per Square Inch)
The thread count is referred to the number of threads utilized in the making of fabric. The thread count is basically known as the number of threads used per square inch. If a fabric has 190T, it indicates that 190 threads are used per square inch.
The lower the number of threads, the higher the Denier rating and the thicker will be the fabric.
The higher the number of threads, the higher the density of fabric with a lower Denier rating.
To buy a high-quality tent, go for a fabric with a higher number of threads. A fabric with a lower number of threads feels softer but it depends on the quality of the thread's fabric.
GSM
(Weight of Tent)
Gram per square meter (GSM) defines the weight of the fabric.
Higher the GSM, heavier and thicker will be the fabric.
Keep in mind, weight is not such a factor that can determine the quality of fabric.
If you want to buy a high-end polycotton tent at low prices, choose the one with GSM ranging from 280gsm to 380gsm.
The following fabric weight chart will help you in better understanding:
GSM

Ounce per square yard

(Oz / sq2)

Fabric

Application

67.81

2
Wadding hollow fabric; Light in weight

Quilts have padding between the front and back layers.

Fill cushions, duvets, and toys with this material.

135.62

4
Cotton; Light in weight

Make skirts, summer coats, blouses, and other crafts with it.

196

5.78
PVC netting; has medium weight

Can be used to make golf nets and skip nets.

237.34

7
Quilted waterproof fabric; has medium weight

Quilted jackets, outdoor wear, and pet bedding are also examples of this category.

275

8.11
Jute Hessian fabric; has medium weight

Bags, sacks, agriculture, and building sectors all use it.

340

10.03
Decitex scrim polyester; has medium weight

Use in commercial applications such as roof strengthening.

406.87

12
Denim fabric; has medium weight

Trousers, coats, heavier tops, and skirts are made from it.

508.58

15
Waterproof PU fabric; heavy in weight

Fabric for tents, packs, outdoor clothing, umbrellas, and raincoats are all available.

700

20.65
Melton wool fabric; heavy in weight
Hats, shirts, blankets, suits, uniforms, and furnishings are made with it.
Quality
The most important factor to consider before investing in a tent with a wood stove. Make sure the tent you are buying is solid enough to stand harsh weather conditions.
It is recommended to buy a tent with fire retardant material so that you would not get involved in any fire accident.
Mesh Screens on Windows
A mesh screen window is made by connecting strands; as a result, a web-like net is made.
Mesh screens are fabricated of materials like fibers, metals, or other materials that are flexible.
For a tent, it is essential as it makes the tent flexible, durable, and strong.
Space
Another critical factor to consider is the available space.
Winter camping tents and stove jacks are available in a variety of sizes and shapes.
As a result, it's critical to find a camping tent with enough room to fit your party. So, depending on who you are traveling with, you can choose.
Ventilation
A few hot-weather tents, such as the Core, have advanced ventilation systems that have air-distribution openings close to the ground. This allows cold air to enter, which then drives the hot air conditioning via the roof.
The temperature inside can reach dangerously high levels, and if you perspire, the humidity level increases, potentially leading to heat exhaustion. Stay away from four-season tents in case you are looking for a blistering weather tent.
Dimensions
(Capacity & Size)
If you are going as a group of three, you can look for a four to six-person tent.
Two-person tents are small and do not leave much room for storage.
The roofs of larger tents are usually higher than those of smaller tents.
To do this, you will need something like a 12-person tent.
Construction
The following considerations will help you build an effective camping tent:
The use of color coding
Color-coded tents are advantageous since each tent pole has a color label and the same color is used to assemble the tent corners.
Material

of the poles

Poles are usually made of aluminum or steel since these two materials are the most durable under all conditions.
Hubs

with Poles

Since you can quickly work out where each pole should be fixed, putting up tents with pole hubs is easy. Pole hubs also improve the tent's longevity.
Clips

for poles

Pole clips give the tent fabric friction, allowing for a higher pitch and more ventilation under the rainfly.
Wall Construction
A tent with two walls provides durability and power. To withstand environmental conditions, it has an inner mesh shell that is protected by a rainfly. These divided layers also serve as a moisture buffer.
Nature
A lightweight rainfly, bathtub-style elevated floors, and seam taping are all characteristics of a weather-resistant backpacking shelter. These features aid a tent's longevity and allow it to withstand harsh weather conditions.
Livability
The term "livability" refers to how at ease a person feels when inside a tent.
Ventilation, interior volume, and vestibule are also included.
Stove Jack Design
Tents that possess one or two stove jacks are available. Many get them on the roof, while others have them on the side walls as well. A VidaLibre Camping Stove can be used for it.
Design & Frame
Cabin tents, dome-style tents, and bell-shaped tents are among the options.
The available designs of the tents include:
Instant tents
framed tents
single-pole tents
The following video will help you more in choosing a tent with a stove jack:
Top 6 Best Tent With Stove Jack
For your feasibility, we have compiled a list of the best tent with stove jacks. All the products are selected considering quality, construction, design and frame, livability, ventilation, space, and capacity. So, let us dive right into the details and specifications of the chosen products.
1. WHITEDUCK Avalon Canvas Tent With Stove Jack-
All-Weather Tent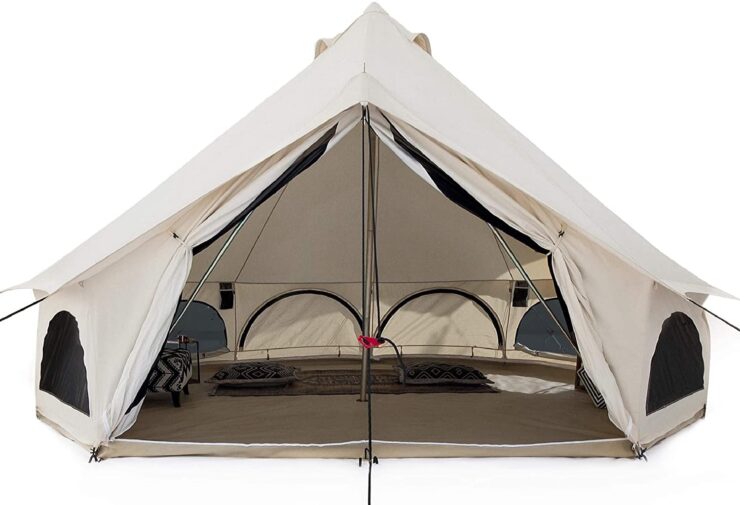 Key Features
Weighs 10.1 oz
20 inches in size
4 seasons tent
Water repellent material
Closure Type: Zipper
Galvanized Steel poles
Double-stitched seams
Shock absorbing grounding system
Silicone coated stove jack
5 inches pre-cut pattern
Functional tension cord
Built-in roof vents
This is a bell-shaped camping tent that can easily fit up to eight campers. In terms of structure, this camping tent is made of fire-resistant material, which ensures that no fires occur inside the tent. When the sun reaches its peak during the summer season, there is a mesh door and four windows to pull fresh air inside the tent to make you feel alive.
The White Duck Canvas Bell Tent With Stove has a wide living area and a perfect peak for moving about easily inside the tent. A rain flap is built to keep water out of your building and away from your belongings. Also, this is a tall tent and is very spacious!
Pros
Waterproof
Fire resistant
8 windows
Decent ventilation
Cons
2. WHITEDUCK Regatta Canvas Tent With Stove Jack-
Hot Tent with Stove Jack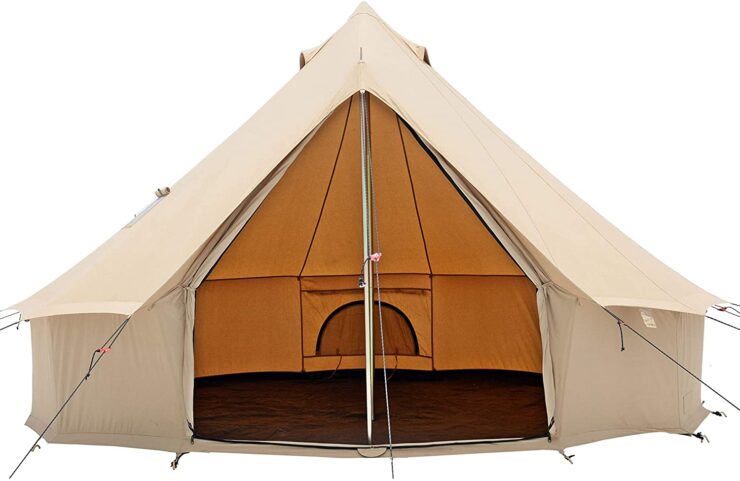 Key Features
Weighs 8.5 oz
39 x 15 x 10 inches
4 seasons tent
Triangular, round in shape
Polyethylene base material
Materials: Vinyl, Canvas
Closure Type: Zipper
Steel pole material
Waterproof and UV resistant
4 strategic vents
5 inches stove jack
When it comes to this hot weather tent, you should be aware that if it gets too humid, the texture will have trouble staying together. Things could liquefy or self-destruct, but the silicon coating prevents this from happening. The tent also included the well-known YKK Zippers, which can withstand cyclones, typhoons, and a variety of other disasters. These zippers are almost indestructible in some places.
The tent is also lightweight, weighing just 2.6 pounds, making transporting it from one location to another a breeze. It doesn't come with a tent frame, so you will be able to set it up quickly and easily. This hot weather tent is also very spacious for two people. Obviously, the addition of a top opening area for the consuming oven and vent pipe necessitates the reduction of some stove space. Without it, the tent could comfortably accommodate three people.
Pros
No rainfly required
Spacious
Waterproof
Easy to set up
Sturdy construction
Cons
3. Playdo Yurt Tent With Stove Hole-
Great Tent For Hosting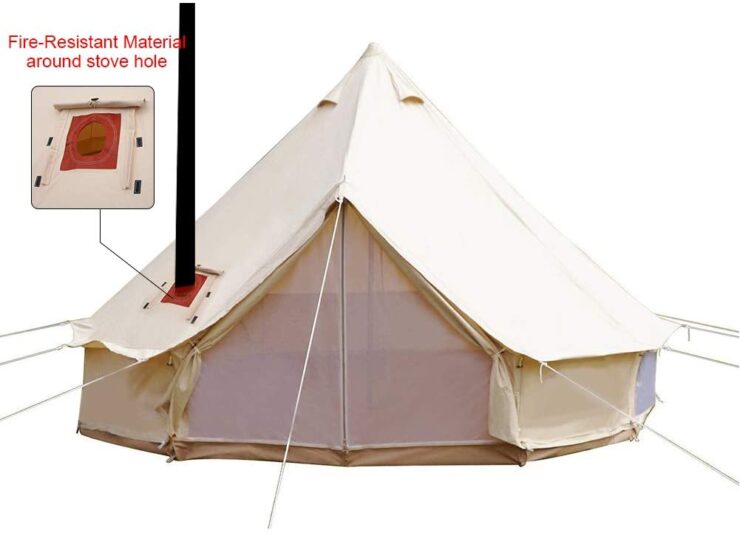 Key Features
Weighs 42.2 pounds
8ft x 8.2ft x 23 inches
9" electric cable
Solid SBS zippers
300 gsm cotton material
Waterproof and sturdy
Offers easy installation
5 inches (diameter) stove vent
Resists light and moderate wind
This is one of the toughest camping tents available on the market. This canvas tent with stove jack is made of cotton cloth and can comfortably withstand the forces of nature, such as heavy rain, wind, or snowfall. Not only that, but this tent is waterproof, so rainwater will not seep into your room. So, as the weather takes a turn for the worse, you can be assured that it has your back. It has air vents and meshes windows for ventilation, which not only provide beautiful views but also draw fresh air into the tent.
On the roof, there is a long stove vent pipe that will allow the smoke to escape. Straps should be used to protect the pipe's end when not in operation. This canvas tent with a stove jack can be set up quickly and conveniently by only one person. This tent is wide enough to fit large families and can accommodate chairs or tables while also allowing you to walk about easily inside.
Pros
Durable and sturdy
Decent ventilation
Fire resistant
Cons
A smooth zipper would be appreciated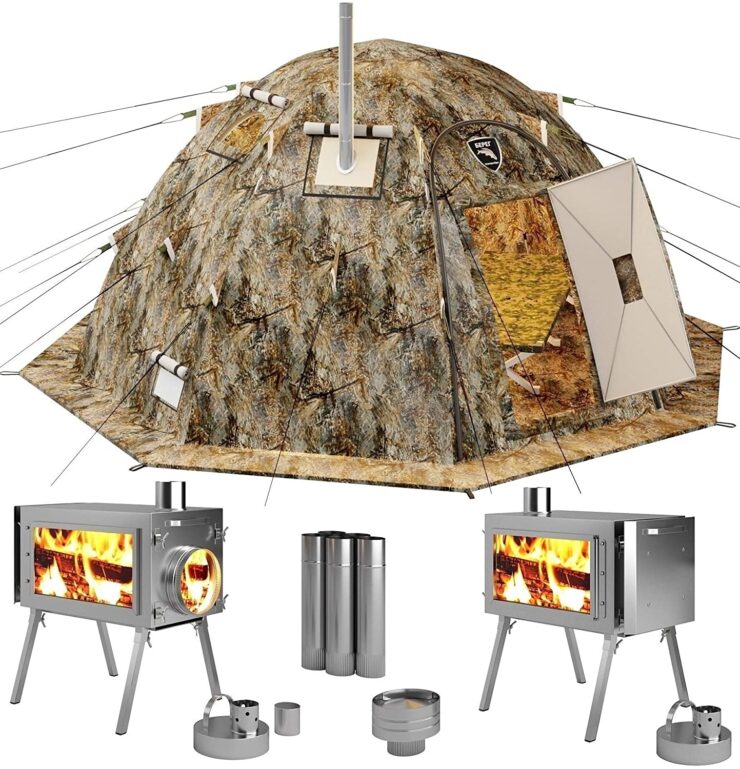 Key Feature
Weighs 102.5 pounds
98 x 25.98 x 23.23 inches
Wood pole material
Round in shape
Closure: Zipper type
5 person occupancy
Materials: Aluminum, canvas, steel, tarp, fabric
Heavy-duty double layer design
Stainless steel stove
Heat resistant up to 1200 degrees
If you are searching for a camping tent with a stove jack, this dome-shaped tent is a great option for those who want to camp in the winter. This winter tent with stove Jack is easy to set up and comfortable enough to comfortably fit 5 campers. It will keep you safe while still protecting you from the chilling winds. It is one of the best tall tents to stand up in!
The double-layer structure of the tent with a stove jack makes it ideal for use during the winter months. There are windows in the tent that allow air to flow to keep the tent cool. Also, the floor is detachable and completely waterproof, ensuring that groundwater does not seep into your room. Since the tent is made of fire-resistant material, you can be assured that you will be secure. So, this family camping tent has all the features that you might want in your tent!
Pros
Accommodates 5 persons
Stove included
Fire-resistant
Double-layered construction
Cons
5. DANCHEL Outdoor Cotton Canvas Tent-
Cheap Tent With Stove Jack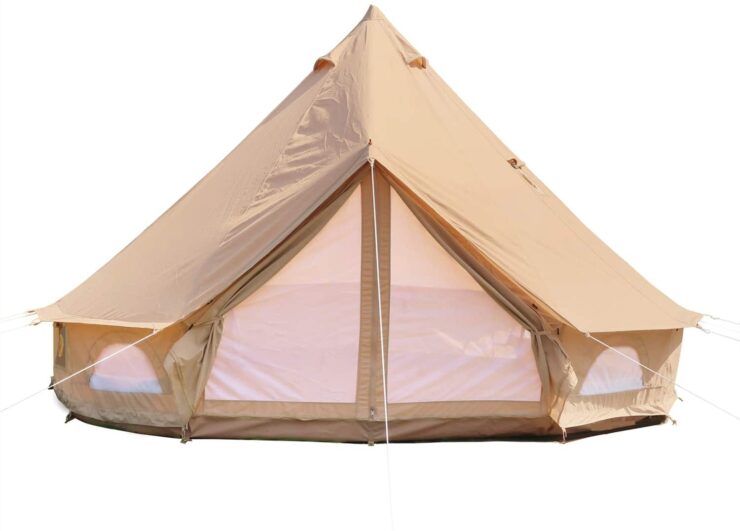 Key Features
Weighs 44 pounds
4 x 11.4 x 10.6 inches
Made of steel
3000 mm water resistance technology
4 person occupancy
Closure Type: Zipper
Steel pole material
Cotton canvas fabric
4 seasons tent
Two 5 inches stove jacks
285GSM
One year warranty
This camping tent with a stove jack is tough enough to survive even the heaviest rainstorms and keep you dry. The fact that it comes with two stove jacks; one at the roof and the other connected to the wall and deserves special notice. You should cover these stove jacks with flaps while they aren't in use. These stove jacks are designed to meet industry standards and this is a four-season tent with a stove.
This tent is very solid and durable, allowing it to survive wind gusts. On top of that, you'll have a mesh door and four windows to let fresh air into the tent. There are also four air vents that help circulate the air inside the tent effectively.
Pros
Durable and breathable fabric
Two stove jacks
Decent ventilation
Cons
Heavy in weight
Expensive
6. OneTigris Smokey HUT Hot Tent-
Best Backpacking Tent With Stove Jack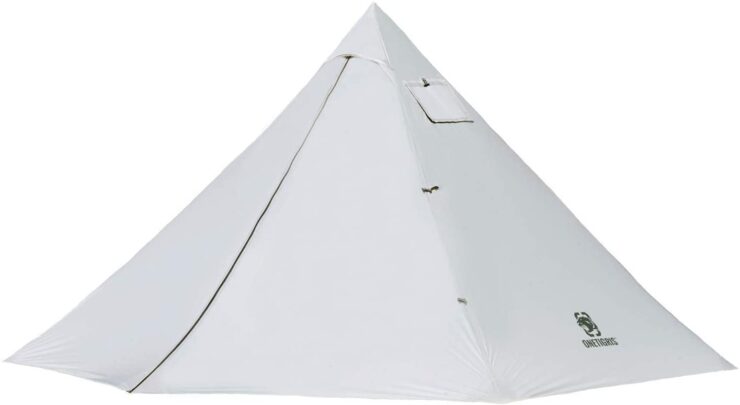 Key Features
Weighs 2.6 pounds
5ft D x 5.2ft H x 160cm
Triangular in shape
4 seasons tent
2 person occupancy
YKK Zippers material
2000 mm water resistance technology
Aluminum pole material
20D Silicon coated nylon fabric
2 ventilation windows
Quick and easier setup
The OneTigris Smokey Hut Tent with Stove Jack is a minimalist backpacking tent with a stove jack. It is the lightest and cheapest tent, weighing just 2.6 pounds. The nylon is coated with a 20D-silicon, which adds water-resistance as well as fire resistance. It also has waterproof YKK zippers and is waterproof-sealed at the seams. This tent has a waterproof rating of 3000mm, making it ideal for mild to moderate rain but not for heavy rain.
The tent also included the well-known YKK Zippers, which can withstand cyclones, typhoons, and a variety of other disasters. These zippers are almost indestructible in some places. Furthermore, the tent holds up well in the rain. It was given a waterproof classification of 3000mm. The ranking does not imply that this tent's waterproof design is brilliant. Since the tent does not come with a rim, you would need to purchase one separately or sleep on the grass.
Pros
Lightweight
Cheap in price
Durable and sturdy
Easy to set up
Cons
Conclusion
Considering all the significant factors including ventilation, construction, design, framework, style, nature, and all other factors, we have given the above list of products. In our recommendation, the best tent with a stove jack is WHITEDUCK Avalon Canvas Tent.
Types of Tent Stoves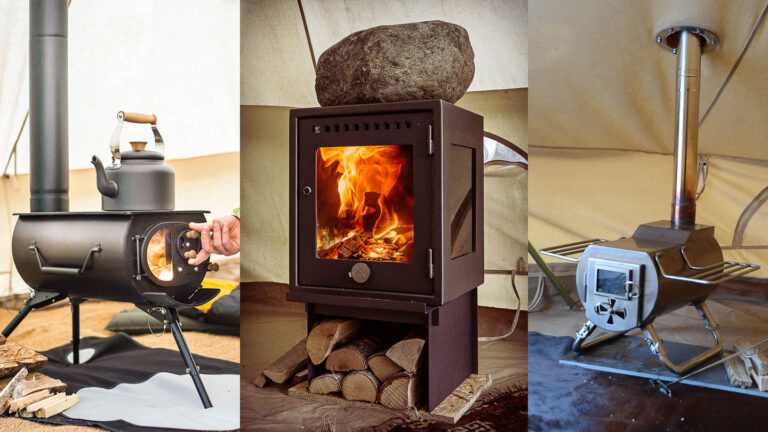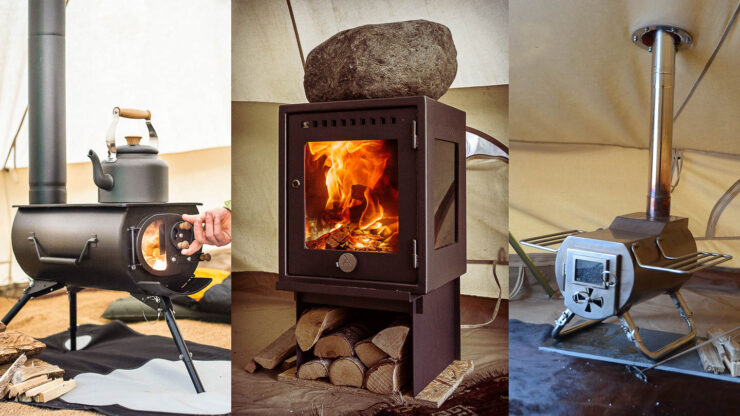 There are four main types of stoves that can be placed in the tents and those are;
Steel stoves
Lightweight stoves
Collapsible stoves
Backpacker stoves
Steel Stoves
Steel stoves are made of heavy-gauge rolled steel, making them durable and dependable. Since they don't warp as lighter ones do, they stay sealed and can retain heat for a long time, holding you warm even on the coldest nights.
They normally have a flat surface that can be used as a stovetop to heat water or cook on. Steel stoves can heat even the biggest wall tents, but they can weigh anything from 20 to 70 pounds, making them impractical to transport over long distances.
Lightweight Stoves
A lightweight stove is designed to be more conveniently packed. They are made of one or two layers of galvanized metal, so they are not as robust as conventional steel stoves, but they're more portable for when you choose to camp a little farther along the trail.
Lightweight stoves usually weigh 12 to 35 pounds, making them easy to transport but not exactly suitable for backpacking trips.
Collapsible Stoves
Collapsible stoves are identical to lightweight stoves in that they are made of the same thin galvanized metal and weigh similarly. The biggest distinction is that, in addition to being light enough to hold, collapsible stoves go one step further by rolling up and being smaller, making them easier to move and store.
Various forms of collapsible stoves fold to various degrees. While some stoves' bodies can totally collapse, others will only have legs that fold in. Solid frames are sturdier, but a smaller size can make your stove easier to hold or store while not in use.
Backpacker Stoves
These backpacker stoves, made of titanium or steel and weighing under 10 pounds, are designed to provide the comfort of a canvas wall tent or stove jack to those who choose to sleep off the beaten path. Backpacker stoves, while being relatively simple to pack and transport, may not be the best option for wall tents.
They can only heat a small room and retain the heat for a few hours due to their small scale. Furthermore, most backpackers do not bring wall tents, and although they could heat the room in a smaller tent with a stove jack, a stove jack would also be needed.
Tips For Hot Winter Camping
Orient the tent so that the stove jack is on the downwind edge so that any sparks are blown away from your tent.
Cover the roof of your tent with a tarp fly from any sparks that may fly from the top of your chimney.
To have a fire-proof area around the stove, place a fire pad under it.
Never use a gas stove or a grill inside your tent.
Keep a fire extinguisher nearby and keep combustible objects away from the tent as safety precautions.
If you are looking for some tips to install a stove jack, the following video will help you:
Frequently Asked Questions
What is a tent with a stove jack?
A stove jack is a fixed ventilation hole in a tent from which a stovepipe can move to direct smoke from a wood-burning stove outside. Tents with stove jacks are usually made of a non-melting material and have a little more space to fit the stove.
Can you put a stove jack in any tent?
A stove, on the other hand, cannot be placed in any tent. The tent should be made of poly-cotton fabric or canvas. However, it should come with an opening for the hot flue pipe.
What makes a good tent with a stove jack?
A strong tent with a stove jack should be made of non-melting stuff. Canvas is the ideal medium for most hot tents, but since the canvas is bulky, alternative fabrics must be used where weight is a significant consideration. Breathability is another major issue with hot tents.
What do I need to know about winter camping?
Here are some tips that you must know about winter camping:
Always keep an eye on the weather and potential hazards.
Secure your campsite and make your sleeping surface as flat as possible.
Bring a sleeping pad that is insulated and closed-cell foam.
Reduce ambient space to insulate your tent.
Use a hot water bottle to keep warm.
Keeping the boot liners in your bag is a good idea.
Don't take a breath or bury yourself in your bag.
Wear the proper sleeping clothes for cold weather.
On high-wind nights, how to do tent camping
Snack on a high-calorie late-night treat.
Try a reusable straw to avoid spills on your dry gear.
Get rid of the morning frost in your tent.
Can you suffocate in a tent?
Carbon monoxide or carbon dioxide may build up in a tent without adequate ventilation, causing health problems and, in the worst-case scenario, suffocation. Several causes contribute to a shortage of oxygen in a tent, including the presence of so many individuals, a lack of ventilation, atmospheric conditions, and so on.
What are the pros and cons of a tent with a stove jack?
The pros and cons of having a tent with a stove jack include the following:
Pros
It provides both warmth and a cooking surface.
Allows you to dry wet gear.
There is plenty of space for big parties.
Cons
Stove-equipped winter tents are bulky and heavy.
This might result in a fire threat.
It may be difficult to set up.
Are tent heaters dangerous?
Electric tent radiators are the safest choice and there is no gasoline or smoke to worry about. To produce heat, advanced gas tent heaters need fuel and catalytic ignition reactions. When something goes wrong, there's a risk of fire. So, for winter camping, we would recommend you buy a safe tent heater.