From healthcare to education to architecture- 3d printing has covered all these bases and much more. Our research team spent a lot of hours into research and finally came up with this list of top 7 best 3d printers under 300$. Luckily, a lower price doesn't mean a compromise on the quality in 3d printers case. You just have to be smart enough to make the right choice and you can have a fairly good 3d printer within your budget. Before we jump into the list of the top products currently available in the market, let me brief you about our selection criteria for the best 3d printers under 300.
The price must be under 300$
A good rating
Good community feedback
Plastic filament
Things to consider before buying 3d printers under 300$
Technology is getting cheaper every passing day, so too are 3d printers. It is very exciting to know that 3d printers are now available in less than 300$. You can even buy a 3d printer under 150$. These 3d printers might do your job but the quality is low.  If you are going to gift it to your kid or even want it for yourself, spending an extra 100$ wouldn't be a bad investment. Printers that are around 250$-300$ are superior in terms of quality and features. The following are the things that you should consider before buying a 3d printer.
Enclosed versus open frame
Change in temperature could highly affect the quality of a 3d print. 3d printers are either open frame or closed frame. During a 3d printing process, noise and particle emission are usually the two main problems. Noise and particle emission are reduced by using closed frame 3d printers. Open frame 3d printers don't provide this protection. ABS 3d printing requires closed frame technology, but you can use an open frame if you want PLA prints only.
Build volume
Another important spec that you should consider is the build volume of the 3d printer. Build volume of a 3d printer isn't critical if you are a newbie and just want to try out 3d printing for fun. But if you want to do 3d printing professionally then the build volume matters a lot. It allows you to print specific parts with dimensions of your choice.
Automatic calibration
A lopsided print bed could highly affect the accuracy of a 3d print. Manual calibration is a bit frustrating at times. Therefore, automatic bed leveling is offered by some 3d printers that could save a lot of your time.
Print Quality
Always go for the printers that have better print quality. 3d printers that are around 250$-300$ produce much better prints as compared to the 3d printer ranging between 100$-150$. If you have used 3d printer before, try finding a delta printer in the range of 250$-300$. They are made for advanced level printing. Beginners might struggle using one of those.
 Community support
Always go for the printers that have a larger community. While using 3d printers, you will face problems. Community support could be a very helpful tool for that.
Other features to look for
Filament sensor
Auto resume
 TOP 7 BEST 3D PRINTERS UNDER 300
Image
Name
Features
Rating
Price
4 New Rockford Fosgate R165X3 6.5″
☞Weight: 9.78 pounds
☞Dimension: 20 x 8 x 8 inches
4.9/5
View Product
Rockville RVP12W8 1200w
☞Weight:12.9 pounds
☞Dimension: 3 x 3 x 3 inches
4.7/5
View Product
Pioneer A Series 6.5"
☞Weight: 3.6 pounds
☞Dimension: 13.5 x 3.5 x 7.5 inches
4.6/5
View Product
Rockville RM64SP CEA Compliant 6.5"
☞Weight: 3.96 pounds
☞Dimension: 9 x 8.5 x 3.5 inches
4.8/5
View Product
JBL GT7-6C 6.5″ 2-Way
☞Weight: 4.4 pounds
☞Dimension: 6.7 x 5.9 x 3.2 inches
4.7/5
View Product
Pyle PL63BL
☞Weight: 1.32 pounds
☞Dimension: 14.7 x 3.1 x 7.3 inches
4.8/5
View Product
Kicker DSC650 Speakers
☞Weight: 4.6 pounds
☞Dimension: 8 x 8 x 7 inches
4.6/5
View Product
Rockville RW10CA 10″ 800 Watt
☞Weight: 14.25 pounds
☞Dimension: 12.4 x 13.4 x 2.7 inches
4.9/5
View Product
1:
Creality Ender 3 – best 3d printers under 300s
Creality Ender 3 with primary structure made up of aluminum channel, is an affordable option for both beginners and experts. The printing quality of this printer makes it unique from others. Printers in 250$-300$ range don't usually provide ABS printing, but this printer provides this facility as well. It is very inexpensive considering the quality and features it offers. In the case of power cut-down, its auto-resume function allows it to start printing from where it left. Extrusion problems are greatly reduced as it comes with MK-8 extruder. You will require only ten minutes to assemble it. Its heating bed takes only five minutes to heat up. If you face any problem while using it, its community support system would be a great help. The only drawback is that it doesn't provide automatic calibration.
Key features:
Color: Black
Material: Aluminium
Part Number: En3
Pros
Inexpensive
Easy to assemble
High-quality printing
Is effective for both beginners and experts
Cons
Requires manual calibration
2: Kingroon DIY Aluminum Resume – best affordable 3d printer
Comes with an upgraded extruder. Its precision guide rail makes it move smoothly without making much noise. Aids in bed leveling, making the printing process much smoother. Data is not lost in case of a power outage. Provides high-quality prints.The build of the printer is very small, which is not a good sign for a 3d printer. The main parts of the printers come pre-assembled, which saves a lot of your effort and time. Users have reported that screws and belts were loose which required re-assembling.The printer has some serious design flaws. Its filament contacts with Z ACME lead screw during the feeding process. Its Delrin wheels wear down after some time and it is difficult to adjust them back due to poor eccentric spacer.
Key features:
Color: Black
Material: alloy_steel
Part Number:KP-02
Pros
Good quality print
Cheap
Touch-screen control panel
Easy to assemble
Cons
Requires re-assembling
Not recommended for beginners
3: QIDI Technology X-one2 – finest 3d printers under 300
QIDI is famous for making low-cost 3d printers that provide great value for money. Xon2 is an upgraded version of QIDI'S x-ONE.  The printer is fully enclosed while transparent with doors and panels. The printing process could be monitored through this transparent body. Xon2 is a very easy to use printer with a recognizable icon on the LED touch screen. It comes with a USB port and an SD card slot. The location of the power button is a bit odd. Its effective ventilation system doesn't allow it to get over-heated. The printer comes pre-assembled and the built plate is irremovable. Allow both PLA and ABS printing.The product takes a lot of time to deliver.
 Key features:
Color: Blue
Material: PLA, Other plastics, ABS
Part Number:X-One 2
Pros
Fully assembled
Easy to use
Allows outside filaments
Allows both PLA and ABS printing
Effective ventilation
Cons
Loading filament is difficult
Extended delivery time

4:
PHROZEN Sonic Mini –
budget 3d printer
The thing that makes this printer unique from its competitors is its capability of printing with a speed of 5 centimeters per hour. The speed is exceptionally fast. The layer thickness is between 0.01 – 0.30 mm. It is cheaper than most of its competitors.It comes with a 5.5-inch mono-LCD, which is thermally stable and has over 2000-hour lifetime.When it comes to print resolution, it provides low-quality prints as compared to its competitors.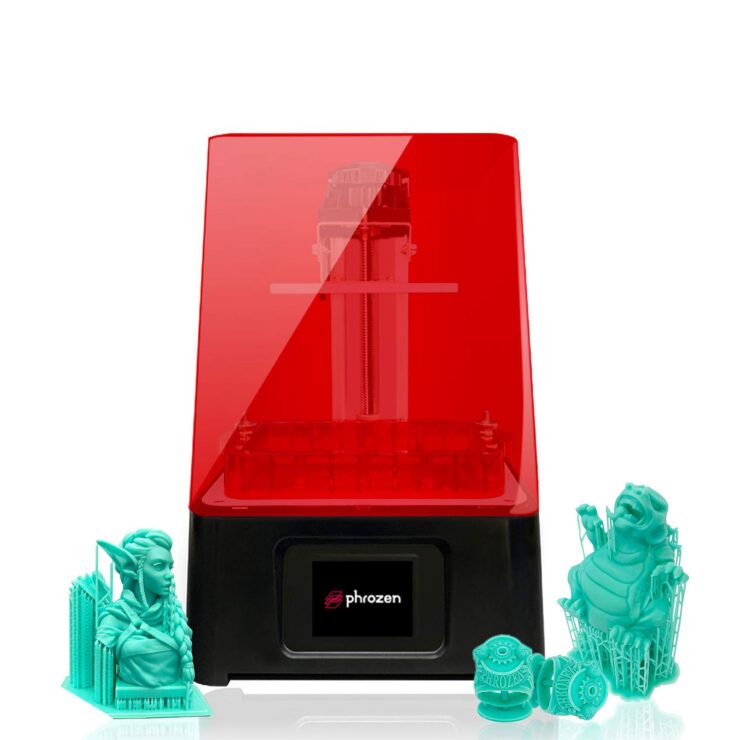 Key features:
Color: Red and Black
Material: metal
Part Number:PHR_SONICMIN
Pros
Affordable
Provides high-speed printing
5.5-inch mono-LCD
Cons
Build volume is on the smaller side
Produce low-resolution prints
Obscured USB input
5:
ELEGOO Mars UV Photocuring –
best 3d printer on a budget
CHITUBOX Slicing Software of ELEGOO Mars makes it unique from other 3d printing companies. The software provides a very good user experience. Open-source software requires 10 minutes, in comparison to CHITUBOX that requires only 1 minute to do the same job.The printer provides high-quality prints while ensuring a user-friendly experience. The printer's photocuring technology makes it stand out from others. It comes with a very affordable price tag.The quality of the LCD is poor. Some users have reported the resin to be smelly.
Key features:
Color: Black
Material: aluminum
Part Number:US-EL-3D-016
Pros
The software provides a user-friendly experience
Low price
Comes pre-assembled
Photo curing technology
High-resolution prints
Cons
Poor quality LCD
Smelly resin
Slow printing speed
6:
LONGER LK4 Pro –
best low-cost 3d printer
Provides structural stability and rigidity as it uses an aluminum extension in its structure. Its heating bed, which is made up of tempered glass, heats-up very fast.Doesn't require much assembling as 90% is already done by the company. In case of power cut-down, it resumes printing from where it previously left. Its 4.3-inch touch screen allows you to see the printing process in real-time.The user interface on the screen is limited and doesn't help in achieving full functionality. Users have reported its cooling fan to be a bit noisy. Manual calibration makes bed leveling a headache.
Key features:
Color: Black
Material: Metal
Part Number: 3D PRINTER 01
Pros
Good build volume
Heating bed made up of tempered glass
90% pre-assembled
4.3-inch touch screen
Cons
User-interface is limited
The cooling fan produces a lot of noise
Requires manual calibration
7:
Anet A8 –
best value 3d printer
The printer comes with an affordable price tag. The printer features MK-3 hotbed and MK-8 extruder, allowing it to print various filaments. It provides options for both PLA as well as ABS printing. Its auto-leveling feature makes it unique.A8 doesn't come pre-assembled and the user must do all the hard work itself. Although it provides user manuals and video tutorials for assembling the product it still requires a lot of effort.The customer service of the company is poor. Users have reported that the company sent them A6 instead of A8.
Key features:
Color: Black
Material: ABS/PLA
Part Number: A8LF
Pros
Allows both PLA and ABS printing
Auto-leveling feature
Can print various filaments
Cons
Doesn't come pre-assembled
Poor instructions
Customer service is unsatisfactory
Conclusion:
With the revolutionization in the technological world, 3d printers under 300$ are now a reality. Operating a 3d printer is not as easy as buying it. We would recommend you should use some experienced person's 3d printer for a while before buying one of your own.  Many have given up within a week costing them 300$.
The choice of a 3D printer is important. Never buy a complicated 3D printer if you are not experienced enough. Always start with a beginner level printer that is easy to operate. Otherwise, you will get frustrated in a few weeks and give up on it.
We have listed the best 3d printers under 300$ for you in terms of quality and ease of use. Don't delay, just buy it.
FAQs:
Is it possible to make money with a 3d printer?
Yes, you can. You need to master the art and then you can start receiving orders. Or, use your printer as a service and charge for each print. People that can't afford to buy one of their own would get benefitted from it.
 Is it safe to have a 3d printer in your room?
No, 3D printer emits dangerous fumes which are dangerous for your health, so avoid putting them in your bedroom. Unless you have an extraordinary ventilation system.
How fast does a 3d printer print?
They are not very fast. Fastest printers work with a speed of almost 150 millimeters per second. The average speed is around 70-80 mm/s.
How long does it take to print a Lego?
Depend upon the type of printer you are using and the size of Lego you want to print. Some printers print fast as compared to others. It could take you 30 minutes or even 2-3 days.
What are the disadvantages of 3d printing?
Disadvantages of 3d printers are given below:
Expensive
Consumes a lot of energy
Lack user-friendliness
Emit harmful fumes
Uses a lot of plastic
They are slow

Is a 3d printer worth buying?
If are a technology freak and can afford one of those, then yeah, you should go for it. They are worth it!
If you can't afford and want to use it occasionally, then you don't need to buy it. Use one of your friends or colleagues