You are a good shooter but still can't play well in airsoft games? The problem might be in the gun that you are using. If you have just started playing Airsoft, then spending a lot of money just for a toy gun might not seem like an excellent idea.
Table could not be displayed.
Don't worry. You don't have to quit playing your favorite military simulation game. Here we have a list of good quality Airsoft guns and that too under $200, making you enjoy these gaming battles more this year.
Airsoft guns are replica firearms having an operating mechanism to shoot small plastic pellets. These nonlethal toy guns, same as the other toys like nerf guns, can add more fun. Cool and real-looking gun can help you relate more to real-life war battles.
There are many airsoft guns available on the market ranging from $50 to $9000. Some are of very poor quality while others are too expensive. But we have listed for you one of the best airsoft guns under $200.
Top Guns Under the Budget
1. Lancer Tactical Gen 2 Upgraded RIS LT-04 AEG – Metal Gear Electric Air Gun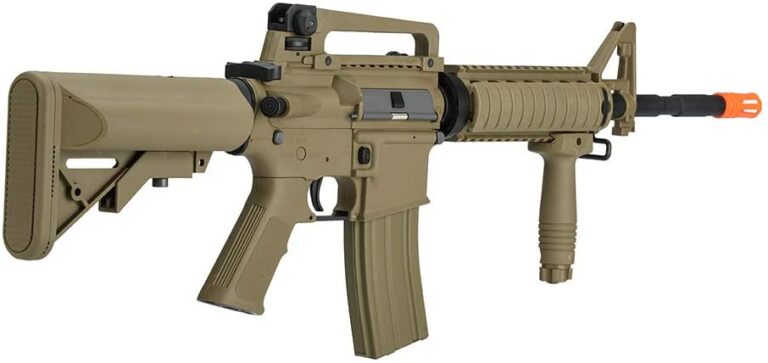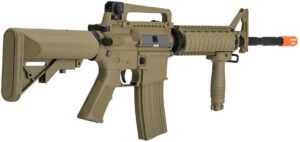 Lancer Tactical Gen 2 is the second generation of lancer tactical Air guns. It is an entry-level gun. The external body is made up of nylon polymer, which is rigid and robust plastic. The internal system is made up of metal. It comes with a cleaning rod and one magazine, The high capacity magazine, and stores upto 300 rounds. It is available in two colors, earth brown, and black.
The batteries are of good quality. If your battery is fully charged, the charger will detect and will automatically shut down. It is an electrically charged gun, so it is safe for teens, and while playing outside, you don't need to think about the gas used in gas-powered guns.
The Gearbox and the piston teeth are made of metal. A 6.03mm type 4 inner barrel is present for increased range and consistency. It has a rail integration system with rail covers, which you can easily slide down after pushing the button. Rotatory style hops up so that it is easy to use.
It comes with a six-point crane stock made up of nylon, where you can place your battery. It has a nylon extended buffer tube. There is a plastic grip provisioning extra grip to players so they can operate with one hand efficiently. There is a charging handle on the left. A banner attachment point so you can attach your team's banner to it. It has a metallic trigger that is resistant and enduring. The charging needle is also made up of metal.
It has a quick change spring-piston system so your gun's FPS can increase more quickly. Whereas FPs are feet per second which measures how far the gun throws the projectile in time. The carry handle, along with the optic, is removable. You can detach it by losing the screw. There is a small, orange, birdcage-style flash hider. There is a micro switch that can enable you to switch between semi-auto and auto.
Pros
Good quality battery
Good grip
300 rounds
Removable carry handle
Lancer Tactical Gen 2 AEG metal gear Electric air gun is a lightweight, durable, affordable gun. You can enjoy outdoor games as it has 300 rounds and a good target range along with a spring system. You don't have to think about the number of rounds
2. G&G – Airsoft Combat Machine M4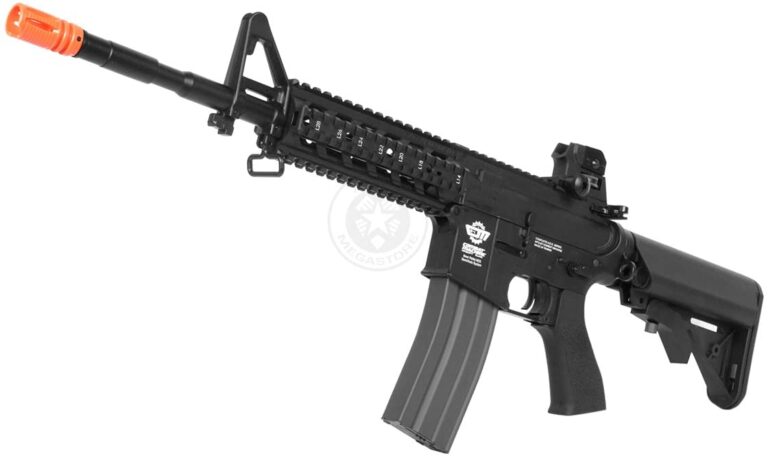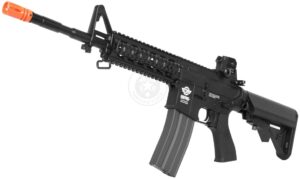 G&G airsoft combat machine is the electrically powered replica of the M4 rifle. G&G is known for its quality and longevity. The external framework is made up of nylon polymer, giving it strength and reducing the weight. The internal parts are made up of metal so the rifle can have durable functioning.
The M4 combat machine comes in two forms; a long barrel and a short barrel. It is also available in two colors which atr Desert Tan and Black. The long-barreled gun is suitable for outdoor combat, and the short-barreled rifle is more suitable for indoor shooting practices.
The standard package contains a combat machine M4 rifle, high capacity magazine,1000 BBs, nonlethal, small plastic balls, and a barrel cleaning rod. It does not come along with a battery and charger, but if you have one, then it will increase the speed of the rifle.
It requires a 9.6-volt nun-chuck battery. When added, it increases the speed to 400 FPS. M4 airsoft guns come with a fully adjustable rear sight that can be easily removed from the top rail to add your optic of choice. The integrated front rail system can adjust to your needs. Rifle sling mounts can be found on the barrel and rear buffer. Crane stock is fully adjustable upto 6 points and provides storage for the battery; there is a container for it.
The mag release is found on the right side, and each rifle comes with one high-capacity magazine capable of holding upto 450. You can access the hop-up by manually opening the pour cover on the right side of the gun. It also includes a metal gearbox. The inner portion of the barrel is made up of aluminum giving it more strength.
Pros
Accurate
Durable
Long barrel
High velocity
G&G combat machine is the most leading product under $200 as it offers accuracy in target, high speed, long barrel, and high capacity magazine. It is one of the best performance-wise for such an affordable price range.
3. Evike Airsoft – Matrix Airsoft AK47 Tactical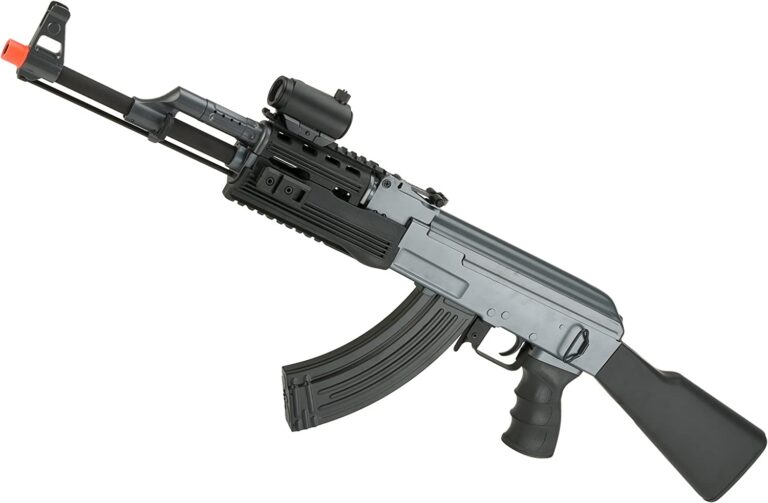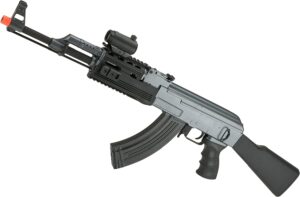 Matrix Airsoft AK47 Tactical is an airsoft gun manufactured by Evike Airsoft. It has a metal body with some parts made up of polymers. This rifle resembles an AK47 rifle. It is only available in one color that is metallic grey and black. It resembles the original design of the AK47 rifle.
The externals are primarily metallic. The receiver is made up of reinforced polymer providing grip. The rail system and outer barrel are made up of metal so that it functions smoothly. The Gearbox is full metallic. The rear and front sights can be adjusted easily so that you can aim accurately. The Crane stock is fixed and cannot be altered.
It is pretty good in performance as it has a high capacity magazine of 350 bbs. Whereas its speed is admirable with 350 to 380 FFB. It requires a battery of 9.6 volts and has an adjustable hop-up. The handguard is railed. It resembles the original design of the AK47 rifle.
Pros
Metal gearbox
Adjustable rear and front sight
Metallic parts
Affordable
Cons
No fancy design
Fixed stock
Evic airsoft matrix airsoft AK47 rifle is not hard on the bank and offers you all the features you need. It does not have any fancy features. In comparison to its price, its performance is admirable. If your child has just got the craze for airsoft games and you don't want to invest much as he will probably get bored of the game soon so this rifle is best for you.
4. Game Face Insurgent GFar AEG Electric Gun – Best Airsoft Gun


Game face insurgent GFAR AEG airsoft gun is an electrically powered airsoft gun. The gun comes along with a battery and charger. The body is mainly made up of metal, with some parts made up of polymer. It resembles the original design of the AK47 rifle.
AEG has a folding stock with a hinge so you can adjust it. It has an adjustable hop-up which is inside a switch flip. The magazine release trigger, selector switch all are present on the metallic upper body. It can shoot upto 700 rounds per minute.
With the help of a selector switch, you can adjust between three modes that are safety, full auto, and semi-auto. There are two types of rails the top and the bottom rails. The handguard, grip and stock, and the high-capacity magazine are made up of polymer. It also comes with a strap so you can easily carry it.
Pros
Three selective features
Strap
400 FPS
Foldable stock
Game face insurgent is a heavy metallic gun that comes with auto and semi-auto features. The foldable stalk is something unique, and you can easily carry it with the help of the strap.
5. Soft Air Kalashnikov AK47 – Electric gun


Kalashnikov, launched on the 60th anniversary of the original AK47, is a special edition. This airsoft AK47 by Kalashnikov is an electric gun that comes with a chargeable battery. The battery is an 8.4-volt stick-type battery that takes 5 hours to charge. It is made up of polymer and is light in weight.
The unique feature of this gun is that it has a foldable stalk and comes with a cleaning rod. There are two sides for this rod one for cleaning the barrel the other is for removing the blockage. There is a ribbing texture at the end of the plastic stalk, so it doesn't hurt your shoulder while playing.
It has a selector switch to adjust to semi or full auto. It has an adjustable hop-up, pistol grip, adjustable rear sight with a black matte finish. The battery storage is at the receiver plate. The front view is slightly adjustable with a blaze orange tip. It comes with a high-capacity magazine of 600 rounds and has an FPS range from 390 to 430.
Pros
Special edition
Matte finish
Foldable stock
Stick like battery
Cons
No color variations
Better material can be used
Kalashnikov AK47 airsoft gun is the sleekest, comfortable, and easy to carry firearm. You can pick this if you are a beginner and want to enhance your experience with an affordable yet high-performance gun.
Buyer's Guide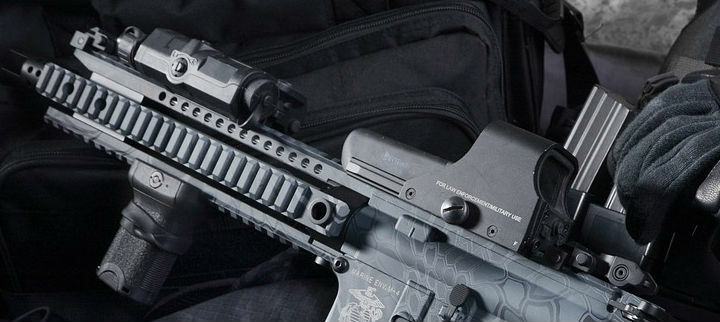 If you enjoy playing military games, then to properly enjoy yourself, you need to have the perfect gear for it. Imagine jumping into a battlefield without any weapon.
You are more likely to get killed. The same goes for Airsoft games. If you want to have an experience, you must have a gun that fulfills the following criteria.
Easy To Use
So first thing first, if you are playing an army simulation game, you must have command on your weapon. It should be easy to use to focus and direct more energy on your opponents rather than waste it on adjusting the gun.
FPS
It is the unit for speed in terms of guns. FPS stands for feet per second. which means how far the pellet can go in one second. If your weapon has a more excellent range, it will help you target your opponent from a distant place in the battleground.
Accuracy of Target
If your gun has more accuracy, it will add to your shooting skills, and you can easily target opponents.
Durability
Durability is essential for every product; anything you invest in must be solid and durable. As airsoft guns are used in battle games, durability and strength are vital factors.
Realistic
In these military simulation games, you want to experience original war situations, so the whole scenario must be as close to reality as possible. If your weapon doesn't seem realistic, you will generally don't have the feel you want. So even if they are just a toy, they must resemble the original ones.
FAQ's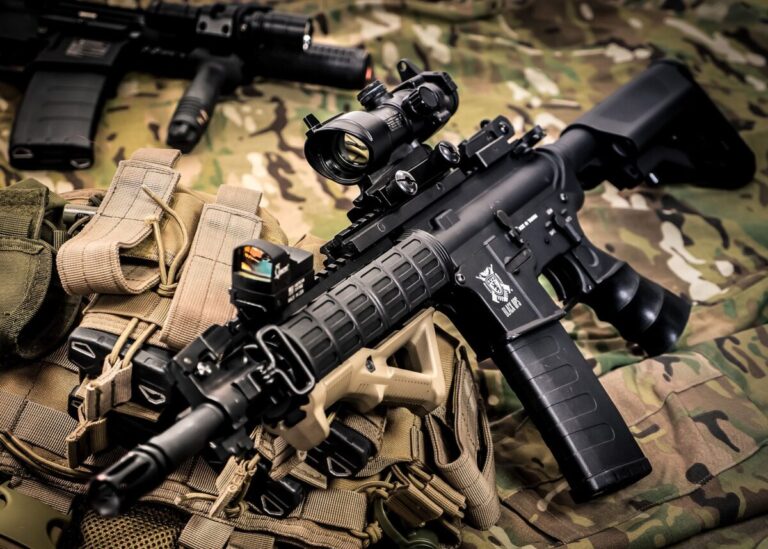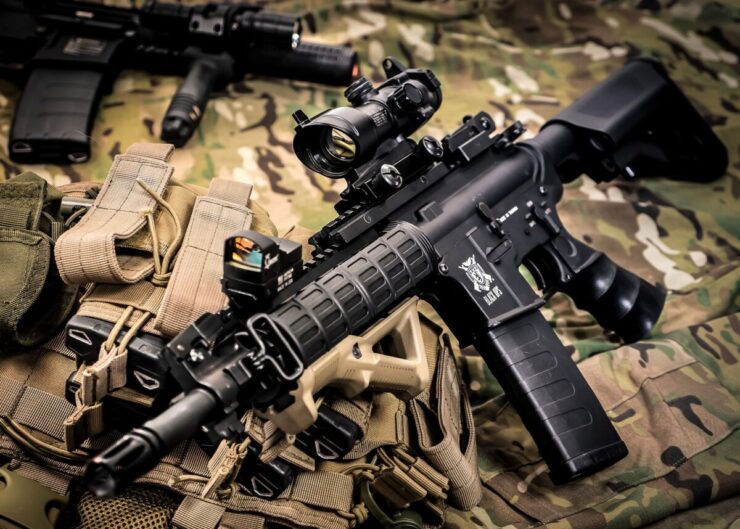 What can Airsoft guns be used for?
Airsoft weapons are nonpowdered guns that can shoot a small projectile made up of plastic. These guns are used to target the opponent team's players in airsoft games and can also do target practice.
Is it legal to use Airsoft guns?
As they are nonpowdered replica firearms, so it is legal to use them, but if used in some criminal activity or offense, then it will be treated as a powdered firearm.
Can airsoft guns protect you?
Yes, airsoft guns can be used to defend yourself, but you cannot kill someone with it. It is a nonlethal replica firearm, so you can stop someone with it without hurting them.
Does airsoft help with real guns?
Yes, these can help you with real guns. If you are using a high-quality airsoft gun, these are specially designed to be as similar to the original ones as possible. So while using them, you can have an idea about the use of a real-life weapon.
At what age can kids use Airsoft guns?
It depends upon the state you're living in. Some states don't allow the use of airsoft guns by those under 18; some allow it under supervision, while in some areas, they can own one too. It usually depends upon the laws of the states.
What is a good price for an airsoft gun?
Airsoft guns are available at many prices, but many guns are in the market, which provides you with similar performance to the expensive ones but is affordable, ranging between 160 to 230 dollars.
Conclusion
These airsoft guns are affordable, yet they provide high performance so that you can enjoy your game without focusing on anything else. We have listed some of the best airsoft guns in the market that provide high-quality performance and are also under $200. Among these products, here are the best picks;
Lancer Tactical Gen 2 is an electric gun with a rechargeable battery with a high magazine capacity of 300 rounds and FPS ranging from 370-395.
Soft Air Kalashnikov AK47 It is a replica of the Ak47 rifle and has a classy matte look. With a high magazine capacity of 400 rounds and FPS of 390-430.
Here are some other interesting models that you might like:
Last update on 2023-06-03 / Affiliate links / Images from Amazon Product Advertising API