Having the best trolling motor batteries not only enhances the work performance but also helps in eliminating additional effort and labour required to get trolling motors work. The best trolling motor batteries offer continuous yet gradual discharge of energy throughout the day.
Buyer's Guide for the best trolling motor batteries
Choosing the right battery can be difficult as unlike car batteries different trolling motors require batteries that are compatible with them. We have prepared this comprehensive guide that will help you in choosing the best trolling motor batteries.
Battery Type
There are two specific types of 12-volt batteries that are recommended for use with a trolling motor;
Lead Acid Wet-Cell
These are the most common and most affordable batteries that handle draining and recharging.
They last for more than one and a half year without being heavy on the pockets.
Unlike other batteries, lead-acid wet-cell batteries need occasional maintenance such as topping off the water.
They are also prone to spillage and vibrations.
AGM Batteries
AGM, aka Absorbed Glass Mat, batteries are completely sealed.
They last longer on a single charge and have a relatively long life span of 4 to 5 years.
These batteries are significantly expensive as compared to other alternatives.
They are 100 per cent maintenance free.
Choosing the right battery type depends on personal preference. If you are willing to invest more and are not into time and again maintenance, AGM battery is the one for you or else you can go for Lead Acid Wet-Cell battery.
Battery Size
Battery size is fairly important as the relation between the performance of a battery and its size is fairly proportional. Where a larger battery will work for longer hours, they can be too bulky for kayaks or canoes. Striking a balance between the performance of a battery and the size can be of greater benefit when it comes to choosing the right size. The lightweight trolling motor battery is more beneficial when it comes to handling and maintenance.
Voltage
Generally, 12 Volts or 24 Volts batteries are preferred for trolling motors. It depends on the individual requirement of every motor. Before deciding on buying a battery consider the voltage requirements of your trolling motor. Once you are aware of the requirements you can easily choose the right battery with the right voltage. 
Peak Power Draw
Just like the voltage, peak power draw is also motor specific and depends upon the type of trolling moto being used. Most motors have 30 amps to 50 amps peak draw. However, this is not a general setting and thus you will need to know your motor and its draw before deciding on a battery to save time and energy.
Run Time
Run time is one of the most, if not the most, crucial aspects of choosing a battery. Larger batteries provide longer usage and thus you need to know your requirements while choosing the best battery for your motor. There are no specifications or generalizations when it comes to run time, only what you prefer is what matters.
Car or Starting Battery
This a common and the most dangerous misconception when it comes to batteries for trolling motors. People often assume the same batteries can be used for cars and boats alike. However, this is not true and can result in the loss of your motor entirely.
Trolling motors have separate batteries that require a constant flow of power throughout the day and are nowhere similar to car batteries. Car batteries, if used can cause some serious damage to your motors.
List of the 8 best trolling motor batteries
We have gathered the most promising batteries that offer the best performance along with affordable rates.
Let's have a look!
1. VMAX V35-857 12 Volt 35AH AGM – overall best trolling motor batteries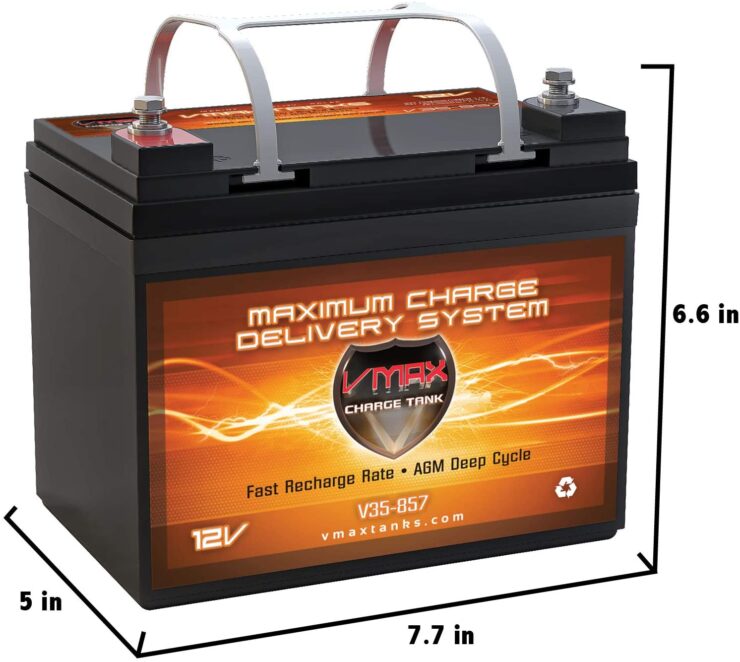 Features
Voltage: 12 volts

Battery Cell Composition: Sealed Lead Acid

Battery Capacity: 35 Amp Hours

Dimensions L x W x H: 7.7″ x 5″ x 6.1″
This AGM battery offers the most reliable and powerful performance reducing vibration issues. The compact size enhances the handling and maintenance making it suitable for canoes or kayaks. This battery offers fast recharge along with 12 volts at only 25 pounds. 
Speaking of durability, this battery has a tough tank seal that offers protection and 100% maintenance-free long life. 
Pros
4- 9 hours of runtime
Maintenance-free
Smaller in size
Cons
Requires constant use to maintain charge
Universal Power Group 12V 100Ah – best trolling motor batteries
2. Universal Power Group UB121000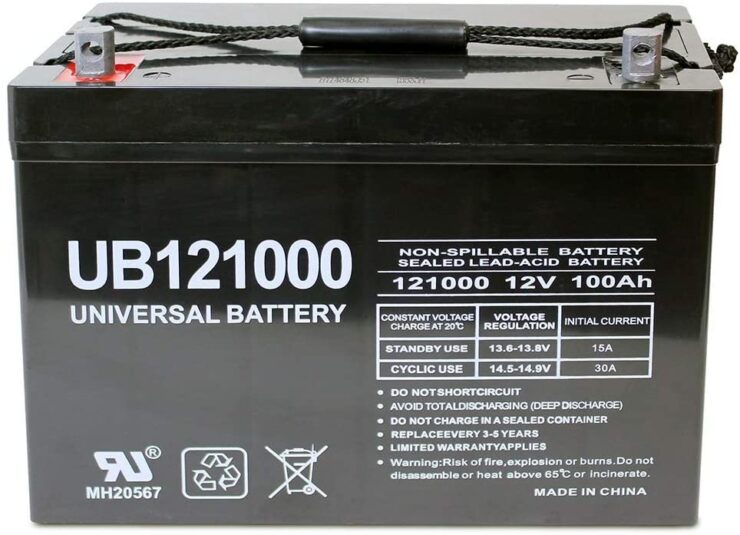 Features
Voltage: 12V 

Dimensions: 12.17 inches x 6.61 inches x 9.16 inches. 

Weight: 63.93 Lbs

Battery Capacity: 100 AMP hours

Battery Cell Composition: SLA/AGM
Smaller in size yet offers 4- 9 hours of runtime, this battery comes second on our list. Specifically for the matter of long lake voyages, this is a heavy-duty piece of machinery along with strong and sturdy construction. AGM technology offers superior performance with a regulated valve that offers spill-proof safe operation in any position. 
Speaking of trolling motor battery life, it has a great thrust and can last up to four days of regular use before it needs to be recharged. Along with the best performance, it is also maintenance-free. 
Pros
Resist vibrations and shocks

It can be used in any position

4 days of battery life
Cons
3. Neptune 12V 55A Power Boat Pontoon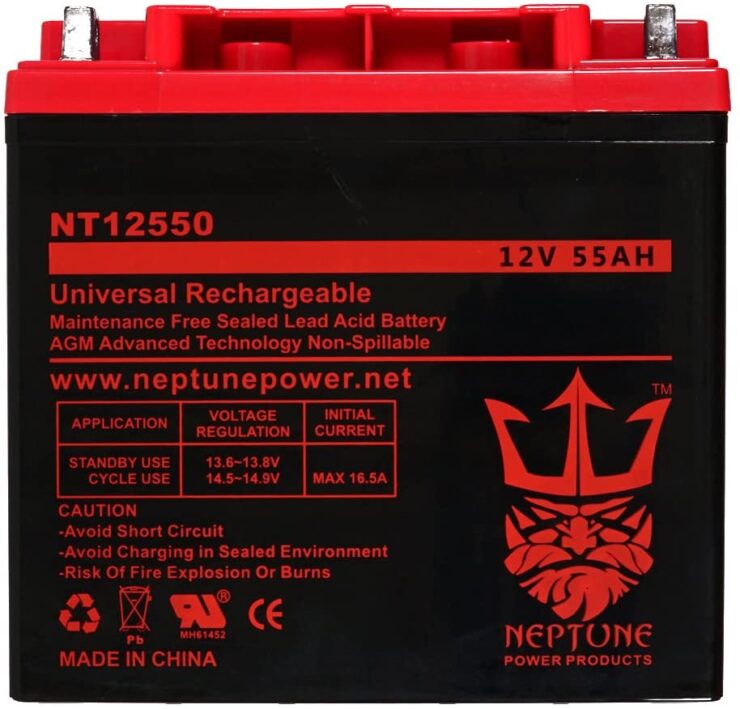 Features
Voltage: 12 volts

Item Dimensions LxWxH: 9 x 5.45 x 8.11 inches

Reusability: Rechargeable

Item Weight: 40 Pounds

Battery Cell Composition: Sealed Lead Acid

Battery Capacity: 35 AMP
The next AGM technology-based battery on our list is the Neptune Power Boat Pontoon Electric Trolling Motor Deep Cycle Battery. It is a lightweight all-rounder model that is maintenance-free and provides years of service even though it has only a one-year warranty.
It is 12 volts, 35 Ampere, rechargeable battery, and can be easily mounted anywhere. Sadly it comes with no wire harness or mounting accessories
Pros
Maintenance-free
Rechargeable
Cons
No wire harness or mounting accessories
4. Odyssey Trolling Thunder 34M – top-ranked trolling motor battery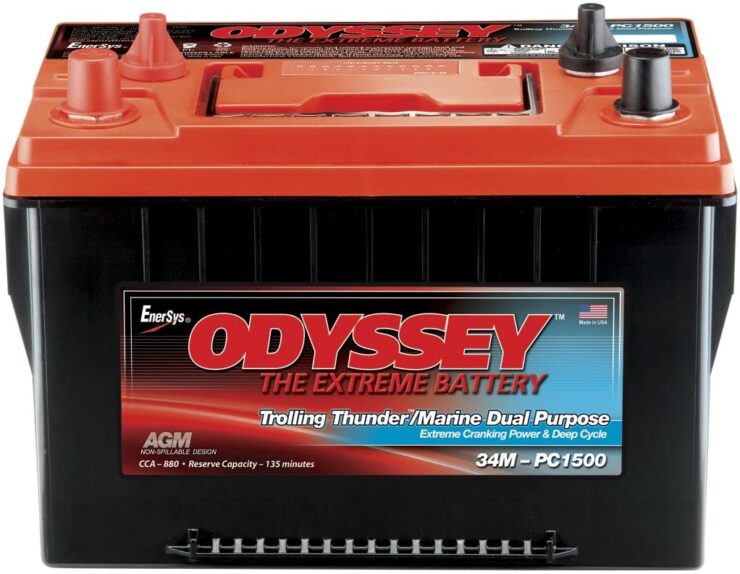 Features
Voltage: 12 volts

Battery Cell Composition: Lead-Acid, AGM

Item Weight: 49.5 Pounds

Item Dimensions LxWxH: 13.25 x 11 x 9.5 inches

Terminal: Marine Terminal

Battery Capacity: 880 AMP
The Odyssey Trolling thunder 34M is a very popular battery for a multitude of reasons. This motor has an AGM design which makes it maintenance-free. You can store it away for up to two years without a recharge and it still won't budge since it comes with a 4-year warranty.
If you prefer quality over price point you will love this. It has an average of 10 operating years and small operating costs.
This battery from Odyssey comes with a cold cranking amp of 880 and operates on average for as many as 10 years. These batteries are known for a long-life cycle and low operating costs.
Pros
4-year warranty
Maintenance-free
Cons
5. VMAX Charge Tank MR-137 100AH – most reliable trolling motor battery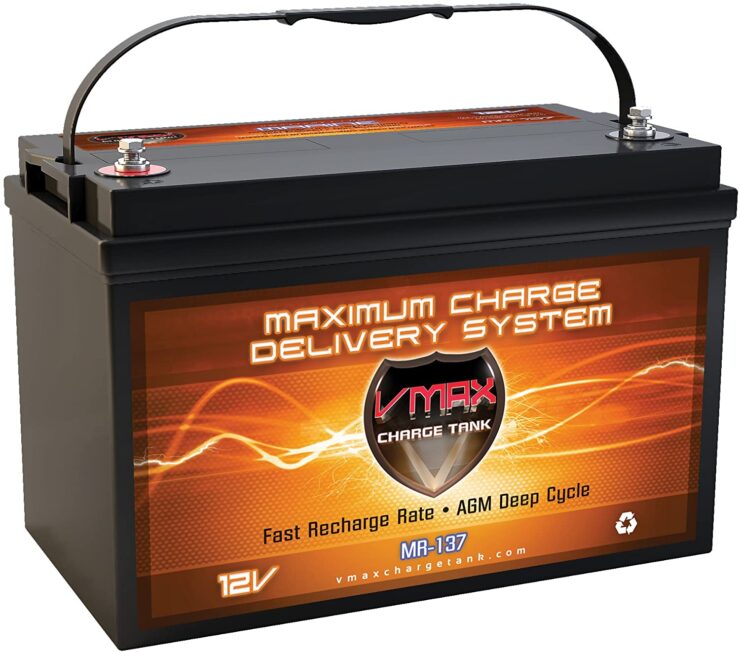 Features
Voltage: 12 volts

Reusability: Rechargeable

Item Weight: 75 Pounds

Battery Cell Composition: Lead Acid

Battery Capacity: 120 AMP

Reserve Capacity: 230 min

Dimensions: 12.9″L x 6.8″W x 8.7″H
VMAXTANKS AGM BATTERIES are made to last longer for tough applications. It's unique plates structure and sturdy construction offers reliability, strength, and ultimate performance, unlike other batteries. 
Specially designed Absorbed Glass Matt (AGM) between the VMAX plates, enhances physical and electrical advantages that make it superior to the Wet Lead Acid Batteries. AGM technology maximizes the VMAX resistance to shocks and vibrations. You can enjoy "non-spillable and non-hazardous" performance eliminating the need for maintenance. 
Pros
8- 10 years lifetime

Maintenance-free operation

Rechargeable sealed battery

Can be mounted in any position 
Cons
6. Optima Blue Top D31M – Best reviewed trolling motor batteries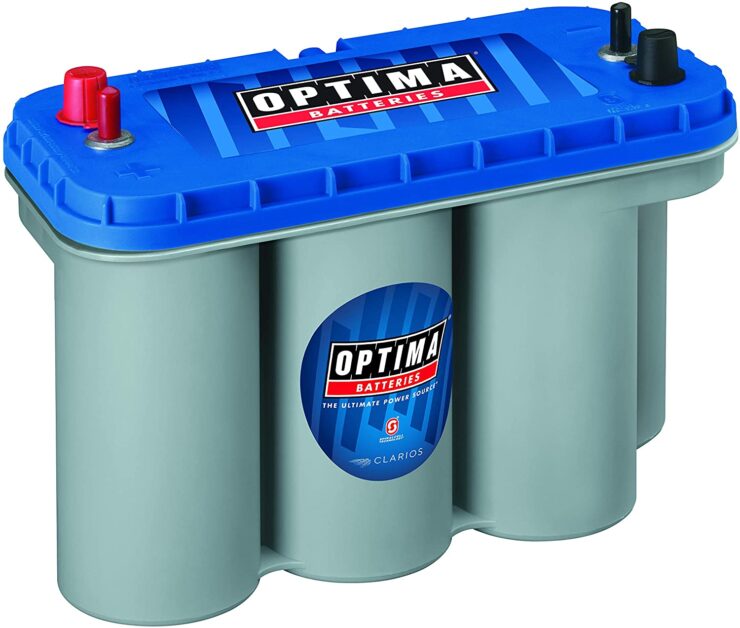 Features
Voltage: 12 volts

Battery Weight: 59.8 Pounds

Item Dimensions LxWxH: 12.8 x 6.5 x 9.38 inches

Reusability: Rechargeable

Battery Capacity: 900 Cold Cranking Amps
Deep cycle batteries are required for trolling motors and the Optimal Blue Top D31M is the largest of its kind. It has the strength to run a large fishing boat through harsh conditions. It has a reported lifetime of almost six years and can survive difficult conditions due to its sturdy nature.
And the best part is it does not run out of charge even when not in use for long periods.
The only lacking factor is that it is so large that it is only suitable for larger boats and can easily get overcharged.
Pros
6-year lifetime
155 min reserve
Cons
Can get easily overcharged
Can't be used with smaller boats
7. Mighty Max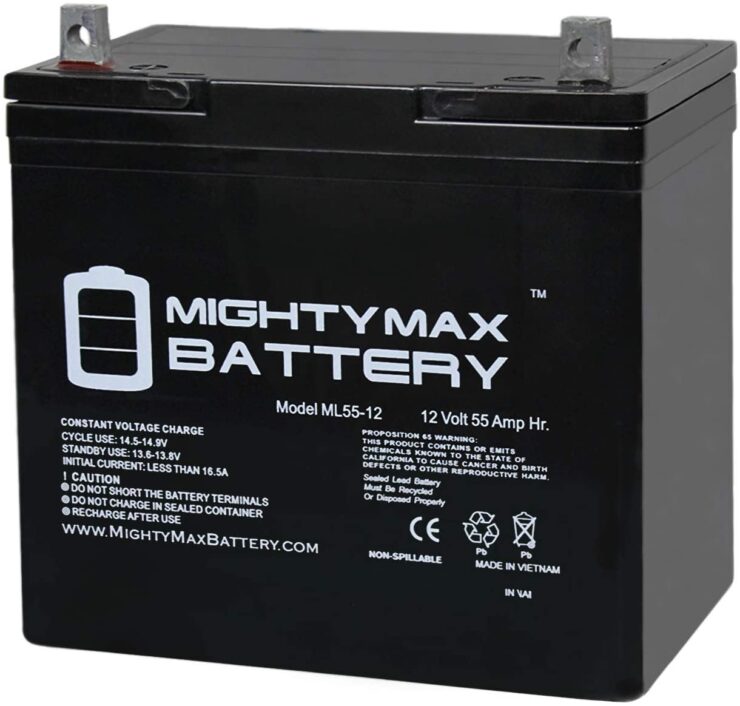 Features
Voltage: 12 Volt

Amperage: 55 AH

Chemistry: SLA, AGM

Battery Dimensions: 9.02 in x 5.43 in x 9.13 in

Weight: 38.58 Lbs

Battery Capacity: 55 AH
With the ability to last up to two days of full usage without a recharge, the mighty max electric trolling motor battery is 40 pounds of all class. It performs perfectly well under all sorts of weather, so there is no fluctuation in performance on its end.
No need to wait for the optimal days to go fishing. Whether it is hot or cold you won't notice a single dent in its performance. It is a sealed battery and thus has outstanding vibrations and shock resistance. It has a refund policy but only one year of warranty.
Pros
Sturdy
No fluctuation in performance
Cons
One-year warranty
No wire harnesses
8. Interstate (AGM)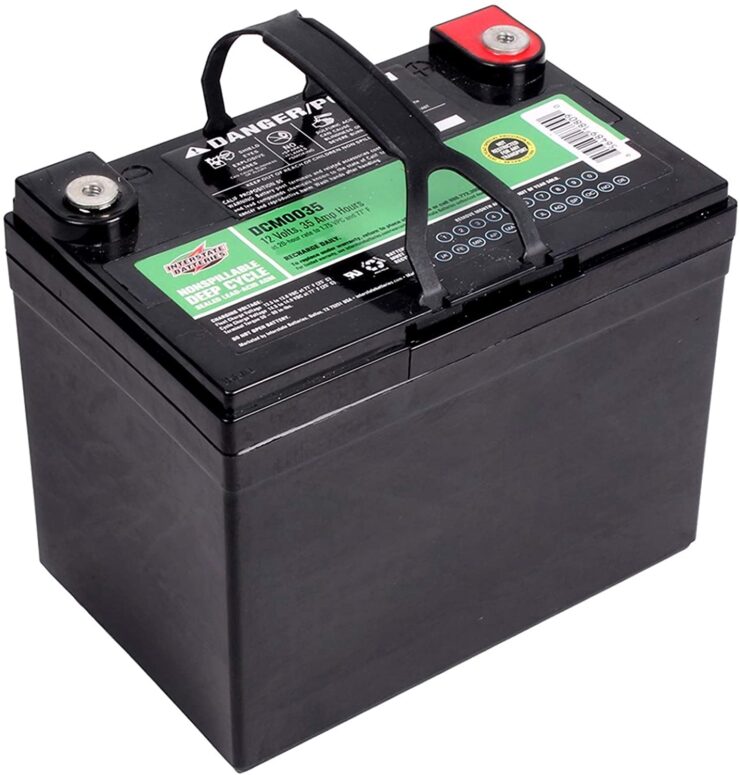 Features
Voltage

12 volts

Compatible Devices

Alarm

Item Dimensions LxWxH

5.16 x 6.42 x 7.68 inches

Reusability

Rechargeable

Battery Capacity: 35 AMP

Battery Cell Composition: Sealed Lead Acid (SLA) AGM
Weighing in at a mere 23.8 pounds the Interstate Trolling Motor Battery is the smallest of the bunch. It is perfect for people who want to go out on the lake for a few hours and then head home because the battery simply won't hold any longer.
As we discussed earlier, the size of the battery is directly proportional to its battery time and thus, a smaller battery such as the Interstate Trolling Motor Battery cannot last as much as its larger competitors.
However, since, it is a smaller model it also costs way less and is very pocket friendly. It is also vibration resistant.
Pros
Vibration resistant
Cost-efficient
Cons
Conclusion
Out of all the models available on the market we have shortlisted the finest eight trolling motor batteries for you to choose from.To choose the right trolling motor batteries with ultimate performance and high-end functionality it is important to understand what matters them most; features and personal preference. Do not overlook what matters the most when it comes to enhance the working and durability of the trolling motor batteries along with the best value.  
We hope you get to enjoy your days fishing with endless support and never again have to worry about the right batter again.
FAQs
1. How long will a battery last per charge?
The lifetime of a battery charge depends upon what kind of a battery it is and how long does it stay recharged. However, as a rule of thumb, the lifetime of a battery's charge is relative to its usage and size. If it is a larger battery it will last relatively longer without recharging as compared to its smaller peers.
2. How long does it take to charge a trolling motor battery?
The time it takes to charge a motor battery depends upon the amperes supported by the charger. The higher the amps the quickly it gets charged. Usually, AGM or deep cycle batteries require longer hours to get fully charged as compared to Lithium-ion based batteries.
3. How many seasons of use can I get from an AGM battery?
The performance or lifetime of an AGM battery can vary based on several factors. The highest reported seasons for AGM batteries have been almost ten years whereas the lowest being almost two to three years. The right charger can increase the lifetime of a battery whereas a wrong charger can completely ruin it.
4. What kind of charger do I need for AGM trolling motor batteries?
All manufacturers recommend a charger that is compatible with their batteries and has the required amperage for the battery to function properly. Such recommendations should be taken seriously and acted upon.
5. How do I find what Group Size is my Old Batteries are?
Mostly, the group sized is mentioned on the battery or the manual. However, if you still can't find it we recommend a quick google search with your battery's credentials.
6. Are AGM batteries worth the price over Wet Cell?
Yes, we would say so because not only AGM batteries require less investment, they also have a longer life. The comfort and ease with an AGM battery are unmatchable and thus, its definitely worth the price.
7. Do I need any hardware or connectors to use a new battery?
You will not need new hardware or connectors if you choose the battery that matches with your trolling motor. But even you did end up buying a motor that entirely does not match then conversion kits are easily available, which will allow you to try out different terminal styles.