Are you one of those people who see or hear a lever-gun, and are transported back to a scene in a black and white cowboy action movie? In the world of rifles, two names are head-on at the top of the list. Here we'll take a glimpse of Marlin Vs Henry Rifles and decide which one is best.
As we know, a rifle is a long-barreled firearm where the barrel has a helical design of grooves called rifling that is cut into the bore wall. Rifles are designed to be held using both hands for accuracy. It is braced using a solid buttstock that rests on the shooter's shoulder. This rest is for stability.
Let's take a look at their features, similarities, and differences. We also get to see the pros and cons of each rifle.
Marlin Vs Henry Comparison in 2023
Marlin Rifle
For over 100 years, Marlin have been known to design and build some of the best lever-action rifles. They are also known for the patented MicroGroove Rifling, which helps increase the speed of producing rifle barrels.
Known as one of the favorites among deer hunters, it has kept the name in the business for long. Also, Marlin decided and introduced their lever-rifles to side eject. This means that the cartridge carrier is not dependent on cartridge length.
What happens here is that the opening of the lever permits a cartridge to exit the magazine before the carrier can raise a block to the next round before it also leaves the magazine.
Facts and Features
Side eject lever rifles.
Long enough receiver and a square bolt.
Two-piece firing pin to prevent out-of-battery fire.
Wide-range shooting.
Recommended Marlin Rifles to Buy
Marlin is one of the famous names in the firearm industry, here are some of the most recommended rifles to try from them:
Marlin 1895

If you think that side eject lever-guns are better than top ejects, then this might be the one for you. You can use the top of your gun for your riflescope alone. This original big bore is chambered in 45-70 and is blued with the butt being walnut. The barrel is 22 inches with a magazine of 4-shots and QD sling studs.
One of the things that set this model aside is the side ejection, unlike the usual top ejection rifles. This unit whips with an XS Lever Rail that has ghost rings on top that lets you quickly put an optic on it.
Weighing 8 pounds, this model is 37 inches in overall length, with the barrel being 18.5 inches. These dimensions make it a nice size to be used as a brush gun and easier to use in general blind hunting. Its magazine is full-length tubular with a capacity for five rounds.
Also, this series is suppressor-ready. When using this rifle for hunting, you would want the powered-up lever-action loads because of the difference it makes in the effective range of the rounds.
Moreover, the receiver is side ejecting and closed topped with a cross-bolt or hammer block. Loading is by a gate at the right of the receiver, and the bolt is grooved to improve operation in extreme conditions.
If you compare it to a standard rifle, you will spot two changes. First, there are these 11.25 inches of weather-type lever rail on top of the barrel and action.
Next is a dense, fixed blade on the block in front and a removable and fully adjustable XS Ghost Ring aperture at the rear. This results in clearer sight and faster acquisition when irons are required.
Latest Comparison: Remington 700 ADL vs. BDL
Martin 1894

If you wanted a carbine for yourself, this classic might be the one for you.
This rifle is one of the best lever actions you will ever see out of a factory. Today, rifles tend to be black with rails just everywhere. Inspired by older models, you will witness a nod to the traditional design in this model.
Like the 1895 model, this also has the side eject feature. This is a vital factor as cartridges with improper tension on the neck could have ammunitions slip-up back into the case because of the recoil, which causes the unit to be too short to feed reliably.
When all those cartridges are in line, there could be a lot of weight pushing against the bullet's noise as the gun recoils.
As for the carrier design, this model is chambered in .357 Magnum fire and .38 special cartridges with no issues. Also, chambered in .44 Magnum can fire .44 Special and .44 Russian with the same effectivity.
Another relevant feature is the bolt design. It is a lever-action chambered in cartridges of rifles first. Like its predecessor, this model has a square bolt and long enough receiver to make sure it accommodates the most used cartridges. The 1894 rifle is a smaller version of this design.
Moreover, it has retained one of the best features of previous rifles – the two-piece firing pin. Suitable for .44 Magnum, it has a chamber pressure of 36,000 pounds per square inch (psi).
Combine this high pressure with .44 Magnum's case head, and it results in a tremendous bolt thrust. It is the force the cartridge puts on the rifle's bolt face or breech.
This rifle is so reliable because of the locking block engaging the bolt, but the strength comes from the forged receiver that accomplishes three things:
Structural Integrity
Chemical uniformity by alloy segregation and dispersing
Compression of steel to make it denser.
Marlin 1895G

If you are not fond of big heavy guns, sometimes, the smaller ones deliver the most prominent power. Indeed, good things can come in small packages.
Designed initially as a Guide Gun, it could also serve anyone who spends time in the country for defense against more massive creatures. The gun could also function as a fast-handling rifle for the hunting of a larger game in heavily wooded places.
One thing that you will notice is the size of this power rifle. Weighing 7 pounds with an 18.5 ported barrel, this unit is compact and portable. It will not strain your arms being carried.
With a blued steel barrel and receiver, it also has a buttstock and forend of walnut. The buttstock has a ventilated recoil pad and a straight grip.
Like the other models, this is also a side eject rifle, which makes mounting of a scope simpler. This is also made convenient because of the drilled tapped top for attaching a riflescope mount.
Holding four rounds is a tubular magazine under the barrel, and the action feeds both hand and factory loaded ammo reliably and crisply.
It is chambered in 45-70- Government which delivers enough firepower and could knock down any land animal.
This model is designed to be an instinctive pointer and is engineered for close counter shots when used in hunting. Combined with the ventilated rubber recoil pad on the rifle, this system makes shooting a piece of cake.
Boasting a reflex, clear insight, and a lower power optic, this does excellent work in 400 yards. Hunters prefer it and call it an ideal guide gun.
Related Guide: Bergara B14 or Remington 700 Rifle
Henry Rifle
This is another household name in the lever-action rifle industry. It is famed for being used at the Battle of the Little Bighorn and the inspiration for the iconic Winchester rifle of the Wild West in America.
These guns use a .44 caliber cartridge with 26 to 28 grains of black powder. The lever-action ejects the spent cartridge from the chamber and cocks the hammer.
Forcing the next round into the follower is a spring in the magazine; securing the lever back into position pushed the new cartridge in the chamber and closed the breach
To load the magazine, the user moves the cartridge-follower along with the slot into the top portion of the magazine-tube and pivots it to the right to open the front-end of the magazine.
Facts and Features
Excellent metal and wood craftsmanship
Unnoticeable recoil
Well-balanced lever-action
Usage versatility
Recommended Henry Rifles to Buy
If you are a history and movie fan, these Henry rifles are iconic. Here are some of the most recommended units that they offer:
Henry Big Boy

Like the good guns we see in those Wild West movies, these are excellent powered guns, too. If you are looking for one, this option might be a great one for you.
With a fully-octagonal 20-inch for a barrel, a solid brass receiver, a 10-round tubular magazine, this lever-action centerfire rifle is a larger version of the other guns from this manufacturer.
This rifle is known to have a rounded bolt and a solid receiver with one rear locking lug. It reloads through a port in the front of the magazine tube after removing the plunger.
The brass receiver is massively thick and is made from a solid lump of a proprietary brass alloy. It has the same yield and tensile strength as steel.
These rifles are known to handle any loadings within the SAAMI pressure limit of 36,000 PSI for the .44 Magnum.
Using this for a shooting activity is both joy and thrill as it's a perfect combination of steel, brass, and walnut. The full-octagon barrel is painted in a lustrous, deep black only found in the classics.
With its polished brass butt plate and the muzzle that is Hawken-styled, you are assured of superb quality and attention to execution and detail.
Both fore-end and buttstock are of American walnut, which has an exceptionally satin-smooth finish. There is an excellent wood-to-metal fit all around the rifle.
When shooting, the ramp slides loose under the recoil, and the sight drops to the lowest. There are times that it would move itself down one notch at a time, and at times it drops down. This results in pronounced vertical stringing.
Its lever is slick, and the trigger breaks cleanly at slightly over four pounds.
Henry American Eagle

A real blue rifle that screams freedom is what this ammunition offers. With its light-colored, nickel-plated, engraved American Eagle theme, this might be your next favorite rifle to use.
The American bald eagle is known to be a symbol of the country. This rifle has distinct plating and engraving work.
To start, the look of the rifle begins with the ivory-looking stock with a bone-colored finish and pales in color. This is achieved through a complicated process, where the American walnut receives several layers of primers that used ivy in color.
Also, the stock is sanded between applications to make sure that the wood grain is highlighted. Finally, the American bald eagle head and the company's logo is engraved. For contrast, the cover, butt plate, receiver, and barrel band have a mirror-like nickel-plating.
Because it is designed after another successful model, this lever-action rifle is already credible. Moreover, the 20-inch octagonal barrel, fully-adjustable semi-buckhorn rear sight, and the brass bead front sight provide familiar level-action features.
Interestingly, this rifle's tubular magazine can provide capacity for 16 rounds. This model's overall length is 38.5 inches and it is light weighted at 6 3/4 pounds. Because of this, it is an exceptional choice for target shooting, hunting, or even plinking. These rifles are also well-balanced and deliver the popular lever-action functioning.
There is an internal transfer bar safety that prevents hammer contact with the firing pin unless the trigger is pulled. It cannot be fired from being dropped onto the hammer, nor will the rifle accidentally fire if the thumb of the shooter slips from the hammer while cocking.
Henry Lever-Action Shotgun

If you are a fan of shotguns, this lever-action one might be the shooter you are looking for. This makes a great addition to the already fantastic line-up of firearms that the company has produced.
Sporting a 24-inch smoothbore barrel, it also has a removable and factory-installed full choke tube that is also in vector style. This choke tube can also be replaced aftermarket should you want to enhance the versatility of loads used in this shotgun, which includes slugs and buckshot.
It is a combination that guarantees to make lever-gun lovers awestruck.
The barrel and receiver are both matte blue. It also has a checkered, walnut stock, a steel-capped forend, and a ventilated recoil pad. Moreover, it utilizes a large, brass bead, front sight and there is no rear counterpart to provide a quick sight and accurate target acquisition.
Constructed with solid steel, this shotgun has a receiver with enough strength to handle all factory 2.5 inches .410 ammo. It also has no loading port and uses of the side ejection as ammo is loaded directly into the tubular magazine.
It utilizes an internal transfer bar that prevents hammer contact with the firing pin unless the trigger is pulled by the handler. This cannot be dropped onto the hammer, nor will it fire by accident if the user's thumb accidentally slips while cocking.
Because of its design, it is perfect for hunting smaller games or even controlling pests that are roaming around your house, backyard, or farm.
It has tubular and in-line cartridge magazines underneath the barrel. You will appreciate how simple the feed tube system is. The user can push it back down into the magazine, twist to lock and work the lever.
Henry or Marlin Rifles?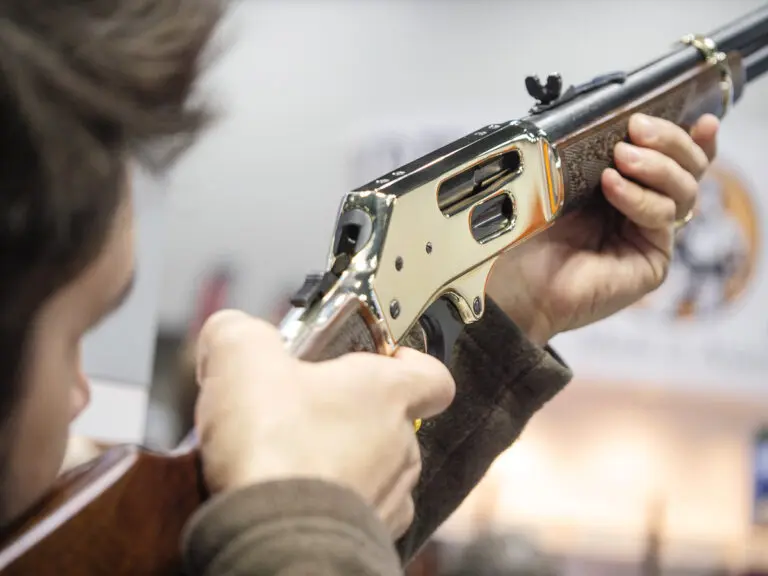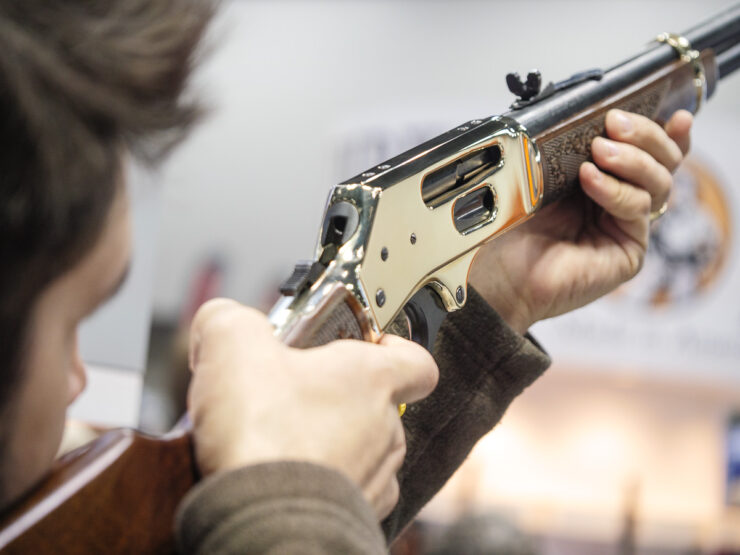 Head on with the facts and features; both manufacturers boast of superior quality and craftsmanship they execute in every firearm they design, engineer, and produce.
Comparing these two is quite a challenge as they possess fantastic features and benefits that would depend on the lifestyle and shooting technique of the user.
Marlin Rifles
It has been the manufacturer's passion to make sure that every rifle is well-crafted. Currently, one of the top sellers of lever-guns, they had risen from the underdog status they had when they started.
Because of the utilization of side ejection, it allows for flat-topped firearms to accommodate the mounting of riflescopes more conveniently.
It was a basic design as more and more shooters rely on optics when firing. They are substantially larger, heavier, and more durable than most of the other rifles. This has also allowed the usage of 45-70 cartridges.
Henry Rifles
Most well-known because of the consistency in the quality of their firearms, Henry rifles' action is lightning-fast and silky smooth. One of the reputed models is approved by the Single Action Shooting Society and used for competition.
These also use a firing pin block safety that prevents the hammer from firing the pin unless the trigger is fully pressed. Also, all their firearms are proudly locally made.
Conclusion
Rifles are such versatile firearms. You can use them for protection, hunting, or even for the occasional hobby of target shooting. Whatever it is that you use this weapon for, you can always count on these two names to give you one of the best practices from a lever-action rifle.