Be it bird watching or moon viewing, spotting scopes and binoculars are the most popular go-to instruments people choose. They work in the same way as magnification, though it may differ depending on the model.
However, both have some limitations, which make people choose one over the other. In this spotting scope vs binoculars article, we have thoroughly discussed each of them to give you a perspective guide of which one might be better for you.
It entirely depends on preference, and you might have a lingering choice already. However, keep an open mind and your needs & preferences in check while reading.
Spotting Scope vs Binoculars Comparison in 2023
Last update on 2023-09-24 / Affiliate links / Images from Amazon Product Advertising API
Spotting Scope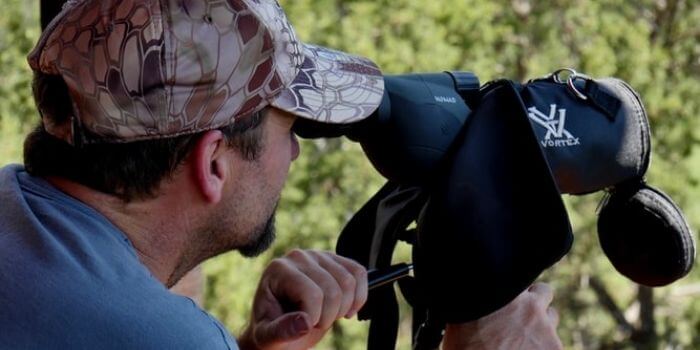 Spotting scopes are suitable for learners and professionals because of the pricing and the flexibility they offer. Its magnification can range from 20x to as high as 120x, or more. This makes it excellent for astronomy such as moon viewing and stargazing.
Along with that, for their stable and fine focusing, they are great for hunting and shooting. You can change the magnification level to adjust comfortably by switching the eyepieces.
Other than that, you get the flexibility to fix it on a spot of your liking for viewing, or shooting a target. However, they are not very portable due to their weight. Also, you need to carry quite a few pieces as well. You can also attach a camera or mobile phone to them with an adapter.
Recommended Spotting Scopes to Buy
Spotting scopes are excellent for the reasons we mentioned earlier. Now let's look at some of the best and most affordable ones in the market.
1. Gosky Updated 20-60×80
With a durable, sturdy framework and dynamic lens, this spotting scope is excellent for bird watching, stargazing, camping, wildlife watching, hiking, hunting, and more. If you are into any of those, then you should definitely check it out.
It has a zoom magnification from 20x to 60x. This gives you a clear and close-up view. The eyepiece is situated at 45 degrees, which makes it very comfortable to view the surroundings without straining your eye.
Also, the 80 mm lens is a green film glass that comes with an advanced complete multi-coating. Its BAK4 Porro prism optics helps in delivering brighter and clearer image without any reflections or glares. It works great even under low-lights.
Thanks to the rotatable eyepiece, you can adjust its position on the body to get a satisfying view of the area. Its sunshade helps to block the sun's glares when viewing in daylight.
To make things even more exciting, it comes with a phone adapter that lets you align and adjust your phone to the scope to capture the perfect moment! The scope has a field of view of up to 48 feet.
Latest Guide: Athlon vs Vortex Riflescope
2. Celestron Ultima 22-60x100mm
If you want a more extensive view through your spotting scope, then this one with a large 100 mm lens is a great choice for you. It is perfect for all the outdoor enthusiasts and adventurers out there, be it in the wild or city.
The insides of the scope have been filled and tightly sealed with dry nitrogen gas. This helps to prevent fogging from the inside. The seal also makes it waterproof for a completely clear view, in any situation.
Besides, you are getting a T-mount adapter in the package for digiscoping. You can use it to attach your DSLR camera on the T-ring to take sharp and bright, professional looking photos.
Quality is something to note as well, as the spotting scope has been engineered and constructed from the highest quality materials in its class. So, you are getting the best performance, along with a durability that will last for a lifetime.
Moreover, thanks to the large focus dial, you can zoom in on any moving object quickly before it moves away. Along with that, the zoom eyepiece helps to zero in; so you can get any distant view closer in seconds. It also comes with a carrying case.
3. Vortex Optics Diamondback
Part of the popular and well-loved Diamondback series, this spotting scope is a heavyweight performer, minus the weight. It is great to use in the field, and for hunting.
This scope comes with a built-in mount for a tripod. It attaches to almost any tripods on the market. You can also mount it on your car window mount for a more convenient view of the wild from the safety of your vehicle.
It can be attached to any car window mount or tripod that has ¼ x 20 screw threads. The mounting collar is flexible and rotates all around, so you can rotate it to the angle you prefer. You can screw that position, or angle into place by turning the thumbscrew clockwise.
Moreover, using the adjustment ring, you can quickly and easily zoom in on something. Not only that, you can also refocus if the image is blurry by adjusting the fine focus. This also helps to reduce strain and pressure on the eyes for a fatigue-free viewing.
Along with that, the sunshade is adjustable. You can extend it further to block the sunlight. This also helps to shield the lens from fingerprints and mechanical damage.
Related Article: Lumenok or Nockturnal
4. Celestron Regal M2 65 ED
No products found.
We have another scope from this leading company. Its dual focus, ED objective lens, and more exciting features earned it a spot on our list. It also has the similar well-loved features of previous model.
This is their flagship model, made with only premium materials. From the armored magnesium alloy body to the glass lens, it offers you the best viewing experience without any compromise.
Its ED or Extra-low Dispersion glass brings out true-to-life colors by virtually eliminating chromatic aberration and other such visual defects. So, you will be getting excellent close-up views of the object, area, etc.
Moreover, it comes with cases for different pieces to protect its natural state for a long time. These include an eyepiece cover, objective lens cover, padded view-through case, eyepiece storage covers, eyepiece port. There is also a T-mount adapter for mounting a camera.
Besides that, the lenses have an XLT optical coating similar to the ones used on observatory-class telescopes. This means you will get clear views even in dim light conditions.
5. SVBONY SV46
From a relatively young company, this scope is an excellent and affordable choice for astronomy, sports, and nature viewing. Unlike most other spotting scopes on the market, it comes with a multifunctional tripod.
Its FMC coated and BAK4 prism lenses enhance the view even more, making it look HD. The objective lens is 80 mm, providing you with a large range of field of view.
This scope's dual focusing lets you focus quicker. Its co-axial dual-speed focus dials, one with quick focus and the other with slow focusing, bring clarity to the image. Plus, the 23 mm eyepiece helps to relax the eyes.
Along with that, the scope has an IPX7 waterproof rating. So be it rain or snow, the scope will be safe and undamaged by the weather. You will also get a soft carrying case to carry it and protect it from dust & damages.
Moreover, it comes with nine pieces of eyepiece to adjust and try out. You can also rotate the body up to 180 degrees in order to position it for your comfortability.
Suggested Article: Marlin Rifles or Henry Rifles
Binoculars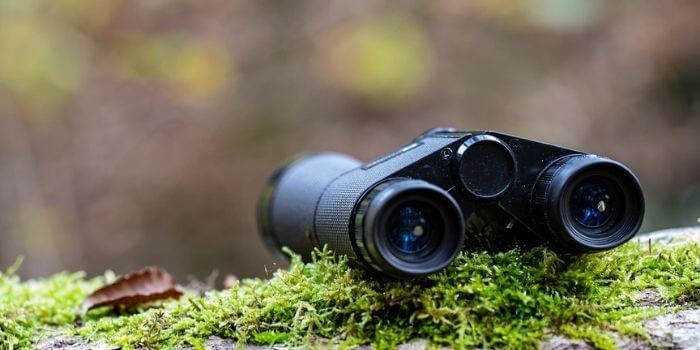 Binoculars are popular among both kids and adults, due to their portable and varying sizes and magnification. The magnification can range from 10x to 30x, or more. But the most typical and popular is 12x.
They are also very portable, being excellent to carry during traveling and wildlife adventures. You can also watch the moon and stars with it. While you can't change the magnification further, it is perfect for hobbyists.
The affordable pricing also makes them a popular choice for people who want to view nature, the night sky, etc. It makes a great "starter" for outdoor enthusiasts.
Recommended Binoculars to Buy
You can find binoculars ranging in many different price points. We have listed some of the best and most affordable ones for you to choose from.
6. Celestron SkyMaster
The SkyMaster is one of the most popular binoculars in the market. Its affordable price point makes it even more attractive.
It has a 12x zoom magnification, which in addition to its Porro prism glass, provides an impressively clear and bright view. The large 60 mm lens also contributes to the great experience.
With a multi-coating and BAK4 Porro prism, you won't have to deal with any sun glares or reflections when watching. It doesn't compromise on quality in the dim light either, making it great for astronomy, dawn, dusk etc.
Besides, it has a soft, comfortable, and firm grip with an armored body, ready for any challenging weather. It is waterproof as well, so you don't have to worry about its performance or condition in rainstorms.
What's more is that the rubber eyecups are soft and flexible, blocking sunlight and providing comfort to your eyes. Even people who wear glasses can watch through it comfortably by folding it.
Suggested Topic: Remington 700 ADL vs Remington 700 BDL
7. Vortex Optics Crossfire HD
Another popular and well-loved binocular, this one comes with select glass elements that provide an exceptionally high-resolution image view. But that is not all.
Its armored aluminum body is solid and durable, giving a high-quality feel. The multi-coated lens helps to remove chromatic aberration, providing you with a bright and sharp view without any distortions.
Furthermore, its lens is 42 mm in length, with 10x zoom magnification. It transmits light properly. Along with the anti-reflective coating, this provides best viewing experience. The roof prism design contributes to its durability and portable size.
And yes, the insides have been nitrogen purged for a fog and waterproof performance. Besides, you can easily adjust the eyecups by twisting them up and down to make them comfortable for viewing. It works with eyeglasses as well.
Moreover, by adjusting the diopter placed on the right eyepiece, you can fit it to your eye proportion and difference. If all this makes you wonder what the price is, then you'd be shocked to learn that it comes at a relatively affordable price!
8. Gosky EagleView
If you are looking to buy something a bit more premium at a reasonably good price point, then you wouldn't want to miss this one! It has an advanced complete multi-coating, wide field of view, and other impressive qualities.
First off, it uses premium ED or Extra-low Dispersion glasses, which reduce sun glares and ghost images. It also helps to reduce chromatic aberration, giving you an image view with only accurate colors.
Its lenses are more typical. They are 42 mm in size with a 10x magnification, perfect for bird watching and nature viewing. But it is also great for stargazing, watching concerts, sports in the stadium, and much more.
Moreover, thanks to the dielectric coating on the lens and BAK4 prism along with the ED glass, you can bet the view is going to be breathtakingly clear and bright, even under low-light conditions.
Furthermore, it comes with handy accessories, like a phone adapter to take photos, a carrying case, lens caps, neck strap, and a cleaning cloth. It is also compatible with a tripod, and you can even mount it on your car window mount.
9. Vortex Optics Viper HD
This binocular, with a perfectly ergonomic design and build, is worth the money if you want high-quality and are willing to spend a few bucks. Being over a few hundred bucks also means it has many high-end features and construction.
Let's start with the lens. It comes with an XR anti-reflective feature. This provides the best quality view that is bright and full, no matter the lighting. Alongside this, the high-density optical system ensures brilliant clarity and resolution.
Its compact size, along with the armored rubber chassis, provides a perfect ergonomic design to place your thumb on. The rubber also helps to provide a superior grip.
Moreover, the internals of the binocular has argon purging. This, in addition to the O-ring seal, is ready to provide you with a waterproof and fog-proof performance that will last a lifetime! The center focus wheel is smooth, delivering up to 10x magnification. Its lens is 42 mm and provides excellent sharp focusing.
Furthermore, the adjustable eyecups allow a customizable eye relief distance. Plus, the diopter on the right eye side ensures you are comfortable. Your eyes also get the right amount of focus without any strain.
10. Nikon 7577 MONARCH 5
Considered to be the "go-to" binocular for adventurers, especially outdoor enthusiasts, this binocular's Eco-Glass and Nikon's premium ED glass lens are some of its major selling points.
The glass lenses have multi-coating, so that it can provide proper light transmission and the highest resolution for impressive crystal-clear view. It successfully blocks out sunlight and glares as well.
Along with that, their premium ED or Extra-low Dispersion lens, in addition to a dielectric high-reflective multilayer prism coating, provides the most accurate color reproduction. So, you will only see a natural-looking clear image.
Besides, it has a clear and wide field of view for a full image. It has long eye relief as well. You can find the binoculars in three different magnifications: 8×42, 10×42, and 12×42, all in varying prices but with same brilliant quality.
Moreover, it has turn-and-slide rubber eyecups. They are great for finding a comfortable eye position to make sure you can use them for an extended period of time comfortably. The body also has a rubber-armored protective coating for durability and a non-slip grip.
Spotting Scope or Binoculars?
Apart from the apparent difference in their sizes, there are many other factors that make them so different. We have discussed them down below.
Magnification
One of the significant differences that make people choose one or the other is the magnification. Spotting scopes offer a wider zoom magnification than binoculars. They can go from 20x to 120x, and more.
On the other hand, binoculars typically offer around 10x to 30x highest magnification. You might also find some higher than that, but they're very rare and can be incredibly expensive.
Portability
Binoculars are very portable due to their compact size. They are also comparatively lightweight. With a neck strap, portability is rarely an issue.
On the other side, depending on the spotting scope's weight, they can be very difficult to carry around. Not to mention, they almost always require a tripod when viewing. This means you need to carry a lot of extra equipment, including the eyepieces.
Nature and Astronomy
Binoculars are very popular for bird watching, since they are portable and easy to use. Moreover, they are great for watching nature in general, for wildlife or adventures. And if it comes with a phone adapter, you can take pictures as well.
Spotting scopes, on the other hand, are excellent for a more stable and faraway view, like the night sky. The high magnification makes it the perfect device for stargazing, moon watching etc. They are also great for nature viewing.
Outdoor and Indoor Sports
For outdoor sports such as shooting or hunting, spotting scopes are great due to their high magnification and fast focus. Because of the tripod, they are well suited for these sports. Binoculars can be useful for more close-range shooting or hunting, but focusing may be an issue.
But they are excellent for watching sports such as football, cricket, etc. in the stadium. Plus, their compact size makes it seem like you aren't carrying anything extra at all.
Conclusion
Although both have the same purpose, which is to magnify and view the surrounding, their performance in different activities helps to make the final decision. In our spotting scope vs binoculars comparison, you get to make the call for which one is better for you.