Fitness trackers are really popular today because of a good reason. They not only help us to track our daily physical activities like a workout, running, cycling, swimming, and health situations, but also update us about daily weather condition or calendar alerts.
If you decided that you want a healthier life ahead with wearable technology like a fitness tracker and start looking for the best fitness tracker for you? Different fitness trackers of different brands have different features, specifications, and qualities.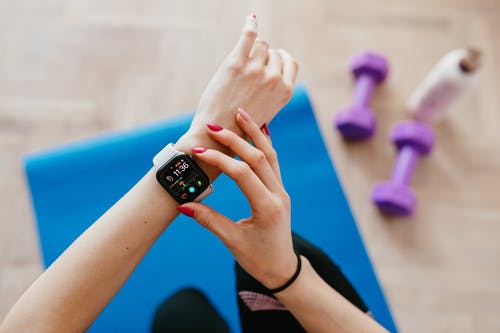 Choosing the best fitness tracker must consider some points that will narrow your choice and really helpful for you.
The main mission of a fitness tracker is to track all your physical activities. And it does this by recording and interpreting the data which is generated by the sensors that fit in a fitness tracker. Many years ago, sensors large in weight and a high cost, but now the sensors are very light in weight and also less in price.
So, always choose the fitness tracker that must have a good sensor that can track all your physical activities because without or poor sensor, it never records accurate data of your activity. The most basic sensor present in a tracker is an accelerometer that detects liner acceleration.
To detect the rotating movement, the tracker needs a gyroscope. Some trackers also have a magnetometer sensor to detect the magnetic fields. There is also a common type of sensor is photo-plethysmography, which use to detect the heartbeats by using the lights.
So, there are a lot of sensors present in a fitness tracker and work differently or sense different physical activities. Not all fitness trackers have basic types of motion sensors, but a fitness tracker with more sensors means it gives better results and accurate data.
A fitness tracker's main purpose is to track your workout. How can we think about a fitness tracker that can't track our workout? Most of a tracker has a timer feature that allows you to set the alarm, or some also have a stopwatch feature to tracks your workout session.
Some fitness tracker also has a feature of recognizing your workout activity like walking, swimming, running, or bike riding. Such as the Fitbit charge 3 is a fitness tracker that easily specify your workout activity.
When we talk about swimming, so there is also a fitness tracker that is water resistant like IP 67 or IP 68. If you like to wear your tracker during swimming, then you can look at the devices. Also, a Misfit shine 2 is a fitness tracker that has a feature of water resistant for up to 50 meters in depth. Runners and cyclists also can find a tracker with included a GPS.
No matter that you are a swimmer, runner, or a regular workout person, always choose a fitness tracker with a good tracker system that accurately tracks your workout activity.
We all knew that health is wealth, and most people want a tracker that tracks their health. Most of the aged people who need that type of trackers, which can track their heartbeat, heart rate, pulse rate, or many more to keep them conscious about their health.
A feature that received attention to everyone that a device must have an ability to track electrocardiogram (EKG) data. These types of devices not only track your health activities but also detect and alert you when they ever track a potentially dangerous in your heart arrhythmia. Trackers can include a lot of health features like food intake tracking, sleep tracking, hydration, a reminder to get up and move time to time, or many more.
So, choose such type of tracker that correctly detects and integrates the data of your health and keeps you alert about your health.
If you want more than fitness? Then this is where smartwatches come in. Now, there are many fitness trackers present with a very innovative or unique feature of a smartwatch. A Fitness tracker with a smartwatch option tracks your sleep, health, hydration, or so on, but also give you notification alert of any incoming call.
Some fitness trackers allow you to attend calls or reply to a text. But some fitness trackers have missed these features, and they not allowing you to response to any call or text. But the choice is yours that what kind of a tracker you want? Like, if you want a fitness tracker with features of attending calls or replying text then, move to that type of fitness tracker.
There are many brands of a fitness tracker that offer a great feature of a smartwatch in a fitness tracker like MI, honor, or many other brands. If someone wants a fitness tracker with a smartwatch option in it, then must go to that type of brand, providing such types of fitness trackers.
When you are looking for the best choice of a fitness tracker, then must consider the battery life of a fitness tracker. Because most of the fitness tracker has very less battery life and stop suddenly during your workout or any other physical activity and never provide you accurate result or data.
Some fitness trackers also have a battery that goes for a week, and some just go only for one day. So, always choose a fitness tracker that has good battery life. You can also go with a misfit shine 2 fitness tracker that does not require a recharge and has a replaceable battery that replaces after six months of usage.
If you decided that you want a healthier life by using a fitness tracker and looking for a fitness tracker, that is good for you. Then all above mentioned points like battery life, workout tracking, sleep tracking, waterproofing, or many other are close enough to consider when choosing a perfect fitness tracker that is best for you and your lifestyle.
You will see a lot of fitness trackers in a market with a lot of features. Always look to the overall design, quality, and look of your fitness tracker, but must choose a tracker that fit according to your choice and fulfill your requirements.