Winter camping is adventurous and fun, but it takes no time to get turned into a hazard–if you are not prepared fully. There are some gears required for a successful camping excursion, otherwise, it would be difficult for you to camp even for a night. The most important of all is tent heaters. The other gears include;
Tent
Sleeping bag
Insulated sleeping pad
Stove & fuel
Utensils & cookware
Headlamp
Clothing
Goggles
Snow boots
Backpack
Poles
Navigation
First aid kit
Extras
So, let's dive right in.
Gears Required To Make Your Camping Excursion Exciting
Tent
A tent provides protection and shields you from the weather, which can be harsh in the winter. Winter storms frequently bring high winds and heavy rainfall, and your tent must be able to endure all of it.
To choose the best tent, the following video will help you:
Tent Heaters
The safest way to use a heater in a tent is to use an electric tent heater with the proper safety features, or a catalytic heater with the CSA 4.89 certification. Aside from the right heater, the positioning of your heater is critical, and it must be far enough from the tent's edges and from clothes or bedding. Also, only using a tent heater when you are awake is a prudent safety measure.
Types of Tent Heaters
Some tent heaters are safer than others, but keep in mind that no heater is without danger. You must first choose between electric and gas heaters.
Electric vs. Gas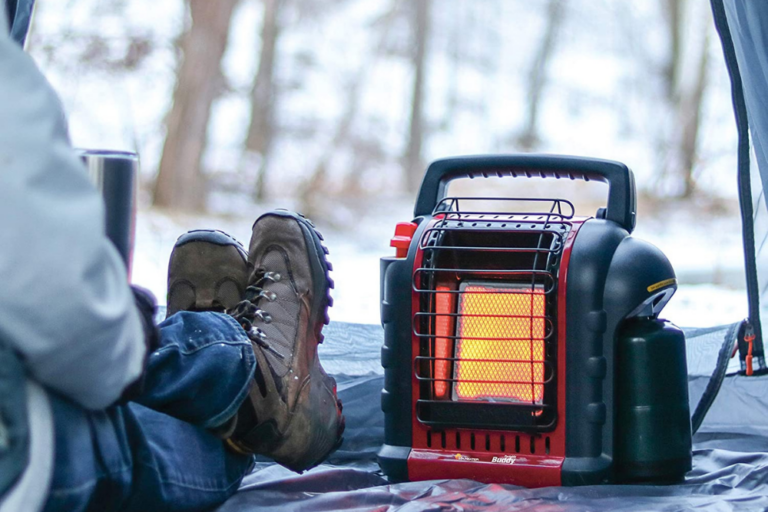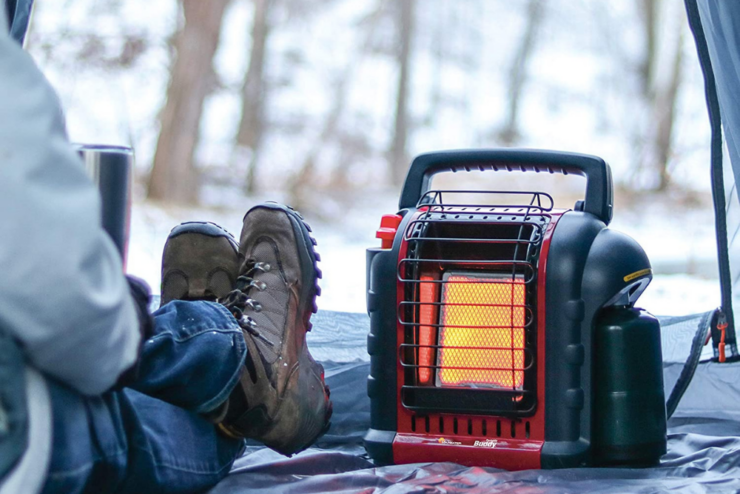 Electric and gas tent heaters both have advantages and disadvantages. Let's look at a couple of them.
Pros of Electric Heaters
Electric heaters have the following advantages:
Practically uses minimal oxygen
Purchasing propane or other fuel tanks are unnecessary
Does not emit carbon monoxide
Cons of Electric Heaters
The cons that electric heaters possess are:
Electrical outlet required
Extension cord required
Source of heat can cause damage
Pros of Gas Heaters
Gas heaters come with the following pros:
Portable
No electricity requirement
Has a lot of energy
Quickly heats small space
Cons of Gas Heaters
Gas heaters possess the following disadvantages:
Chances of carbon monoxide emission
Risk of oxygen depletion
Source of heat can cause damage
Gas heaters can tip
Sleeping Bag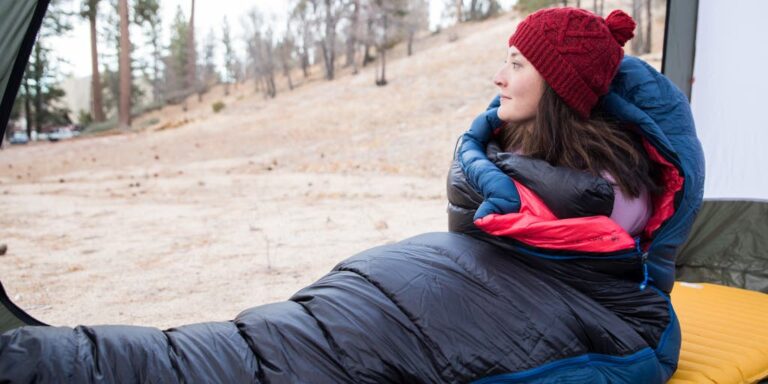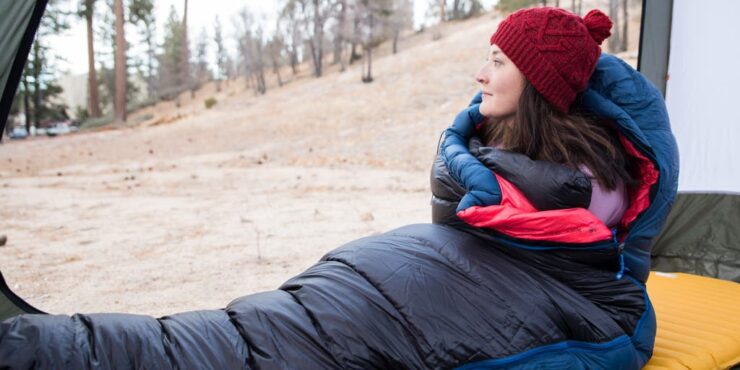 When picking a winter sleeping bag, keep in mind that the settings you'll be sleeping in, may differ, and temperature changes might be severe. For moderate winter campings, the absolute minimum sleeping temperature rating is 20 degrees Fahrenheit. However, many real winter bags are certified at 0 degrees or lower.
Insulated Sleeping Pad
We consider your sleeping pad to be almost as necessary as your sleeping bag since it acts as a barrier between you and the frigid ground. Therefore, for our winter camping trips, we opt warmer sleeping mats with high R-values (the higher the R-value, the more insulation from the ground a pad offers). Consider pads with an R-value of 4 or greater for frosty weather.
Stove
Meals are imperative on high-output days, but they are even more vital in cold weather when your body is working overtime to keep you warm. Keep a stove that is steady, can swiftly boil water, and can withstand the hard winter weather. The most convenient are all-in-one canister stoves.
Fuel
Cold temperatures mean you'll have to melt snow to create water, which means you'll require more stove time than you would in the summer. Of course, everyone's demands are different, but for two campers, one 8-ounce isobutane/propane canister every two days, or.5 liters of white gas each day, is recommended. It's also a good idea to pack extra in case your trip is unexpectedly prolonged.
Utensils & Cookware
Many campers use an all-in-one burner setup to boil water and consume their food directly from the bag, thanks to the improved quality of dehydrated meals. A pot isn't required in these situations; all you'll need is a spork and a cup or mug for hot liquids. You'll need to buy a pot separately if you go with a liquid-fuel stove, and it's better to go with something lightweight like titanium or aluminum. Cookware comes in all shapes and sizes, from lightweight to inexpensive, but there are plenty of alternatives in the between.
Headlamps
Winter days are short, and we frequently ski or snowshoeing back to camp as the sun sets (and sometimes even in full darkness). A headlamp is, without a doubt, a must-have piece of winter camping equipment. Cold temperatures deplete battery capacity at an astounding pace, so having some backup power to keep your light operational is essential.
Clothing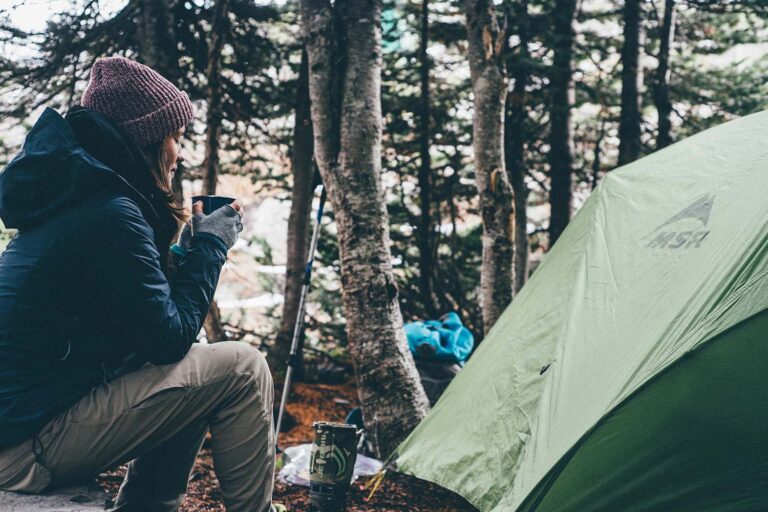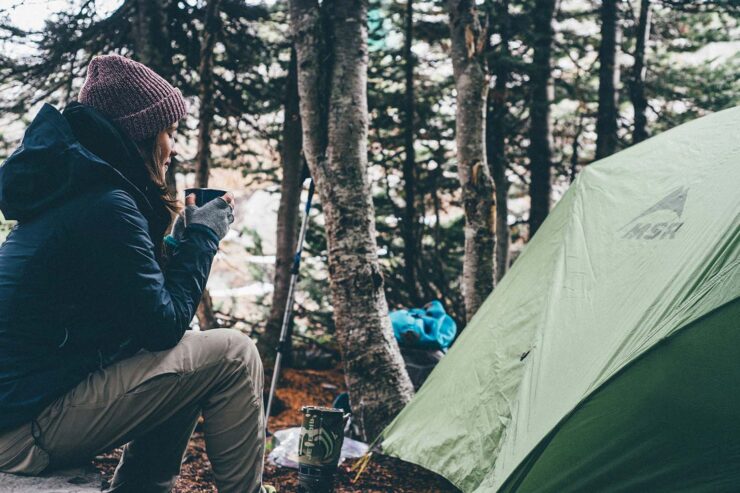 Jacket
When the temperature drops and the wind picks up, you'll need a substantial insulating layer to throw on. Nothing surpasses a fluffy jacket in terms of warmth-to-weight ratio. We recommend avoiding lightweight jackets in winters unless they are worn as a mid-layer because they will not keep you warm enough.
On the other side, it adds a bit of extra protection and warmth to a hardshell jacket. When working in the snow, whether building a snow shelter or a snowpack, it's critical to create a waterproof layer.
Gloves
We recommend having a pair or two of liner gloves on hand for working with tiny equipment that demands fine motor skills: fleece, wool, merino, or other synthetic fabrics work well. When working with a stove, liner gloves are especially vital since metal is an excellent conductor of cold and can inflict quick ice burn if touched with bare skin.
Snow Glasses
Snow blindness is a severe problem, particularly at high altitudes. Even on rainy or partly cloudy days, the sun's reflection off the brilliant snow surface is strong enough to inflict harm. We recommend performance-oriented sunglasses or glacier goggles for the greatest protection because they provide the maximum coverage.
Snow Boots
In winter camping, the trails are full of snow and that is why you need waterproof snow boots. Lightweight backcountry skis with touring bindings are, in our opinion, by far the most enjoyable method to travel for skiers. If you prefer to go on skis, you'll need a pair of climbing skins to slap onto the bases for simple travel on flats and slopes. Snow boots are made of mohair or nylon (or a combination of the two), allowing skiers to glide higher without sliding down.
Backpack
Because winter clothing is heavier and bulkier than summer gear, we recommend packing a larger-capacity pack (50-70 liters) than you would for a warm-weather trip. However, if you're going to be out for more than a couple of days and the terrain isn't too steep, a sled and a large duffel will make your journey more pleasant.
Poles
The poles allow you in maintaining balance and strength as you go through the snow, while the powdered baskets keep them from plunging all the way to the depths as you push down. Trekking poles may be converted into snowshoe poles by fitting baskets onto the bottoms. Ski poles that you may have used at the resort may also function, but we prefer a lightweight set that can collapse and extend.
Navigation
Besides a topographical map, it is always a good idea to have a GPS with you to double-check your location. We also recommend mobile phone applications that monitor the journey and enable offline map viewings, such as Gaia and Topo Maps. However, chilly conditions will quickly deplete your phone's battery, so keep it near to your warm body to extend its life.
First Aid Kit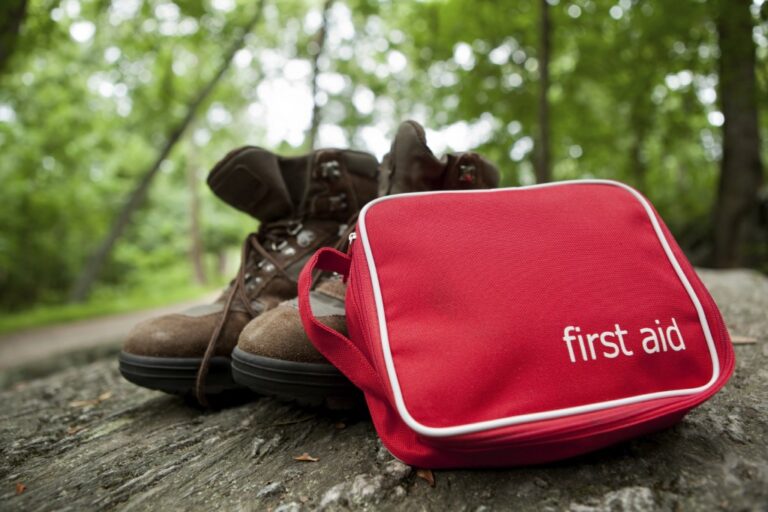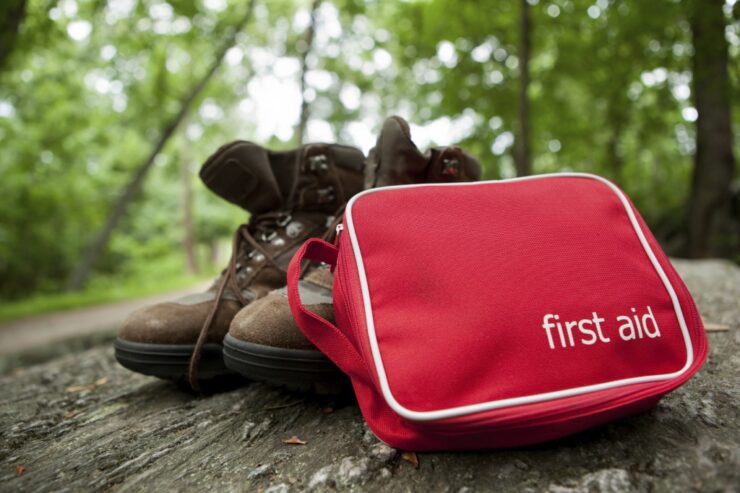 If you are injured or something terrible happens in the wilderness, your first goal should be to get out of there and get competent medical treatment. You should have basic prescriptions, band-aids and/or bandages, and duct tape at the absolute least.
Extras
There are some additional things that you might need on your camping excursion, and these include:
Lip balm
Toothbrush
Toothpaste
Biodegradable
Balaclava
Wet wipes
Non-metal spoon
Compass
Whistle
Crampons
What Are The Winter Camping Tips That Help You In Staying Warm?
If you are looking for some tips for winter camping that can help you in staying warm, these are as follows:
Put a warm layer of blanket underneath not only over your top.
Do not forget to shake your sleeping bag for maximum insulation.
Tuck your hands first into the sleeping bag and then your head.
Choose the right size of tent that is fully insulated.
Keep the hand warmers in your sleeping bag.
Use lithium-ion batteries that lower the temperature.
Do not sleep wearing all your clothes.
Conclusion
To make your camping successful and warm, one must have all the significant gears. Appropriate clothing, GPS, backpack, glasses, boots, and first-aid kit are fundamental. This article covers all the camping essentials and tips to stay warm in your tent.
For more reviews, click here.