An electrician carries his tools wherever he goes. The toolbox cannot be carried where there is a requirement to work on heights and ladders. You need a tool belt that will be your best companion in an 8+ hours shift. It should be comfortable, durable, have easy access to your tools, and evenly distribute the weight.
In this article, we have compiled a list of the best electrician tool belts along with the buying guide.
Buying Guide
You should check for the following points while buying the best electrician tool belt.
The electrician tool belt should have thick padding for a comfortable experience. The harness strap should be adjustable. It should fit perfectly distributing the weight evenly.
The material of an electrician tool belt should be strong and comfortable. Leather and nylon are the most common material. Leather provides comfort by absorbing the sweat and nylon has thick padding. Polypropylene and canvas are also used.
The electrician tool belt should be durable and strong enough to hold all your tools. The material and stitching should be strong for reliable performance.
The adjustable design should be considered to fit different waist sizes.
You should choose the number of pockets according to your requirement and the pockets should provide easy access to the tools.
Our 10 Best Electrician Tool Belts
Here are some of the best electrician tool belts with all the key features. They will help in improving your experience making the tools accessible and carrying it easily without interrupting your work.
1. Gatorback B240 Electrician Tool Belt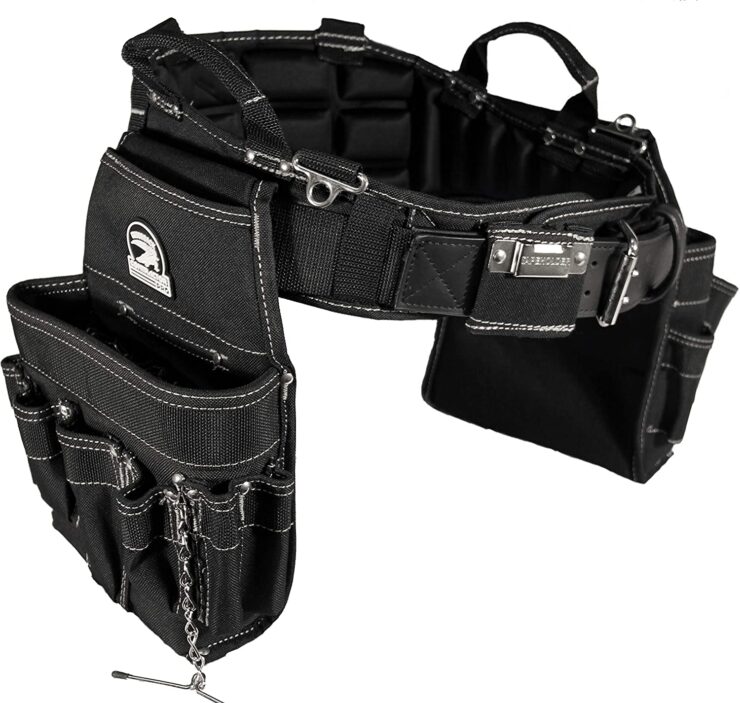 Features
Heavy-duty nylon construction
Boxed design with metal rivets and high-quality stitching
Air channels making it breathable and comfortable
Easy to carry handle
Enough space for tools
The Gatorback electrician tool belt has an air channel design providing a comfortable sweat-free experience. The foam backing is of ultra-breathable material that keeps you cool and comfortable. The Gatorback tool belt material is 1250 DuraTek nylon that is durable to keep the pouches strong and light enough to not burden you. The right side has 18 pockets while the left side has 9 pockets. The pouches have a box design with plastic internal lining. This design makes them accessible and the tools do not poke from the bottom. It comes with a one year warranty.
Customer Review
These are my daily bags. I have had them for about six months. They carry everything I need and do it well. All three of our electricians wear these bags and we love them.
2. Occidental Leather 5590 M Electrician Tool Belt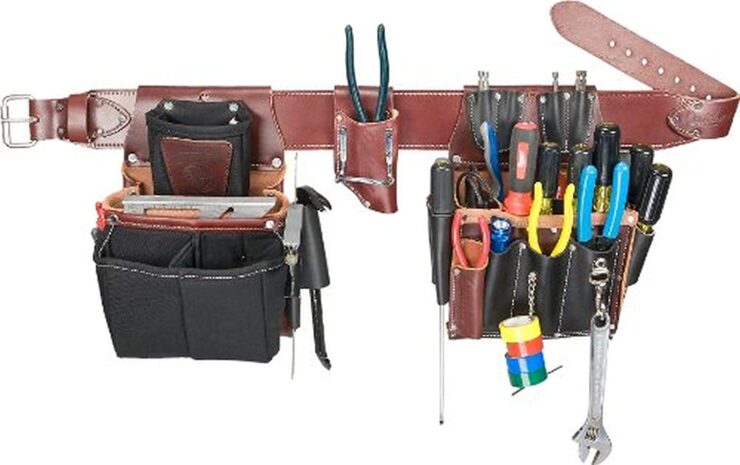 Features
High-quality durable leather construction
Minimal design
Thick leather making it comfortable
37 compartments for enough storage
Buckles and straps to secure easily
Non-slip system to protect the tools from slipping
Available in small to extra-large sizes
The Occidental leather electrician tool belt has an impressive look and leather quality. The thick leather provides comfort and is durable. It will fit you well as it is adjustable. It has 37 compartments for all your essentials. The two largest pockets are made of nylon that reduces the weight. You might feel difficulty in putting your big tools but if you oil the leather, it will loosen up with time to adjust them. It can fit all the sizes. The buckles and clasps secure it well to the waist and the non-slip system protects the tools from accidental slippage.
Customer Review
These bags are amazing to hold my tools well. My tools do not fall out like my nylon bags used to allow them to. Have ample storage space with plenty of configuration options to suit your needs. They are worth it if you have money to use them for work.
3. CLC Electrician Tool Belt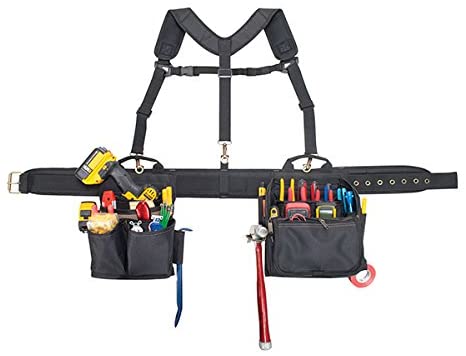 Features
Padded suspenders to distribute the load evenly providing comfort
28 pockets providing large storage capacity
Easy to carry handle design for adjustments and easy storage
Zipped pouches so that your tools do not fall out
Lightweight and comfortable to wear for long working hours
Easy to carry handle design
The CLC electrician tool belt is made of polyester fabric and comes with strong stitched 28 pockets with enough storage capacity. The pockets provide easy access to the tools while you work. This belt is designed for daily usage. The padded suspenders make it unique as it is easy to carry around and distributes the weight evenly. The three wide-padded tool belts protect you from the strain. The belt is adjustable and can fit waist sizes of 29-46 inches.
Customer Review
The handles are a big help. It helps avoid picking them up wrong and having your stuff fall out everywhere. Another thing is the tool pouch. It is a tool pouch with another zippered pouch around it. It is a big help, it allows for extra slots and the inner pouch is great for things you need access to without rummaging through the bags.
4. Gatorback Electrician Tool Belt with Suspenders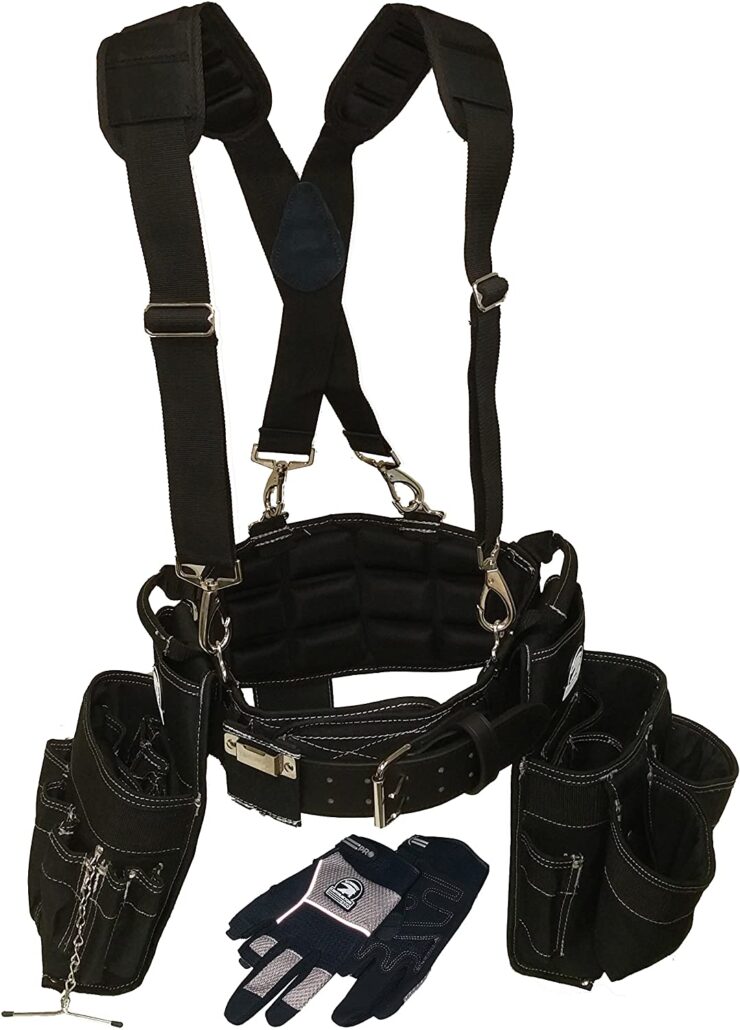 Features
DuraTek fabric construction that is strong and durable
Easy to carry handle
A contoured and comfortable back support
Multiple pockets for enough storage space
Suspenders to relieve the load from your back
This Gatorback combo deluxe package is built with DuraTek 1250 fabric. The bar-tack stitching and metal rivets are available at all stress points. It has enough storage for your tools with 18 pockets on the right and 9 pockets on the left side. The air ventilated belt padding provides maximum comfort with less sweating. The work gloves protect your hands and allow easy grabbing of nails. Your load is reduced with the help of suspenders.
Customer Review
It is of durable material, has a comfortable support system, and well thought out pocket design. These bags helped me in completing an electrical panel in less than an hour on my first day at the job.
5. FASITE PTN012 Electrician Tool Belts and Pouches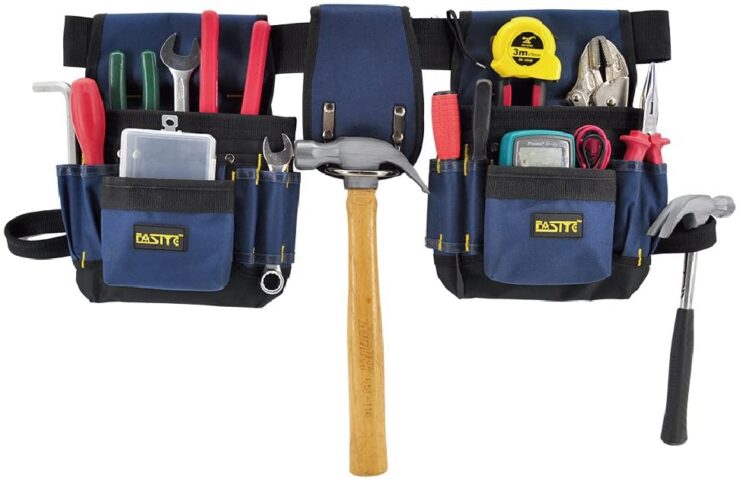 Features
Strong and long-lasting 600D polyester fabric construction
Large storage capacity with 32 pockets
Adjustable straps to fit your size
Lightweight and comfortable design
FASITE is one of the most reliable brands of tool belts and pouches. This belt is durable and strong as it is made of thick 600D polyester fabric. The triple fabric layer makes it long-lasting and waterproof. The double stitches and metal rivets are also available at the stress points to ensure the strength. This tool belt provides a large storage capacity with its 32 pockets. You can adjust it up to 48 inches. It is lightweight and comfortable allowing you to work at heights for long hours.
Customer Review
I was looking for a tool pouch that was affordable with a belt that is padded, a metal tape measure clip, removable and configurable pouches, and a metal hammer hook, very few tool belt manufacturers provide all of these in one package so, I am happy I found this.
6. TradeGear Electrician Work Belt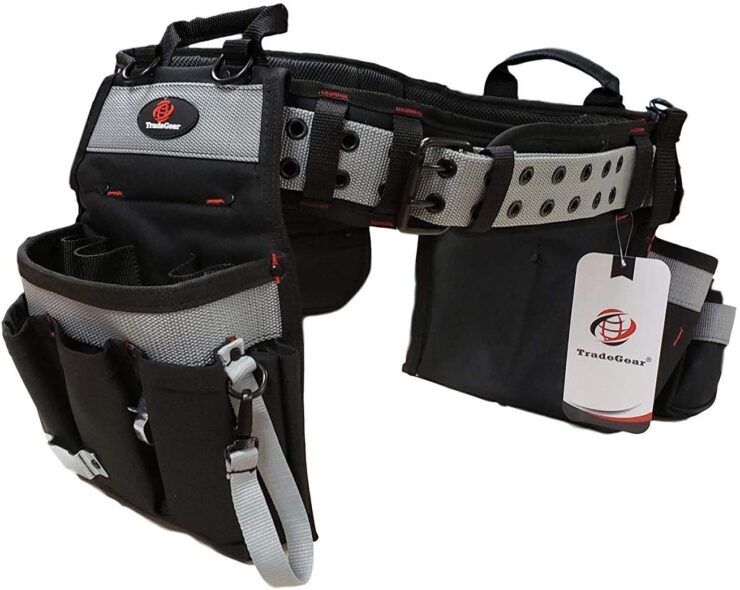 Features
Durable nylon construction material
Toughened with metal rivets and bar-tack stitching
Easy carry handles for convenience
Air mesh foam padding for a comfortable experience
27 spacious pockets, 2 heavy-duty pouches, 4 suspender-to-belt attachments, and D-ring attachments
The heavy-duty 600D nylon construction material promises a long service time with the metal rivets and bar-tack stitching. It comes in a simple design with air mesh foam padding for extreme comfort. It is the best tool belt for electricians that work for long hours. It has 27 spacious pockets, 2 heavy-duty pouches, 4 suspenders to belt attachments, and D-ring attachments for all your tools. The easy-carry handles add great convenience.
Customer Review
It is well built and durable. I can keep all of my tools in it and carry it like a bag. Some of the journeymen have considered replacing their old tool belts with the one I got.
7. DEWALT DG5103 Best Electrician Tool Pouch
Features
Poly fabric tough construction
Hands-free design for convenience
Ideal for tough working environments
Easy access to the tools
Trapezoid shape does not allow it to move easily
This tool pouch is made of ballistic poly fabric and toughened edges for long-term usage. It has a large main pocket and small front pocket for your tools and essentials. The web loops and sleeve pockets allow you to carry a variety of tools. This pouch has a flashlight holding pocket, and tape strap plus carabiner for keys. You can attach it to a belt to carry easily.
Customer Review
All of my tools fit well in this pouch. I am not jumping on a trampoline or crawling on my belly under homes where I am certain that tools may fall out. The quality is fine for the price and it looks pretty.
8. McGuire-Nicholas Leather Electrician Tool Belt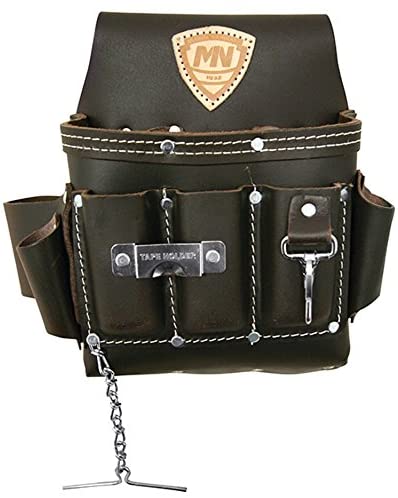 Features
Tough fabrication with metal rivets and sturdy stitches
Multiple pockets and loops providing enough room
Comfortable padding and lightweight design
Contains a metal tape clip
This leather electrician tool belt has reinforced rivets for durability. It is lightweight and the padding adds extra comfort. It has multiple pouches and loops to hold your tools. It comes with a metal tape clip. This pouch is well-built and affordable for everyday usage.
Customer Review
This pouch fits everything I need without adding lots of weight. Sometimes I carry fewer or more tools depending on the task but this pouch handles it all. It is a bit stiff at first then it softened after rubbing oil.
9. Occidental 5500 Electrician Tool Belt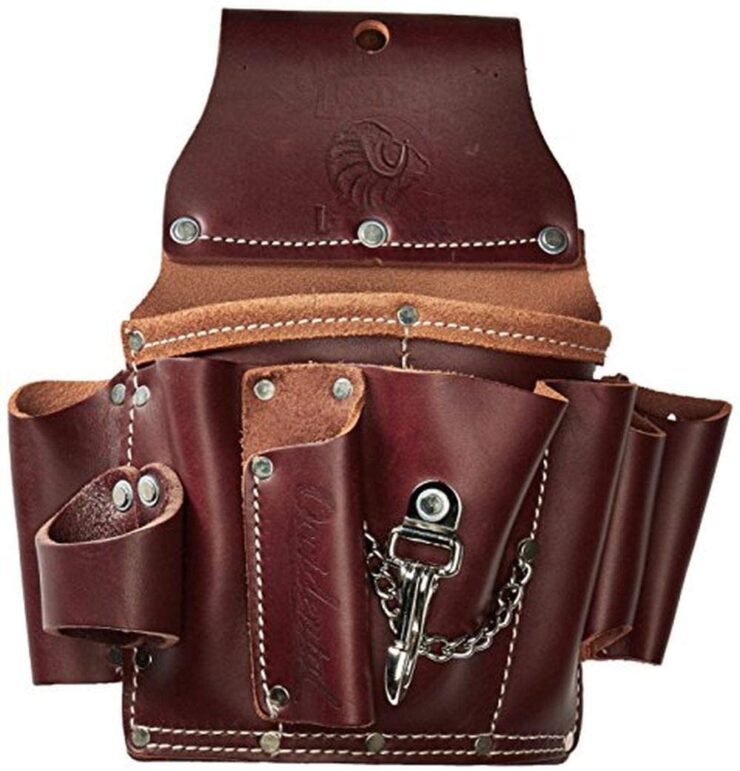 Features
Durable leather construction
Unique open design to access the tools easily
15 pockets for enough storage
Includes a sturdy hammer holder
This electrician leather tool belt is strong enough to carry heavy tools. It has a sturdy hammer holder to hold hammers. It has a large storage capacity with 15 pockets. There is a loop for a flashlight and a chain designed for electrical tape. It is a great tool belt for a full-time electrician.
Customer Review
It's been 18 years in the electrical trade. This is the best quality belt type pouch I have used. Made in the USA is a nice bonus. It is comfortable to use and not as stiff as other pouches are.
10. Klein Electrical Tool Belts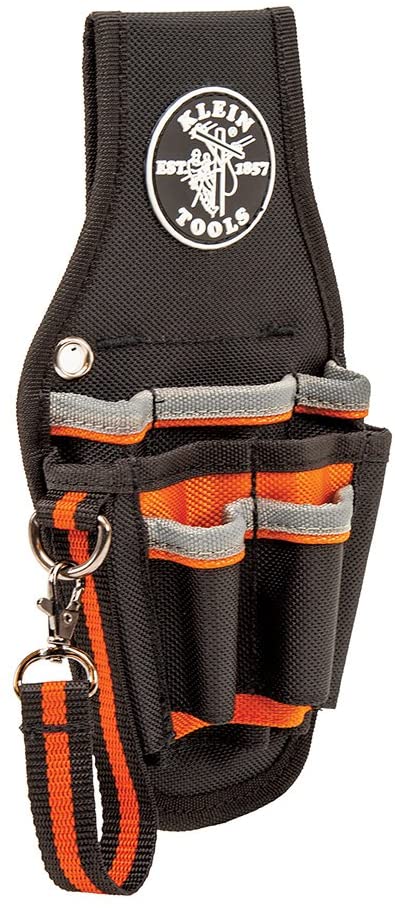 Features
Enough pockets to keeps essential tools
Includes a tape thong
Tunnel loop fits 2-inch belts
Easy to carry and access tools
Klein tools make professional-grade tools that deliver durability and high performance. This small pouch comes with a padded tool belt. It is good for keeping essential tools. It includes a tape thong and a tunnel loop that fits 2-inch belts. This Klein tool pouch is easy to carry and the style keeps your tools accessible.
Customer Review
This fits all of my essential tools for fieldwork tightly without much play. It is like a tool holster that will make work go fast when you have the essentials at your fingertips.
Conclusion
So now you know that different tool belts have different features. You must choose according to your work requirements with the help of the buying guide. Some of the best electrician tool belts have been reviewed to make your selection easier. The right tool belt will help you work fast and efficiently.
FAQs
1. How to wear a tool belt?
It is essential to wear a tool belt if you want to work without interruption. You should arrange your primary tools such that your dominant hand can easily reach them and the optional tools should be on the other side. Then you have to wear the belt around your waist. It should be adjustable so that you can easily move while working.
2. Which way do you wear a tool belt?
You need to wear a tool belt to work comfortably for long hours. The essential tools should be within the reach of your dominant hand and the optional tools should be arranged in the other pocket.
3. What are the tools used in a tool belt?
The primary tools include a claw hammer, chalk line, carpenter's pencil, putty knife, lineman pliers, and utility knife. The optional tools include nail sets, screws, cold chisel, 4-in-1 screwdriver, speed square, torpedo level, and electrical tape.
4. What are the best brands for electrician tool belts?
Some of the best brands known for their quality tool belts are Gatorback, Occidental leather, CLC, TradeGear, DEWALT, and Klein tools.
5. What is the best electrician tool belt?
TradeGear belt and bag combo is the best overall for the features and price. It has a 600D nylon construction and multiple storage pockets for your tools. The foam padding adds a comfortable experience.
6. Which is better a tool belt or tool pouch?
A tool pouch can cause some tools to move to the bottom making it difficult to find them while a tool belt saves your time by organizing the items according to your preferences.
7. How to choose the tool belt of the right size?
Some manufactures produce belts with one size for all. If you are lower than 34 inches then you should not go for single size belts. The adjustable tool belts will be convenient. You should also choose the belt with padding and the required number of pouches so that you can carry easily.
8. How to clean the tool belt?
For leather tool belts, you just need to clean with a damp cloth and not soak in water otherwise it will become brittle. If your leather tool belt is stiff then you can use a leather conditioner or oil to turn it soft.