Shooting self-filmed hunting videos have become trendy in mainstream video-sharing websites in the last few years. People who film them are both amateurs and professionals.
It's quite an art to shoot these videos, and also is a source of pride and joy to share it with others. Most hunters prefer deer as their primary hunting animal, mainly because it's a bit tough to shoot them down.
Are you also interested and willing to share your deer-hunting videos with others? Then the following are few tips for the beginners on how to self-film a deer hunt, which you might find useful.
Why You Should Film Yourself?
Self-filming is a great way to capture your adventures. There are many reasons why it's beneficial, including the ability to look back on past hunts and share those memories with family and friends. Self-filming also helps preserve precious moments in time for future generations of hunters!
Self filming can be a fun new tool that you use while hunting today; there are several benefits which make self film an attractive option for so many hunters nowadays: first off, most people like looking back at their previous trips by reviewing old videos they've taken during different excursions – then there's always the added benefit of being able show off what we do best (the hunt) when talking about our experiences with loved ones.
Which Camera to Choose


Choosing the right camera(s) is the most vital decision for filming the hunt. The prime purpose of filming these videos is often hindered by choosing the wrong gears.
There are varieties of cameras being chosen for self-filming nowadays; here we'll talk only about the most popular and convenient types for filming hunting all by oneself.
Action Camera
Action cameras came into the market in the year 2004, and it was an instant hit. These cameras changed the whole dimension of self-filming. The price of them was affordable for everyone from day one of their release.They are just invincible! They don't care about how much you are abusing them while filming!
The unique feature of these cameras is their POV of shooting. One can attach it to their body (usually on the head), and film all his activities. These are the reasons many use this camera for hunting film.
There are few drawbacks to this device; for example, the audio recording system of these cameras are very poor; also, you can only take wide-angle photos with it. It has no manual exposure and a sound controlling option. Battery life is comparatively poor.
DSLR
In the past, SLR cameras were used for only photography, but after the introduction of Digital SLR, aka DSLR, many started to use it also as a video recorder.
Using a DSLR for hunting could be a bit tough for the newbies, but many experts prefer it as their main gear for recording the hunt.
Usually, they have a long battery backup. Even if it doesn't, you can easily change it anytime. Attaching microphones to the camera will give it more professional sound-recording capability.
DSLRs have more light sensibility than other cameras, so you can take videos at low light better with them. You might also need a gimbal and tripod if you want better shots. And also, don't forget to select the perfect lens before the hunt begins.
Camcorders
Remember the 90's famous camcorders? Nowadays, these cameras are even smaller, lighter, and have many features than before. The standby battery backup of these cameras has also gradually increased in past years.
One can easily afford to have a camcorder without much hassle. There are different ranges of camcorders. Some are highly professional. If you are a newbie, go for the easier ones.
We would suggest you have a tripod along with your camcorder. Audio of these cameras are not up to the level, but if you attach a microphone with it, it will be smoother and better.
Do I Need Any Other Gear Other than My Camera?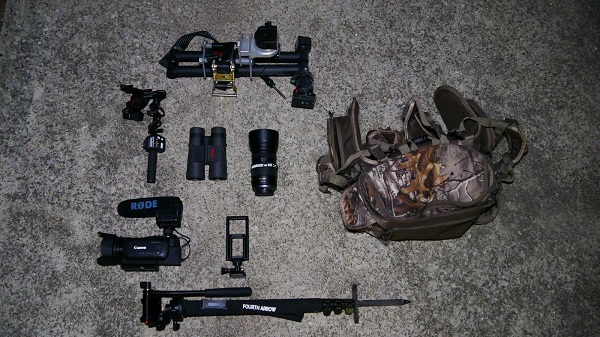 You might need some other gears; we have talked about a few already. And you might need a tree arm and its base for camouflaging the gear, camera light, extra batteries, microphones, lenses, and last but not least, a handy and safe bag for carrying your gadgets. Gears you need-
Muddy Camera Arm & Base
One of the first things you need for tree climbing is a camera arm and base. This will be mounted to your tree, holding up your camera so that you can pivot it smoothly while filming or taking pictures. If self-filming without one isn't really an option, then this is something worth investing in!
Fluid Head & Varizoom
A fluid head is the perfect addition to any camera arm because it allows for smooth movement and has a handle that helps you operate it with one hand. Varizoom controllers are also very handy accessories, as they let you control your video cameras from afar in style by just using one wrist!
Tripod
As the arm of a camera is necessary for self-filming from a tree stand, so too must one have to use a tripod if hunting on the ground. If you're seeking safety in an elevated blind or are simply sitting up and filming without any sort of shelter just as when bow hunting a tripod will make it happen!
Positioning the Camera Is Crucial!
Before you start recording, keep in mind that a right angle is very important for any video. In this case, i.e., self-filming a deer hunt, you'll have to be extra cautious. Deer is a very unsteady animal; you should observe and calculate their possible routes before filming.
Take time before choosing and placing your camera in the right place. It will not only give the perfect shot, but you will also be relieved from checking the right angle every other moment. You can now concentrate more on your hunting procedures.
Check and recheck if the battery is charged enough to survive the hunting period, especially if you are attaching it to your body or placing it alone in a distance place.
How to Self-Film a Deer Hunt
Here, we'll walk you through the process of self-filming during a deer hunt.
Introduction
You can start by giving an introduction to yourself, the area, the climate, the weather, and your interest in hunting a deer. Then, you can give details of your weapon and show it to the camera. Also, you can show people which gears you are using for filming the hunt.
Interview
During the "waiting for the hunt" period, you can also give an interview on what's going on, how you are feeling, the problems you are facing, etc.
Panoramic Shots
You should take some panoramic shots of the land where you are hunting, animals other than deer, trees, and greenery, what's happening around, how you are being set for the hunt, and so on.
Checking if the Camera Is On
Often out of excitement, people forget to turn on their cameras while giving the kill shot, so make sure you don't do that. Otherwise, the cherry on the top of your cake will be missed, you'll regret it badly!
Close Shot
After killing the deer, go near it, give people a closer look at what happened, and where the deer was struck. Give the winner pose beside your hunted animal.
The Last Interview
Finally, you can give the last interview. You can tell us how you are feeling, what your mistakes were, what else you could have done, the next possible date of releasing another hunting video, etc.
Editing
Edit the video nicely before putting it online. Don't make it too lengthy, don't make it boring. Try to keep the best parts and avoid the unclear shots.
Conclusion
These were some ideas for the newbies to self-film a deer hunt. We hope they will be useful for your future videos. Now that we have learned the basics, "Let the hunting season begin!"